France Met Stars Live in Concert – Three Divas: Ailyn Pérez, Nadine Sierra (sopranos) and Isabel Leonard (mezzo-soprano), Pablo Sáinz-Villegas (guitar), Vlad Iftinca (piano). Livestreamed (directed by Gary Halvorson) from Royal Opera of Versailles, Palace of Versailles, France, 22.5.2021. (JPr)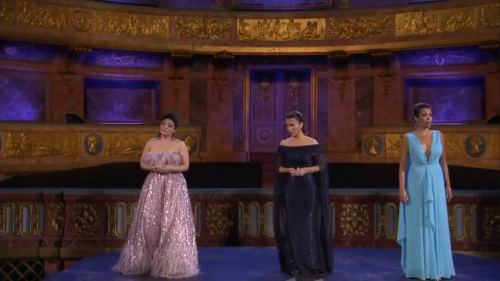 After the usual awkward 'chat' between New York host Christine Goerke and the Met's general manager Peter Gelb we learnt little other than this was 'likely the last' of this Met Stars Live in Concert series which began last July because their Lincoln Centre theatre was closed and subsequently remained firmly shut (and its reopening is still in doubt I understand). We were also told how it was that the three American singers – sopranos Ailyn Pérez and Nadine Sierra and mezzo-soprano Isabel Leonard – conceived this 'Three Divas' programme (full details below this review) themselves and that the 250-year-old Opéra Royal du Château de Versailles had been recently renovated (and reopened in 2009) as a functioning opera house and was not just an historic relic. Indeed, the personable Nadine Sierra said in her opening remarks how 'It's not so shabby to be rubbing shoulders with the ghosts of Marie Antoinette and her entourage'. We could glory in the gilded splendour of the theatre – atmospherically lit by stage director Louisa Muller during the concert – which was first used on 16 May 1770 for a banquet in honour of the marriage of the future Louis XVI to Marie Antoinette, as well as the radiance of the singing we heard. There was much laughter and many words of appreciation and encouragement between the three singers and so all this good humour and bonhomie in this last but not least of these Met Stars events, made it one of the most memorable for me.
Sierra began the solo items with Juliette's waltz arietta 'Je veux vivre dans ce rêve' from Gounod's Roméo et Juliette. This is a coloratura gem but although Sierra did not seem like a giddy teenager her technique was amazing. Isabel Leonard sang Cherubino's 'Voi che sapete' (Le nozze di Figaro) in which he professes his desire for a woman's love; this dark-toned mezzo is clearly suited to trouser roles and introspective music. 'Ebben? Ne andrò lontana' from Catalani's La Wally is a very familiar soprano showpiece and Ailyn Pérez ardently sang the plaintive leave-taking. It was noticeable by now that Romanian Vlad Iftinca at the piano was happy to play second fiddle to his singers and accompany them with care rather than lead them (if you understand what I mean?). Mozart's accompanied recitative 'Crudele? … Non mi dir' from Don Giovanni was impeccably sung by Sierra and Donna Anna's despair was palpable and it was impressive how well she supported her voice and never seemed to breathe. Actually, Iftinca here came more into his own as he rounded things off with an exquisite postlude. Vivaldi's Griselda is rarely performed but the (slightly repetitive) aria 'Agitata da due venti' has a life of its own and Leonard created a brilliant evocation of fearsome winds whipping up the waves. The singer astonished with her incredible range and there was atmospheric support from Iftinca who was now going from strength-to-strength thanks to his fast fingers here on the keyboard. For Leoncavallo's 'Stridono lassù' (Pagliacci) Pérez and Iftinca combined to give listeners trills and thrills and it was her vocal stamina that came to the fore as Nedda in the opera sees hope of escape in the flock of birds overhead.
Next there were some duets beginning with Leonard and Sierra hand in hand who sang a sensuous and lilting Barcarolle from Offenbach's Le contes d'Hoffmann to Iftinca's gently lapping accompaniment. Fiordiligi and Dorabella's 'Prenderò quel brunettino' (Mozart's Così fan tutte) gave Pérez and Leonard an opportunity to bring a sense of fun to the platform that we had not seen before as the sisters plot romantic diversions while their lovers are away and Leonard, in particular, was at her most animated having got all her more demanding pieces out of the way.  'Mira, o Norma … Sì, fino all'ore estreme' (Bellini's Norma) was an oddity by involving two sopranos as Norma and Adalgisa but was beautifully rendered veering from deep sorrow to an impassioned ending, as the two women comfort each other after Adalgisa promises to try and get Norma's lover Pollione to return to her.
Near the end of Richard Strauss's Der Rosenkavalier the Marschallin recognises the day she most feared has come and releases Octavian to be with Sophie the woman he now loves. This gave Pérez (Marschallin), Leonard (Octavian) and Sierra (Sophie) the opportunity for a trio ('Marie Theres'! … Hab' mir's gelobt') to close this section of the concert. Pérez's resignation and regret was tangible but Strauss's soaring vocal lines needed an orchestra, even though Iftinca was doing his best.
Leonard introduced the rest of the programme by saying how 'We are very moved to be here, Ailyn, Nadine and I have a very special bond that has only grown deeper in the last few days since we have been here […] Not only do we share our Latin heritage but we share an absolute love for music' and going on to say how the rest of the music we would hear was 'Dedicated to all of the Latin-American and Spanish composers we love so much but also includes a French and Italian composer who was inspired by the Latin culture and people.'
Leonard began with a sultry Seguidilla without suggesting she would be the most natural Carmen should she have any plans to sing it, though I am sure a costume would help on stage. Rossini's Canzonetta spagnuola was something I had never heard before despite its apparent popularity. Leonard coped well with the florid vocal runs and Iftinca pounded flamenco-style at the piano, though the hard-won final note tested the mezzo's remarkable range. Sierra's 'Me llaman la primorosa' from Gerónimo Giménez's zarzuela El barbero de Sevilla was genuinely Spanish and especially as the words 'Because I love to sing' and 'They call me the special one' were so apposite for Sierra. It was all great fun and the light-hearted interactions with Iftinca were particularly charming. Pérez was next with a heartfelt rendition of Manuel Ponce's 'Estrellita' ('Little Star') ostensibly a Mexican love song, but clearly more reflective than that.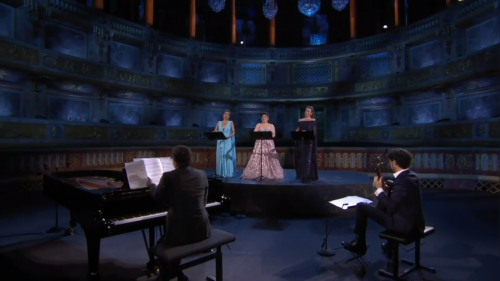 The influence of 'The Three Tenors' extravaganzas came to the fore as after some confusion with the emergence of music stands and (for some reason) a removal of shoes the 'Three Divas' finished their fiesta of song with a perfect blend of their voices in Jim Lowe's arrangements of two Mexican numbers 'Bésame Mucho' and 'Cielito Lindo', accompanied by Iftinca and some virtuosic Spanish guitar playing from Pablo Sáinz-Villegas. 'Bésame Mucho' ('Kiss me much') was yearning whilst 'Cielito Lindo' ('Lovely Sweet One') was a wonderfully high-spirited ending to what had gone before and I am sure many watching loudly joined in all the 'Ay, ay, ay, ay'-ing! It was now time to celebrate with Tequilas all round and they thoroughly deserved it!
Jim Pritchard
For more about the Metropolitan Opera click here.
Programme:
Gounod – 'Je veux vivre dans ce rêve' (Roméo et Juliette)
Mozart – 'Voi che sapete' (Le nozze di Figaro)
Catalani – 'Ebben? Ne andrò lontana' (La Wally)
Mozart – 'Crudele? … Non mi dir' (Don Giovanni)
Vivaldi- 'Agitata da due venti' (Griselda)
Leoncavallo – 'Stridono lassù' (Pagliacci)
Offenbach – (Barcarolle) 'Belle nuit, ô nuit d'amour' (Les contes d'Hoffmann)
Mozart – 'Prenderò quel brunettino' (Così fan tutte)
Bellini – 'Mira, o Norma … Sì, fino all'ore estreme' (Norma)
R. Strauss – 'Marie Theres'! … Hab' mir's gelobt' (Der Rosenkavalier)
Bizet – (Seguidilla) 'Près des remparts de Séville' (Carmen)
Rossini – 'En medio a mis colores' (Canzonetta spagnuola)
Giménez – 'Me llaman la primorosa' (El barbero de Sevilla)
Manuel Ponce – 'Estrellita'
Consuelo Velázquez – 'Bésame Mucho' (arr. Jim Lowe)
Quirino Mendoza y Cortés – 'Cielito Lindo' (arr. Jim Lowe)