Armenia 17th Khachaturian International Competition, 2021 [I] – Opening Concert: Jonathan Swensen (cello), Armenian State Symphony Orchestra / Jun Sung-Park and Sergey Smbatyan (conductors). Aram Khachaturian Concert Hall, Yerevan, 6.6.2021. (CC)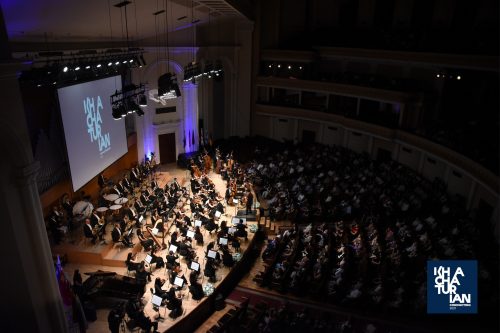 Aram Khachaturian – Masquerade Suite (cond. Sung-Park); Spartacus: Adagio of Spartacus and Phrygia (cond. Smbatyan); Variation of Aegina and Bacchanalia (cond. Smbatyan); Concerto-Rhapsody for Cello and Orchestra (cond. Sung-Park)
In what looked amazingly like a concert from time past (for example, one would not have known the orchestra was socially distanced), the Armenian State Symphony Orchestra gave a fine display of both virtuosity and musicality in this all-Khachaturian event. Rarely have I heard an orchestra so together as at the very beginning of the 'Waltz' from Masquerade. This piece was to be characterful throughout – a fine violin solo in the Serenade, a bright Mazurka – like being at a glittery ball, garlanded by lively, light woodwind. The five-movement structure of the suite is nicely symmetrical, the Romance balancing the Nocturne around that central blaze-of-light Mazurka. Discipline was all in the final Gallop, a piece which, frankly, goes nuts: Khachaturian at his most outrageous.
We were to hear the 'Adagio of Spartacus and Phrygia' many times during the course of the competition, so it was nice to hear it within a concert setting conducted by the Armenian orchestra's founder, Artistic Director and Principal Conductor, Sergey Smbatyan. He kept the big tune moving (older listeners will recognise it from The Onedin Line!). How clear Khachaturian's scoring emerged here, as an expressive, batonless Smbatyan found a wonderful sense of quiet around the big tune, the strings lapping away at the bottom, and nicely brought out the poignant dissonances in the woodwind counterpoints. Drama was there too, in the brass fanfares (trumpets and horns nicely in conversation). This felt every inch a tone poem in Smbatyan's hands – beautifully sculpted. The 'Variation of Aegina and Bacchanalia' in contrast was fun, and beautifully light.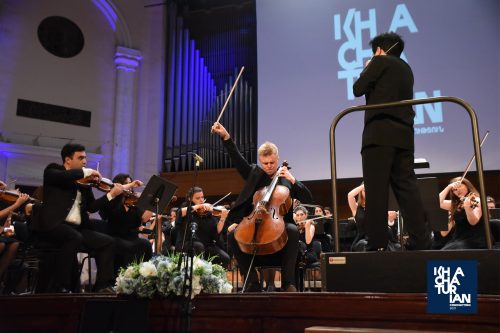 Park returned to the stage with renowned cellist Joseph Swensen for a virtuoso performance of Khachaturian's Concerto-Rhapsody, a massive technical challenge. Khachaturian's musical language is more acerbic in the piece; the music does not relax, the quieter moments are just as taut as the louder passages, the dissonances about to erupt at any moment. Swensen has a fabulous sound and there were some great dialogues between cello and orchestra. The Concerto-Rhapsody is a superb piece. Sung-Park was the ideal collaborator, the orchestra engaged from first to last in this incredibly strong piece. Those looking for a recording might want to find Dmitri Yablonsky (a judge at this year's conducting competition) on Naxos – coupled with the Cello Concerto – or the more historically/authentically minded might wish to search out the recording conducted by the composer himself with Karine Georgian – quite difficult to find, I would suspect, last seen to my knowledge on Eurodisc.
One encore, the Sarabande from Bach's Cello Suite in G major, a lovely performance, warm with some glorious stopping.
And so to the rounds of the competition itself …
First Round, Day 1, 7.6.2021
Armenian State Symphony Orchestra / Gurgen Petrosyan (conductor, Russia)
Haydn – Symphony No.104, first movement
Mansurian – Intermezzo from Partita (performed by all competitors)
Khachaturian – Spartacus: Adagio of Spartacus and Phrygia (performed by all competitors)
A slightly anonymous start to the competition proper came from Russian conductor Gurgen Petrosyan. Like many of the conductors this year, he eschewed the use of a baton for the classical work (in this case the first movement of Haydn's 104th Symphony). Spending far too much time looking down at the score and not enough interacting with the orchestra, the result was decidedly lacklustre, with tension dropping needlessly on numerous occasions. Interestingly, while there was an audience present, there was no applause.
The post-Shostakovich 'Intermezzo' from the Partita by Tigran Mansurian is a splendidly acerbic work. The score needs a very accurate performance, and Petrosyan's was that, if again not hugely involving. There was no missing the shift to Khachaturian's world; and Petrosyan dared to give the Adagio proper space and encourage a proper pianissimo.
One of the more testing passages in this Adagio is the passing of phrases from one section to the other just prior to the big oboe melody. The phrases should move seamlessly from one section to the other but here they were a little disjointed.
Armenian State Symphony Orchestra / Davorin Mori (conductor, Slovenia)
Mansurian, Beethoven (Symphony No.2, first movement) & Khachaturian
A very tidy beat from the Slovenian conductor Davorin Mori; just as well, as when his beat gets larger it gets very ungainly and even uncoordinated. But the Mansurian needs this discipline so that its rhythmic intricacies come across (there are several moments in which the composer plays with rhythmic expectation, which was surely a determining factor in the choice of this movement as a test piece); a slightly disappointing start,
The first movement of Beethoven's Second Symphony felt well-rehearsed though, the violins well disciplined, accents nice and punchy; and Mori does enjoy eye contact with his players. The performance seemed to improve as it went on, though there was some sense of sagging in the development section. A pity the opening of the Khachaturian lost some of its magic, sounding like a routine rehearsal; but he did pull off that passing of motifs, and tricky corners were well negotiated, but it was all a little anonymous.
Armenian State Symphony Orchestra / Yeo Ryeong Ahn (conductor, South Korea)
Mansurian, Khachaturian & Beethoven (Symphony No.4, first movement)
More batonless Mansurian here from this fine South Korean conductor. She does not waste gestures, enabling clean, clear intonation from strings. Each gesture carried meaning, and there was a real rapport with her players. In the Khachaturian, Ahn was interested in the descending line and not the tapestry of strings early on, which gave the passage some weight (she switched to baton for this piece). Ahn clearly comes to works afresh: she rethought the phrases on the G string for violins, making them lighter but no less meaningful or insightful; there was a proper climax, too, that carried real power. Ahn's downbeats can be rather strange though and I wonder if I were in the orchestra whether they would be tricky to follow.
Detail was once more in evidence in the first movement of Beethoven's Fourth Symphony, the hairpins in the Adagio opening were impeccable. But she was early on the rests and like so many conductors, it pains me to say, she does not count accurately. I wonder whether it was expected that conductors use scores, as surely one would expect that Beethoven symphonies should nestle nicely in their heads by this stage of their conducting lives? But they seemed to be in evidence throughout the competition. Still, this was an excellent Beethoven movement, though perhaps it is not such a good idea to pass one's baton from hand to hand, if it is going to make your next downbeat late, another aspect of her clarity. Ahn needs a razor downbeat, and she has not got one.
INTERMISSION
Armenian State Symphony Orchestra / Daichi Deguchi (conductor, Japan)
Mansurian, Khachaturian & Beethoven (Symphony No.2, first movement)
The Japanese conductor Daichi Deguchi was clearly in command from first to last. His batonless conducting of the Mansurian demonstrated a nice mix of expression and clarity.; he also knows one does not need big gestures to get big results. Nice that he went straight into the Khachaturian, a nice gesture in itself that worked perfectly. The Khachaturian was another demonstration of intelligent conducting – he clearly has a full grasp of the score, both in terms of minutiae and larger structure.
The Beethoven Second first movement exhibited a nice sense of flow to the opening: Deguchi conducted in a fairly rapid six, which enabled violin unanimity; the move to the main Allegro was seamless, the music sprightly This was modern Beethoven, clean and clear and crisp, the tension maintained consistently (and excitingly). Fabulous.
Armenian State Symphony Orchestra / Alekandr Iradyan (conductor, Armenia/Germany)
Haydn (Symphony No.104, first movement), Mansurian & Khachaturian
There was much to admire in Iradyan's Haydn: the gestural nature of the slow introduction, for example the fragile first violin drooping gestures seemed nicely linked to Affektenlehre; his rhythmic grasp was excellent also. The Allegro stole in well, full of contrast and bright fortes. But – and he was not the first conductor to do this – he tended to lose momentum, and his gestures could be rather vague later on which led to a loss of pinpoint ensemble.
The Mansurian was swings and roundabouts: some punchy accents, but the shifting textures were somewhat amorphous. Nice that Iradyan dared to take the Khachaturian at a real Adagio, and he scaled the climax well. This was no-nonsense conducting which led to a no-nonsense climax, all very business-like with a sense of flow throughout.
Despite some positives, then, nothing to get excited about here.
Armenian State Symphony Orchestra / Ian Niederhoffer (conductor, USA)
Beethoven (Symphony No.2, first movement), Mansurian & Khachaturian
Some nice middle-of-the-road Beethoven here from a conductor whose face certainly tells the story of the music. Expressive to a fault, this is though balanced by an in-depth knowledge of the music he conducts, and the result was lots of fire to the Allegro; and while there was a score in front of him, I did not see him looking at it. (Perhaps unsurprisingly, he won a competition prize for this performance.)
The Mansurian though was a little loose in a piece that demands 100% precision; the Khachaturian moved along nicely but also sounded a little disengaged. No doubting that the Beethoven was the highlight here.
First Round, Day 2, 8.6.2021
Armenian State Symphony Orchestra / Levani Jagaevi (conductor, Georgia)
Beethoven (Symphony No.1, first movement), Mansurian & Khachaturian
We have heard modernist performances of classical music already in the competition, but here was one that was decidedly old-style: a slow eight for the introduction to the Beethoven, super-legato. The Allegro fared better, tighter, but this felt like going back 20 years in terms of Beethoven performance.
A shame too, the Mansurian was not together, and it was no surprise after the Beethoven that the Khachaturian was slow. Luxuriant, even treacly. Not a conductor I would go out of my way to see again.
Armenian State Symphony Orchestra / Elizsaveta Sushchenko (conductor, Russia)
Mozart (Symphony No.29, first movement), Mansurian & Khachaturian
A lovely shift to Mozart for the classical piece here, and one of Mozart's finest early symphonies, the A major, No.29. But this is surely a clear two in a bar and Sushchenko was a clear four; and it felt dull for it (in fairness she did move to two later but there was no accompanying injection of life). She laudably took the repeat, but for once this was not such a great idea.
For the Mansurian, Sushchenko's eyes hardly left the score, and the result was disengaged and occasionally messy. Unsurprisingly, the Khachaturian failed to raise to the greatness it can achieve. Disappointing.
Armenian State Symphony Orchestra / Yu-kuang Jin (conductor, China)
Khachaturian, Mansurian & Beethoven (Symphony No.1, first movement)
In complete contrast, here is a good conductor. Starting with the Khachaturian worked well, and Jin offered a nicely shaped performance of the Adagio. No-nonsense conducting that here reaped rewards – a musicians' conductor with nothing extraneous in his gestures. Nice and clear cut-offs were another aspect to this: and he actually got a 'bravo' in the applause (although in fairness it might have been a mate).
The Mansurian was a tight, exciting account. Only the Beethoven was somewhat odd: a strange emphasis on horns at the end of the slow introduction, for example, then Jin chose a tempo that was just a bit under. I would be interested in hearing more from Jin in contemporary repertoire, but there was not enough here to sustain interest in the other repertories.
Armenian State Symphony Orchestra / Elias Brown (conductor, USA)
Mansurian, Khachaturian & Beethoven (Symphony No.4, first movement)
Some daring moments from Elias Brown. After a very alive performance of the Mansurian, he dared to take the Khachaturian extremely slowly: his expressive beat and rapport with the orchestra enabled him to sustain this brilliantly. There is a good technique here and it is clear Brown knows exactly what he wants, creating a smouldering atmosphere prior to a radiant climax. This was very dramatic (although perhaps a little too impulsive later).
The Beethoven Fourth found Brown daring to conduct a slow four and starting with minimal upbeat. He counts well too: but there was a slip in the transition to the Allegro; we can forgive him, I would suggest, for including the exposition repeat, and for using hard sticks for the vital timpani roll that leads the music back into recapitulation.
Much to enjoy here.
Armenian State Symphony Orchestra / Dong Kuk Lim (conductor, Korea)
Khachaturian, Mansurian & Beethoven (Symphony No.2, first movement)
A conductor in the making here. There is a lot to enjoy, but it is not yet fully formed. Laudably, Dong Kuk Lim took time to centre himself before he starts. Demonstrating fine baton control and eloquent gestures, there was much to admire; but ultimately, the performance of the Khachaturian did not engage.
Lim dared to take the Mansurian slowly; a different take, certainly, but ensemble was not together, which left me wondering if the orchestra was completely convinced. The Beethoven Second was again clear of beat, but pulse was not entirely solid, and the Allegro felt as if it was lagging. Lim had the score open in front of him, but he may have been conducting from memory nonetheless, as there was plenty of eye contact. A pity the end result was so disengaged; but there is enough here for Lim to grow into a good conductor, in time.
Armenian State Symphony Orchestra / Ektoras Tartanis (conductor, Germany/Greece)
Khachaturian, Beethoven (Symphony No.4, first movement) & Mansurian
Another conductor who opted to start with the Khachaturian, Ektoras Tartanis was clearly engaged: he was effectively balancing the textures as he went along in the Khachaturian. This was a fine, impassioned performance.
The unanimity of attack in the Beethoven implied a respect from the orchestra, and Tartanis expertly managed the move into the first movement proper. The linking of Mansurian's harmonic language to Stravinsky came through stronger in his performance than in any other; sadly there were some ensemble issues later on, but Tartanis holds much potential.
First Round, Day 3, 9.6.2021
Armenian State Symphony Orchestra / Ke Yuan Hsin (conductor, Taiwan)
Mansurian, Khachaturian & Beethoven (Symphony No.2, first movement)
Little to recommend here, unfortunately. A nice idea to start with the Mansurian, but ensemble was just not together at the outset; the conductor was glued to the score there and elsewhere. The Khachaturian felt a little like having a bath in the sound, while the opening of the Beethoven hardly sounded like the two separately articulated notes that are indicated. Some gestures just felt meaningless.
Not a conductor I would pay to hear.
Armenian State Symphony Orchestra / Pablo Devigo Vázquez (conductor, Spain)
Beethoven (Symphony No.2, first movement), Mansurian & Khachaturian
Lots to admire here, and lots of contrasts, too, from this excellent Spanish conductor. But nerves can get in the way, and it was obvious he was not totally in control when it came to the climax of the Khachaturian despite a well-considered, luxuriantly slow opening.
Plenty to enjoy in the Mansurian though – nicely playful, jaunty, and it is clear Vázquez knew the score inside out; as he did the Beethoven, but this latter was marred by something of an energetic sag in the development section.
Armenian State Symphony Orchestra / Zeke Fetrow (conductor, USA)
Mozart (Symphony No.29, first movement), Mansurian & Khachaturian
A rather laid-back conducting style can be hazardous, as Zeke Fetrow seemed to set out to prove. He took the Mozart fast, but it felt like the orchestra did not quite believe his speed – it took a while to settle. Again, there was some disengagement from the orchestra.
The Mansurian suffered massively. The orchestra sounded as if they did not care, and a bad cue led to a resultant bad entry. A trumpet gesture that announces the end of one section and allows for maximal contrast to the next went for nothing.
It was only in the Khachaturian that the conductor finally relaxed into something approaching engagement, but it was too little, too late; and then even at the climax, the percussion was not together.
Armenian State Symphony Orchestra / Yoona Jeong (conductor, South Korea)
Beethoven (Symphony No.2, first movement), Mansurian & Khachaturian
Yoona Jeong is a fine conductor, her beat wonderfully expressive in the opening of the Beethoven (conducted in six), the Allegro nice and sprightly, with plenty of drama. So nice to see a conductor having fun, too, properly engaged with the music. She had fun in the Mansurian too (although I suspect there was a small miscue at one point).
The revelation came in the final Khachaturian though, beautifully shaped with nicely together first violin lines. But what marked it out was the prevailing sense of tenderness. Lovely …
… and so ended the first round and the report on the Second Round and final concert will follow on.