United Kingdom Tenth Leeds Lieder Festival – A Spiritual Solstice: Alice Coote (mezzo-soprano) and Christian Blackshaw (piano). Livestreamed (by Apple and Biscuit Recordings) from Victoria Hall, Leeds Town Hall, 17.6.2021. (JPr)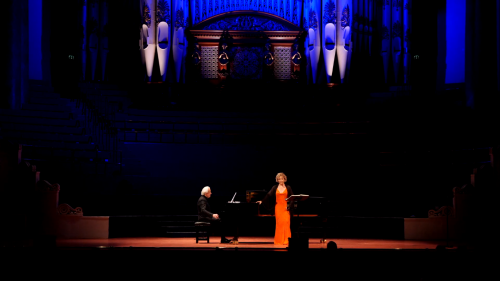 Lehmann – 'Love, if you knew the light'
Robert Schumann – 'Die Lotosblume'; 'Meine Rose'; 'Du bist wie eine Blume'
Richard Strauss – 'Zueignung'; 'Allerseelen'; 'Heimliche Aufforderung'; 'Ruhe, meine Seele'; 'Morgen!'
Tchaikovsky – 'Net, tolka tot, kto znal'; 'Den li tsarit'; 'Otchevo?'; 'Nam zviozdi krotkie siali'
Grainger – 'The Power of Love'
Mahler – Rückert-Lieder: 'Ich atmet' einen linden Duft'; 'Blicke mir nicht in die Lieder'; 'Liebst du um Schönheit'; 'Um Mitternacht'; 'Ich bin der Welt abhanden gekommen'
Quilter – 'Now Sleeps the Crimson Petal'
This gala recital opened the Tenth Leeds Lieder Festival and Richard Stokes (a patron of Leeds Lieder) read the introduction from mezzo-soprano Alice Coote: 'Extraordinary times call for unusual musical programmes. As we approach high summer, Christian [her accompanist] and I wanted to devise a programme packed with an eclectic mix of languages and composers' attempts to express the kaleidoscope of emotions we perhaps have all been through over the past year. We hope that these songs about darkness and light, despair and hope, loss and love, will capture some of our feelings as life once more comes into bloom.'
For me, this intriguing recital was 'a game of two halves' and another appropriate cliché is 'all's well that ends well' since Alice Coote is justifiably acclaimed both in opera and on the concert platform but on this occasion was not totally at ease until well into her 'eclectic' programme. Sadly, the camerawork concentrating on her in close-up was initially very unforgiving. The musicality and flawless technique of Coote's voice was not in doubt and it has incredible breadth from dark, rich contralto depths to attractive lyric mezzo heights. Remarkable too was the attention she gave every word she sang (whatever the language) and her absolute understanding of their meaning and nuance. I know Coote's gifts as a consummate actress – not just vocally but physically – though she never reached the great heights of total emotional engagement in what she sang until late into this recital.
The pivotal moment for Coote was Mahler's Rückert-Lieder which also particularly showcased Christian Blackshaw's playing which throughout the recital I found much too understated and only rarely animated and expressive (such as in the Tchaikovsky songs which demanded greater virtuosity from him). I didn't especially hear the bees in 'Blicke mir nicht in die Lieder!' where the creation of great songs is compared with the insects' instinctive production of their honeycombs. And Blackshaw's fairly routine accompaniment to 'Um Mitternacht' didn't entirely encompass – unlike Coote's rendition – the haunting remoteness of the song or the triumphalism of its ending. On the other hand, his opening to the final song 'Ich bin der Welt abhanden gekommen' was aptly evocative of melancholia and Coote's use of mezza voce totally embraced the deep spirituality of this song.
Apart from the Rückert-Lieder the remaining songs in English, German and Russian were not grouped together but spread throughout what we heard and this began with Liza Lehmann's short and sweet 'Love, if you knew the light' to a Robert Browning text where Coote caressed the line 'That your soul casts in my sigh'. I felt Robert Schumann's 'Die Lotosblume' didn't exactly bloom, glow or shine as much Heinrich Heine's words suggested. Nevertheless, Coote showed her affinity for Richard Strauss by doing full justice to the great outpouring of emotion at 'Heilig, heilig ans Herz dir sank' ('Blessed, blessed, sank on your heart') during 'Zueignung'. Tchaikovsky's 'Net, tolka tot' ('None but the lonely heart') was her first foray into Russian and was a sad song that tested the full range of Coote's voice. Percy Grainger's single contribution was 'The Power of Love', an oddity more significant for Blackshaw's tremulous accompaniment than anything else. The last composer represented was Roger Quilter and we heard his exceedingly popular 'Now Sleeps the Crimson Petal' which was very nicely sung at the point in the recital where Coote was relaxing into it more and here weaved exquisite strands of romanticism.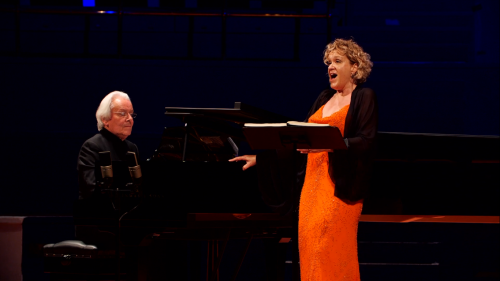 As for some of the rest we saw and heard: Schumann's 'Du bist wie eine Blume', although inconsequential, was notable for Coote starting to smile more. For Tchaikovsky's 'Den li tsarit' ('Does the day reign?') she was more agitated and impassioned with Blackshaw coming into his own during the dramatic postlude and there was more of the same for the composer's despairing 'Otchevo?' ('Why?') which was beautifully played and sung. Coote was at her most operatic during Strauss's 'Heimliche Aufforderung' (apparently about a secret assignation for male lovers) with an especially ardent outburst for its last line 'O komm, du wunderbare, ersehnte Nacht!' ('Oh come quickly, you wondrous, longed-for night').
The official programme ended with two further Strauss songs with the composer at his most sombre and reflective; firstly, Coote brought serene control to the inner dialogue of his 'Ruhe, meine Seele' and great profundity to 'Und vergiss, was dich bedroht!' ('And forget what threatens you!') at the end. Then during Strauss's most celebrated song 'Morgen!' – a staple of recitals such as this – Coote's face lit up (almost for the first time) and she drew everybody into its aching longing (which also has a homosexual subtext according to Richard Stokes's programme note).
The sadly thin socially distanced audience in Leeds Town Hall demanded an encore and the introspective and meditative mood of Schumann's 'Nachtlied' ('Night Song') brought this concert to an appropriately thought-provoking end.
Jim Pritchard
For more about Leeds Lieder click here.