United Kingdom Puccini, La bohème: Soloists, Chorus and Orchestra of the Royal Opera House / Renato Balsadonna (conductor). Filmed (directed by Jonathan Haswell) on 23.6.2021 at the Royal Opera House, Covent Garden and streamed on 25.6.2021. (JPr)
Production:
Original director – Richard Jones
Adaptation director – Dan Dooner
Designer – Stewart Laing
Lighting designer – Mimi Jordan Sherin
Movement director – Sarah Fahie
Revival movement director – Danielle Urbas
Performers:
Mimì – Anna Princeva
Rodolfo – Joshua Guerrero
Marcello – Boris Pinkhasovich
Musetta – Danielle de Niese
Schaunard – Cody Quattlebaum
Colline – Gianluca Buratto
Benoît – Jeremy White
Alcindoro – Wyn Pencarreg
Parpignol – Andrew MacNair
Customs officer – John Morrissey
Sergeant – Thomas Barnard
A short trip down memory lane for an opera that doesn't really need any introduction! La bohème was Puccini's fourth work for the stage and was premiered in Turin in 1896, but surprisingly it was not an instant hit with the critics. The following year the Carl Rosa Company put it on in English at Manchester and a few months later it came to Covent Garden for the first time where on 30 June 1899 it was sung in Italian. From then on it became a staple of the repertory and that production basically survived two World Wars until John Copley's much-feted and oft-revived staging in 1974 which was retired in 2015 and replaced by this new one from Richard Jones two years later.
Although set in Paris about 1830, the story is a timeless one with considerable contemporary resonances (even before the pandemic!). Puccini was a(nother) composer whose operas are often biographical in nature and La bohème is the reminiscence of his student days sharing a room in Milan with Pietro Mascagni and probably recalls something about a lost love at the time. Intriguingly Puccini's graduation exercise from the Milan Conservatoire, Capriccio sinfonico, is the music we hear first as the curtain rises.
With La bohème Puccini appears more open to the concept of the symphonic development of the German masters than other Italian opera composers, especially Verdi: Act II can be considered the 'scherzo' and Act III the 'slow movement'. Puccini uses something called 'thematic reminiscence' which is not far removed from Wagner's leitmotifs. Here in La bohème, we have themes associated with the bohemians and with Mimì, among others.
The success of John Copley's production was its sense of cinematic-style realism involving cast, chorus and extras (totalling 100 or so in Act II). How long into the four decades of its predecessor will this new production survive? I would doubt people love it that much and watching this recording – even accounting for coronavirus restrictions – there were pitifully few people in the stalls and tickets for the remaining performances were still readily available at the time of writing (possibly cost may also be a factor). I doubt whether it will ever again fill the Royal Opera House without a stellar cast. Unfortunately, the calibre of singers it really needs are often in much demand and performing elsewhere. Sadly, I suspect the voices you will frequently recall in your head during the 'big moments' are too often those of other singers you might have heard over the decades!
Richard Jones is infamous for not explaining what he puts on stage. Back in the mid-1990s I chaired an event when he was asked what his controversial Covent Garden Ring was all about and his retort was 'Well, what does it mean to you?'. In 2017 Jones was questioned about whether his La bohème was 'traditional' and – yes, you've guessed it – his reply was: 'Please can you tell me what traditional means?'.
This is a very snowy La bohème and some begins to gently fall during the first act and never lets up. There have been a number of changes of cast during the current run of performances and to their credit this youngish cast bring considerable energy to the antics of the bohemians. It is never entirely clear what draws them to an extraordinarily sparsely furnished and undecorated Scandinavian-style timber frame 'garret'. I'm doubtful whether it is the top of a house – though we see a long ladder poking out of a skylight and an extravagant chimney – because 7b (its number) is clearly seen at ground level in later acts. There is very little else on stage at the start that is important apart from one chair, an old tea chest, a small heating stove and some dirty bedding. (I wondered even more than before why the single door needs everyone to stoop to get through it.)
There is no easel for Marcello and his 'painting' is mimed. This is one of only a few diversions from something 'traditional' which also includes a lot of facing out to the audience; then Rodolfo gives Mimì a kick instead of some water when she faints (before quickly reviving); and no one would have trouble finding a missing key in such a brightly lit room. (The day this was streamed was an interesting one in British politics and who did not think about the hapless Health Secretary when Marcello disparages the landlord Benoît and sings 'This man has a wife and harbours indecent desires' and later in Act II as Marcello and Musetta 'embrace' on a restaurant table!)
Most of designer Stewart Laing's original budget was spent – for indecipherable reasons – on Act II and whilst the first act is historically indeterminate, we are recognisably now in the late 1800s Paris and the costumes are something of a homage to John Copley. There are three huge glass-roofed shopping arcades offering all manner of delights pushed and pulled into position. I was surprised – in Dan Donner's Covid-adjusted staging – that there were as many on stage as we saw, though the children involved were reduced from 20 to 10 and many of the chorus were offstage. Overcrowded in 2017 it was oddly still a bit of a mess in 2021! More very visible muscle power was needed to change this into the Café Momus crammed with tables, again with not as many customers as before. Everything is in straight lines and the bohemians, Mimì, Musetta and Alcindoro are all in the first row facing out to the audience once again. There still is rather a lot of frantic activity and whether you find Musetta removing her French knickers to enrage her rich admirer, Alcindoro, and make her former lover, Marcello, jealous is amusing is a matter of opinion. He plants a kiss on a random customer to get his own back and Musetta kisses her too!
The third act is also more Copley than Jones and takes place on a snow-covered mostly bare stage with a single brazier and what looks like a prefabricated wooden tavern. Marcello is painting the outside whilst Musetta is 'entertaining' the customers inside. As Rodolfo and Mimì agree to stay together until spring the small building (haltingly) retreats diagonally across the stage. This is a nice touch and helps create the illusion of the couple (and Musetta who has been thrown out by Marcello) leaving this life behind for an uncertain future though we all know Mimì's impending fate. She is dying of tuberculosis – but who didn't think about Covid-19? – and expire she does at the end of the final act that is played out fairly straightforwardly again. The bohemians amuse themselves (I am astonished there haven't been second thoughts about this since 2017!) by scribbling all over their apartment and they seem disturbingly breast obsessed. Having briefly revived Traviata-like, Mimì quietly breathes her last on the floor with her head propped up on the stove.
Renato Balsadonna, previously the company's chorus director, ably conducted Mario Parenti's reduced orchestration which is for an ensemble of 47 rather than 74 and listening through loudspeakers I noticed little difference apart, perhaps, from a certain thinness in the string sound. He allowed Puccini's evocative score to breathe and reveal with exceptional clarity all its gaiety, romance, jealousy and pathos. With no great wall of sound to have to overcome the singers could concentrate more on psychological nuance, vocal shading and colour. Balsadonna's orchestra played very well for him and the chorus (onstage or off), including the children, sang enthusiastically.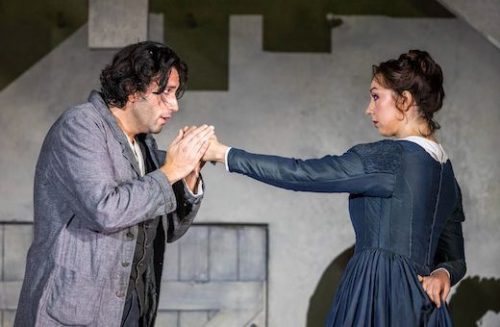 I must comment in passing on the multinationalism in the six leading roles: not one was British-born and disappointingly there was no Jette Parker Young Artist involved either. There were two Russians, two Americans, an Australian and a single Italian for a Puccini opera. (Danielle de Niese was the only name I immediately recognised in the principal sextet of singers though I subsequently found I had seen Joshua Guerrero sing previously for English National Opera and at Covent Garden.) Anna Princeva was a revelation as Mimì. She has a beautiful, dark and distinctive soprano voice (apologies for suggesting she sounded like her Russian compatriot Anna Netrebko of a few years ago). Princeva also has a compelling stage presence and was a convincing Mimì; though apart from some coughing she was looked and sounded rather too healthy from first to last. She caressed the long phrases of 'Sì, mi chiamano Mimì' and demanded we – and not just Rodolfo – listen to her and she was so dramatically engaged in her role that in the third act when she sang the line 'Goodbye, and no bitterness' I thought I saw tears in her eyes.
There was undoubtedly some chemistry with her Rodolfo, Joshua Guerrero, and that is important for every La bohème. His 'Che gelida manina' was not as expansive as sometimes you could hear it and I was aware – not for the last time – of some gear changes in his robust lyric tenor sound. Nevertheless, he brought the opera to a deeply affecting conclusion with his outbursts of emotions at the very end, yet Rodolfo's first instinct was to seek solace from Marcello rather than cradle the dead Mimì!
For me Glyndebourne chatelaine Danielle de Niese was disappointing as Musetta. She seemed to be trying too hard, she overacted the physical comedy and vocally did not seem at her absolute best. De Niese has such a naturally vibrant personality that she should have made a more positive impression as the knicker-waving, sassy, sluttish, shrewish Musetta, although she was suitably caring and a support to the bohemians near the end. The hot-headed Marcello was strongly and expressive sung by Boris Pinkhasovich; in personality he was not as engaging as some Marcellos and I suspect that he makes an excellent operatic villain. The extravagantly long-haired Cody Quattlebaum was a charismatic Schaunard and he made his role seem bigger than it actually is, as did Gianluca Buratto as a slightly disreputable Colline. All credit to Buratto for being able to draw attention to himself more than any Colline I have seen by always doing some 'stage business'. Buratto's Act IV sombre 'coat aria' was a vocal highlight that he sang sensitively with unstated conviction. Jeremy White had a lot of fun as the bibulous Benoît although Wyn Pencarreg's Alcindoro was a mere cypher and given nothing to work with.
Jim Pritchard
For more about what is on at the Royal Opera House click here.