United Kingdom St Martin in the Fields's ReSound – Benson Wilson (baritone) and James Baillieu (piano): Performed 5.6.2021 at St Martin-in-the-Fields, London, and streamed from 7.6.2021. (JPr)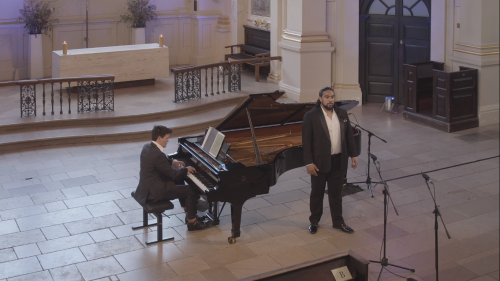 Howells – 'King David'
Finzi – 'Come away, death'; 'Fear no more the heat'; 'It was a lover and his lass'
Mahler – Lieder eines fahrenden Gesellen
Tchaikovsky – Don Juan's Serenade
R. Strauss – 'Allerseelen'
Donaudy – 'O del mio amato ben'
Tosti – 'A Vucchella'
Poulenc – 'La belle jeunesse'
Traditional – 'Le Manu Tagi e'
The stream began with an introduction; 'Hello and a very warm welcome to St Martin-in-the-Fields. I'm Natasha Riordan and it's my pleasure to present the latest concert in our brand-new summer series ReSound. We are thrilled that the restrictions are gradually lifting so we can welcome people back into this iconic building, but it is also wonderful for us to bring tonight's concert to you our online audience. You have 30 days from the day of release to watch this concert as many times as you like.' I raised an eyebrow at this but by the time this short 50-minute recital ended I realised I would be only too happy to watch it again and may well do at least once more while it remains available. Riordan described it as a 'true celebration of song' from baritone Benson Wilson and pianist James Baillieu.
I had been looking forward to Wilson's recent appearance for Leeds Lieder but was slightly disappointed. I wrote how 'Wilson has the potential to be one of the voices of the decade with his dark-toned immensely powerful baritone and whilst he proved he was capable of sculpting legato phrases and singing more softly at times, however there was not enough of that'. Well, at St Martin in the Fields I have nothing but praise for being able to luxuriate (aurally) in Wilson's mellifluous, subtly coloured baritone and the expressive beauty of his melodic lines. As well as all the evidence of Wilson's vocal imagination he was able to sing confidently in six languages, English, German, Italian, Russian, French and Samoan.
Herbert Howells's 1919 'King David' brought us music of consolation to start the recital and was ideal for our current times. We hear how the king 'was a sorrowful man' until he enters a garden and hears the song of a nightingale which raises his spirits. We could hear the bird singing in Baillieu's articulate and evocative accompaniment whilst Wilson's storytelling was magical.
The subtlety of the byplay between singer and pianist continued in three Gerald Finzi Shakespeare settings; firstly, the lament 'Come away, Come away, death' (Twelfth Night); then the somewhat more impassioned 'Fear no more the heat o' the sun' (Cymbeline) was imbued with a rather haunting feeling and the quiet meditative ending muses about aging as the passing of time and that we are all going to die; finally, lifting – thankfully! – the pervading mood of what we had heard so far, 'It was a lover and his lass' (As you like it) was much more spirited and Wilson clearly joyfully relished the repeated refrains 'With a hey, and a ho, and a hey nonino' and 'When birds do sing, hey ding a ding a ding'.
In Lieder eines fahrenden Gesellen (Song of a Wayfarer) Mahler's painterly depictions are particularly vivid, especially with birds chirruping in 'Wenn mein Schatz Hochzeit macht' and 'Ging heut' morgen übers Feld' and it was here that the Wilson/Baillieu partnership reached new heights of exceptional synchronicity and together – as throughout the rest of the recital – they behaved as a single instrument, shaping phrases that were exquisite, eloquent or dramatic. The plaintive 'Ich hab' ein glühend Messer' ('I've a gleaming knife') saw Baillieu's fingers fizzing across the keyboard as we heard Wilson at his most operatic. In the elegiac 'Die zwei blauen Augen' the wayfarer evokes – in this reflection on love and sorrow – the image of a lime tree under which he bids farewell (to the world?) and Wilson made me imagine it too!
Wilson's charisma shone out during the amorous antics of Tchaikovsky's Don Juan Serenade which featured more virtuosity from Baillieu; and the baritone brought poignancy and warmth to Richard Strauss's 'Allerseelen' ('All Souls' Day)'. Two very familiar Neapolitan songs were next: Stefano Donaudy's 'O del mio amato ben' with its achingly tender memories of lost love which needed the complete range of Wilson's voice from bottom to refined top and Paolo Tosti's 'A Vucchella' ('A sweet mouth') was sweet and tender and Wilson seemed to be enjoying himself immensely. That song demanded the utmost in legato and voice control and Wilson was not lacking in either. Then Wilson and Baillieu had a lot of fun with 'La belle jeunesse' one of Francis Poulenc's 'ribald' songs. (This is perhaps not as PC as it might be for 2021 because it celebrates men 'playing the field' as regards romance!)
Finally, 'Le Manu Tagi e' honoured Wilson's Samoan heritage in a heartfelt paean to love, longing and separation (particularly from one's homeland).
Jim Pritchard
For more about Benson Wilson click here.