United Kingdom British Ballet Charity Gala: Dame Darcey Bussell and Ore Oduba (presenters), Dancers of Ballet Black, Birmingham Royal Ballet, English National Ballet, New Adventures, Northern Ballet, Rambert, Scottish Ballet, The Royal Ballet, Royal Ballet Sinfonia / Paul Murphy (conductor). Filmed (directed by Michael Nunn and William Trevitt) at the Royal Albert Hall, London, 3.6.2021 and streaming widely from 18.6.2021. (JPr)
This proved an essentially criticproof event all in support of worthy causes which had been commendably organised by Dame Darcey Bussell. The more I see her, whether shown – in this stream – sashaying elegantly up the steps to the Royal Albert Hall or talking to Alan Titchmarsh on his TV programme recently or hosting her own series of Scottish travelogues, Dame Darcey will now dance at almost any opportunity. There was probably good reason for her to step away (sorry!) from ballet in 2007 but it clearly is something she has been regretting more and more in recent years and I expect she would jump (sorry again!) at the chance of being offered the opportunity to direct one of our leading companies.
Introducing her evening – on film with fellow presenter Ore Oduba from somewhere within the Royal Albert Hall – Dame Darcey said: 'Tonight we make history, the first ever gala featuring all eight of our leading ballet companies […] Each of the companies has its own identity and unique style and we are about to see a huge range of stunning works. The quality of dance is a testament to all the dancers' incredible talent and determination given that many of these companies won't have performed at all – not even livestreamed – for over a year.' Ore continued: 'It's all for a really good cause, this gala will benefit 19 charities in all including each company's chosen community dance project.' To which Dame Darcey replied: 'And you are also supporting a huge range of creative industries; backstage including choreographers, stage managers, lighting designers, costume makers, artists, musicians, the list is endless.'
It was not easy to gauge the size of the stage which was in front of the Royal Albert Hall's famous organ because Michael Nunn and William Trevitt's main camera seemed to have been beside the left shoulder of conductor Paul Murphy (whose Royal Ballet Sinfonia musicians were in front of the stage), and we never really saw it from any higher up. I suspect the restricted space plus ongoing coronavirus precautions limited what the companies could offer, even though the involvement of 65 dancers was mightily impressive, nonetheless.
Scottish Ballet's 2019 Dextera from choreographer Sophie Laplane opened the proceedings, and it uses – less recognisably – Mozart's Gran Partita and, in addition, his very familiar Eine kleine Nachtmusik but now with added bongos! For the first – though not the last time in the works we saw – there were bare (male) chests, flamboyant or quirky hand gestures, sinuous movement and much hip-wiggling. I have recently reviewed Jerome Robbins's Dances at a Gathering (review click here) and watching Laplane's solos, duets and ensemble moments she has clearly been influenced by that seminal work and has reinvented it for the twenty-first century.
Ballet Black's Then or Now from William Tuckett was next, and it blended elegant classicism with music from Heinrich Ignaz Franz von Biber and Daniel Pioro and the poetry of Adrienne Rich (Dark Fields of the Republic: Poems 1991-1995). Her words are a reflection on the times in which they were written and although Cira Robinson was the central figure in a group of eight, how she moved seemed divorced from the spoken words we heard and if there was a 'message' to what we were seeing it was difficult to discern.
The first of Northern Ballet's two contributions was an extract from Jonathan Watkins's 1984 to which Alex Baranowski provides tolling and increasingly passionate music. To my shame(?) I have never read George Orwell's dystopian 1984 nor seen any filmed version of it. I understand Julia (Abigail Prudames) is the love interest of Winston (Joseph Taylor) and his ally in the struggle against Big Brother. In a pool of light Julia and Winston soon strip to their underwear and what follows is basically an extended love duet that owes a great deal to Rudolf Nureyev's choreography for a similar gymnastic romantic encounter in his version of Romeo and Juliet. Kenneth Tindall's Bitter Earth then involved a trio of dancers – Minju Kang, Kevin Poeung and Lorenzo Trossello – and there is typical perpetuum mobile music from Max Richter mashed-up with a somewhat disembodied Dinah Washington singing her 1960's hit 'This Bitter Earth'. Performed in black exercise wear the three dancers move eloquently to explore their interconnection and dependence on each other.
From Carlos Acosta's Birmingham Royal Ballet there was some more conventional gala fare and we saw Sir David Bintley's ballroom pas de deux from his Cinderella to some lush Prokofiev with its ominous musical clock ticking. Paul Murphy and the Royal Ballet Sinfonia sounded wonderful here as they did in all that they played live. To a degree they somewhat overwhelmed the elegant, yet careful (rather than carefree) dancing of Momoko Hirata (in the only tutu we would see!) and César Morales.
From Sir Matthew Bourne's New Adventures there was his 1988 Spitfire, An Advertisement Divertissement. This was nothing to be taken seriously and to recognisable 'bleeding chunks' of Leon Minkus and Alexander Glazunov, Bourne's six 'underwear models' sassily pose and posture. At one point they join together in a deconstructed pyramid, but it all goes on far too long and the joke quickly wears rather thin.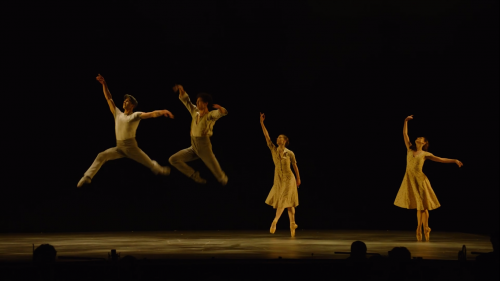 Shostakovich's Piano Trio No.1, Op.8, was the music for Yuri Possokhov's first UK commission, his neo-classical Senseless Kindness for English National Ballet. I understand it is inspired by Soviet dissident Vasily Grossman's late-twentieth century novel Life and Fate. Costumes seem to show the 1940s with simple patterned dresses for the two women and the two men have either a cap or braces. The relationship of this quartet appears complex and rather fluid and occasionally the generally sunny lighting becomes monochrome as dancers appear to confront their emotions against geometric shapes of white light on the stage floor. At least Isaac Hernández and Francesco Gabriele Frola had the opportunity for some bravura spins and leaps and the expressive Alison McWhinney and Emma Hawes were their love interests in some lyrical duetting.
Rambert's junior company, Rambert2 represented the main troupe who were performing elsewhere at this time. Their eleven youngsters in red or tangerine and with male chests bare (again!) danced Sama that had been choreographed by Andrea Miller to Nicolás Jaar's music which had an incorporeal voice intoning indistinctly. There was something non-stop, primal and tribal to Sama; it began somewhat spiritually, later there was a trance-like section and it ended hinting at the orgiastic shenanigans of The Rite of Spring.
Last but not least was Valentino Zucchetti's Scherzo danced to the second movement of Rachmaninoff's Second Symphony that sounding resplendent from Murphy and his orchestra. Featuring some of The Royal Ballet's younger dancers the tone of Zucchetti's mostly quicksilver steps veered from jauntiness to a more sombre conclusion and reflected the music. At last, there were some fouettés – often a staple at such galas! – and once again what we saw owed much to Dances at a Gathering, this time more conventionally. There was high energy and technical assurance from all concerned and although I am loath to single anyone out, Gina Storm-Jensen repeatedly drew the eye.
To a spirited account of the Overture to The Marriage of Figaro all those who had been involved were seen having some high jinks on film and it all concluded back on stage with the sixteen Royal Ballet's dancers as this well-intentioned occasion came to its joyous, life-affirming end.
Jim Pritchard