United States In Focus / Episode Twelve, Celestial Serenades: Michael Sachs (trumpet), Yolanda Kondonassis (harp), Strings of The Cleveland Orchestra / Vinay Parameswaran (conductor). Performed in Severance Hall, Cleveland, recorded in spring 2021, broadcast 3.5.2021, and reviewed as a video stream. (MSJ)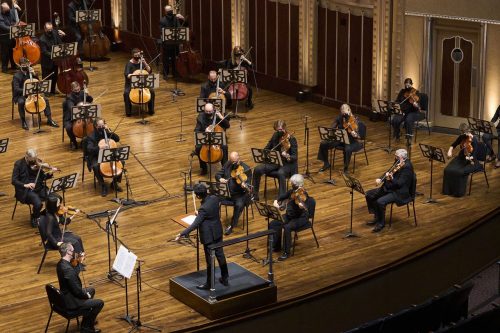 Kernis – Elegy…for those we lost, Musica Celestis
 Suk – Serenade for Strings
The penultimate installment of The Cleveland Orchestra's In Focus series of pandemic-conditions streamed concerts brings the welcome return of principal trumpet Michael Sachs, though not yet with the ensemble. Sachs is featured in a performance with his wife, the prominent harpist Yolanda Kondonassis, in the premiere of a custom-made arrangement of Aaron Jay Kernis's Elegy…for those we lost, prepared by the composer, himself a Covid survivor.
Sachs is a luminary of the orchestra, one who can fill Severance Hall with a rich golden sound, yet pierce like an arrow where needed. I have listened to recordings of many great trumpeters over the years, including the likes of Maurice Andre and Wynton Marsalis, but Sachs stands out as one who not only has great technical facility, but can also channel an incredible amount of human emotion into the instrument's brazen voice. Here he gives ideal voice to Kernis's piece in memory of our collective Covid losses.
The work, originally for piano, was written last year at the height of the pandemic. In an introductory video, Kondonassis talks about pitching the idea of a trumpet/harp arrangement to Kernis, expecting it might be a difficult sell. Kernis, however, immediately accepted the proposal and relished recasting the work, which he has also arranged for other forces. In fact, this version is so effective, one would never know the piece was an arrangement. Sachs brings tremendous lyricism to the melodic lines, rising to cathartic full voice at the peak, while Kondonassis equals his energy, dispatching the more pianistic parts of the work, arpeggios and chords, with utter certainty.
Another Cleveland premiere comes with an early work by Kernis, Musica Celestis. It was originally the slow movement of Kernis's first string quartet, but since he recast it for string orchestra, it has become his most played work. It isn't hard to see why. From free-floating clouds of sound, ideas emerge and grow to a sonorous peak that is both involving and moving. The piece is the latest installment of great string orchestra pieces such as Vaughan Williams's Tallis Fantasia and Barber's Adagio for Strings. Vinay Parameswaran leads the orchestra with passion.
The third welcome discovery of this invigorating concert is Josef Suk's Serenade for Strings. Suk was imposingly featured in Cleveland a couple of years back with the orchestra's brilliant performance of his massive, glowering masterpiece, the 'Asrael' Symphony. Here we find another side of Suk's personality in the happiest, most carefree piece he ever wrote, his youthful Serenade for Strings. Being Suk, there are still shadows in places, but that contrast only makes the joyous textures of this attractive music stand out. Parameswaran throws himself into the work without hesitation, encouraging the players to dig in and relish the lovely, lively music.
This concert is a perfect way to reflect upon the journey we have made through the last year or so: remembering those we have lost with warmth and love, taking a deep breath and then returning to life.
Mark Sebastian Jordan
Subscriptions to The Cleveland Orchestra's Adella streaming app are available at Adella.Live or on their website: click here.