United Kingdom Britten, The Turn of the Screw: Libretto by Myfanwy Piper from a story by Henry James. An OperaGlass Works production. Directors – Dominic Best, Selina Cadell and Eliza Thompson. Set designer – Tom Piper and Director of Photography – Jim Ashcroft. Sinfonia of London / John Wilson (conductor). Orchestra recorded at Cadogan Hall, London and filmed at an empty Wilton's Music Hall, London. Shown on BBC FOUR, 6.6.2021 and available on BBC iPlayer until 6.7.2021. (JB)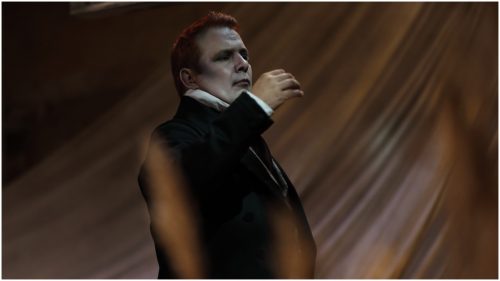 Cast:
The Governess – Rhian Lois
The Prologue / Peter Quint – Robert Murray
Mrs Grose (housekeeper) – Gweneth Ann Rand
Miss Jessel – Francesca Chiejina
Flora – Alys Mererid Roberts
Miles – Leo Jemison
There is a single preoccupation which runs through all Benjamin Britten's music.  And I mean all: it is there mischievously in Ben's nuanced keyboard fingers in his introduction to The Foggy, Foggy Dew arrangement; and more solemnly in Peter Grimes or Billy Budd, or the white-hot heat of religious conviction in the poetry of the War Requiem. It is innocent suffering.
One of the most glorious pleasures of music is that words cannot get in the way of it. Music is the art form that speaks directly for itself. No one knew this better than Ben Britten. Music was in the very fibre of his being. He wrote fast. And sometimes furiously. His love of words was also a part of his love of music. And more especially when those words were poetry. He would probably also have said that all words are poetry. Along with hundreds of other composers there was certainly not a moment of day or night where music wasn't awakening itself – struggling for attention – in his mind. His legacy is the record of that attention: his gift to musicians and audiences. Moreover, in Ben's case it is a gift which is as generous as it is universal. And the more generous and universal his performers and audiences, the greater their reward.
Ben knew a thing or two about suffering. Some have claimed that it started with his collecting pretty boys for the entertainment of his dentist dad. Innocent enough, you might have thought, but the young Ben would not have advanced far in this service before he encountered Victorian disapproval of such practice. Never mind that this was decades after the demise of Queen Victoria. Some prejudices have no endings.
Peter Evans, who was born of Australian parents in Durham, and was England's most profound musicologist, in his 1979 The Music of Benjamin Britten has given us a lively forensic account of the Britten attributes and practices, opera for opera, which I have tried to summarise above. Professor Evans avoids Britten's life and focuses exclusively on the music. In spite of overtures from Oxford and Cambridge, he never moved from Southampton, where he was also instrumental in securing a fine new concert hall in which he conducted many choral works including the War Requiem and other Britten works. Oxbridge students regularly moved to Southampton to take their higher music degrees. One student in an excellent obituary (Evans died in 2018, after a three-year struggle with dementia) said that her mentor was very laid back except for unexpected moments when he could become steely. One of these was his insistence on his students using their ears for everything they read or wrote about music. Failure to use your ears even for the Hons Music BA would mean instant failure of your final exam. Wilfrid Mellers was imposing the same discipline for the newly opened Department of Music at the University of York.
The Turn of the Screw has a libretto by Myfanwy Piper (wife of John, designer and artist) following almost word for word, the short ghost story of Henry James. James's literary genius shines in this story and Britten and Mrs Piper do everything to allow it to do so. (I was regularly chastised by Gore Vidal for refusing to persist in reading The Wings of the Dove which James wrote around the same time and where a sentence can go on for more than one page as though the full stop had never been invented. Gore said that that was the way James spoke. Edith Wharton has an episode to report where she was with James in central London, finding themselves lost; James stopped a man and said something along the lines of Excuse me kind Sir, but my American friend and I have found ourselves lost and if it wouldn't be too much imposing on your privacy, we were wondering if you would be able to tell us the way to St James's Place. The answer came back, You're in it.) Pomposity put in its place. The same Henry James refused to sign the petition which Virginia and Leonard Woolf got up to try to reduce the harsh prison sentence of Oscar Wilde. The petition didn't exactly work either, though it did cause HM's government to move Wilde to a more humane prison. It was from this second prison that Wilde memorably picked up his pen again.
OperaGlass Works (OGW) three directors, Dominic Best, Selina Cadell and Eliza Thompson, have given us a beautifully, haunting staging in an empty Wilton's Music Hall, with empty music stands and virtually no props. The Sinfonia of London is conducted by John Wilson and his baton begs a lot of questions; begs them very well, it has to be said. That is what the best ghost stories do. They keep us guessing. Mrs Piper's skill in withholding information is masterly. Up to Henry James's. She follows a path which has been tried before: we are invited to watch the narrative as a neurosis of the Governess's mind. Still, that good woman is in despair at understanding the unusual children and above all, herself. What did I come here to do? She continually asks herself, without ever coming up with an adequate answer. Cadell and Thompson had already scripted a successful stage performance. The invitation from Wilton's Music Hall to adapt it to that unique performing space came later. Then came the pandemic.
So we had to think again says Musical Director, John Wilson. As the OGW creative team walked round Wilton's they had the bright idea that their staging might work much better as a film. And not just with the stage, but using every nook and cranny of the dusty, dilapidated, listed theatre. (In reality, it is neither dilapidated nor dusty but that is the impression the theatre likes to give to first-time visitors.) And OGW Director of Photography, Jim Ashcroft, turns out to have the right eye for getting the rest of us to see the meaningful poetry of dusty nooks and crannies. Tom Piper (no relation to Myfanwy) must also share the credit as Set designer, for turning what might first look like a mess into works of art. It is perhaps not so much what these nooks and crannies look like, as the questions such places raise. Young Tom Piper has placed bunches of rushes on what would normally be the two levels of the stage. The rushes are on their last legs and flutter in an ominous wind. Singularly appropriate to Britten's music.
To my ear, Rhian Lois does not have the right voice for the Governess. Hers is a shrill voice, especially in its upper register. She has an unfortunate habit of going for the high notes from below, then scooping upward but never quite making the required height. Intonation gets abandoned. Britten thoughtfully has provided her with two lyric arias. (Jennifer Vyvyan created the role in Venice at the premiere.) Shouldn't the arias be the brief oasis of calm in the crisis? And not to be delivered as a screeching harpy?
Gweneth Ann Rand is the perfect housekeeper, Mrs Grose, puzzled more than she wants to let on to her audience or herself. Always playing her cards close to her chest. A Hitchcock-type character who used to be found in every village pub in England (but not in Scotland or Wales!)
Robert Murray is cast very nicely as Peter Quint and the Prologue, his diction and nuances are as remarkable as Peter Pears, for whom the role was written.
I am not convinced by the children, who in OperaGlass's telling have actually become adults. This works better with Alys Mererid Roberts (Flora) who is uncannily prim and proper in the best Victorian sense, both in deportment and singing. Lee Jemison (Miles) is frighteningly wooden (studiedly so, but for me, misplaced). His singing is as accurate as you would expect from a Trinity School pupil. Where else?
Myfanwy Piper's words and Britten's music are so remarkably woven together it is impossible to know which is most captivating. Apart from William Plomer's texts for Britten's church parables, the composer never subsequently worked with another librettist. Another Henry James ghost story would make up the trinity for Britten's opera for TV, Owen Wingrave. (Britten never possessed a TV and the BBC, who had commissioned the opera, gave him one, so that he could see the results of his work. Mrs Piper too regarded television as a threat to her intellect and went for a long period without. Both, with Henry James in the role of the Holy Ghost, produced another memorable opera.)
After the music of Bach, pretty well all Western music was based on the seven-note scale which makes its major and minor keys that use two semitones as well as five whole tones. To such an arrangement are Western ears attuned. Occasionally, Western composers will use the pentatonic or five-note scale which only uses whole tones, usually when they want to invoke the Orient (Puccini in Turandot and Madama Butterfly). Debussy and Ravel used the pentatonic scale successfully, sometimes independent of its Oriental associations. To Western ears there is a floating or non-commitment feel to pentatonic music. This hanging-in-the-air feel gives Britten just what he wants in The Turn of the Screw. Uncertainty. Floating.  Unsettling even. His music grounds almost shockingly when the children sing Tom, Tom, the Piper's Son and Lavender's Blue. But here the grounding is also forcefully threatened by percussion outbursts (performed at the premiere by James Blades, Ben's preferred percussionist).
Osian Ellis (who sadly died earlier this year) was another regular collaborator/advisor to Britten, this time for the harp. Listening repeatedly to The Turn of the Screw I became aware of harp sounds I had never heard before.  (I couldn't imagine how there could be harp sounds I did not know about: I spent many years on juries of harp competitions. Italy had three harp teachers who had supplied orchestras with harpists right across Europe: one in Pesaro, another in Milan [not at the conservatory, but the old Scuola Civica di Musica] and the third in Trieste. Other candidates coming from other institutions in Italy didn't have a chance against these three great women. No one had ever mentioned the effect you can get by tapping on the harp's frame by holding down selected pedals. Wonderfully haunting! Thank you Osian Ellis!)
The Turn of the Screw is scored for Britten's English Opera Company's touring orchestra of 12 instrumentalists plus one pianist who doubles as celesta player. (Just after WWII there was a shortage of cash for touring companies and Britten developed a technique to make 12 players sound like a full orchestra. Ingenious, not to mention fun for players and audiences.)
The opera is written in a Prologue, two acts and sixteen scenes (all to be played without a break). It is also structured as a theme (Quint sings the Prologue) with 16 variations. The theme is hinted at in the Prologue but becomes clearer in the pianist's left hand in the first scene. Each scene has a title which Tom Piper has mysteriously/wittily flashed onto what is normally the stage floor of Wilton's. Are we at an auction? And what is being auctioned? The children?
A scene called The Lake (harp, flute and pizzicato strings) has the Governess at a distance from Flora, who is nursing a doll, except that it becomes evident that there is no doll there as she unravels its 'clothing'. The Bells brings to mind Sunday Morning in Peter Grimes, a sea interlude with menacing tubular bells in cacophony. The Piano has Miles mocking five finger exercises. A cliché? No doubt, but as with Verdi, Britten's clichés never sound like clichés.
Jack Buckley