United States Various: Los Angeles Chamber Orchestra / Jaime Martín (conductor), Walt Disney Concert Hall, Los Angeles, 28.6.2021. (LV)
Alberto Ginastera – Variaciones concertantes Op.23
Juan Pablo Contreras – 'Mariachitlán' (world premiere of a new arrangement)
Mendelssohn – Symphony No.4 in A major, 'Italian'
In front of 800 invited guests and ticket-giveaway winners, unmasked, socially distanced and in pods, the masked, equally socially distanced Los Angeles Chamber Orchestra's music director, Jaime Martín, bounded on stage wearing his mask, acknowledged the crowd and whipped it off, at which point, on cue, the players did the same. It was a theatrical flourish that had a reasonably iconic feel to it and could well stand to serve for the re-opening not only of Walt Disney Concert Hall but of halls around the world.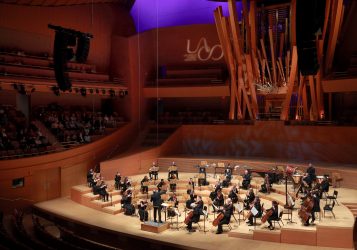 Alberto Ginastera's Variaciones concertantes proved to be the perfect way to celebrate a return to life and optimism by an orchestra made up of soloists. The music is mainly a succession of hallucinogenic solo riffs, and it gave 12 musicians a chance to speak directly to the audience. Harpist Elisabeth Zosseder's invocation caught the guitarist's soul, while Andrew Shulman's cello sang the sighing, bittersweet theme with rapt intensity. Bassoonist Kenneth Munday and oboist Claire Brazeau brought purity of line and intonation to their lovers' duet. And violist Erik Rynearson, with a twirled mustache straight out of GQ, nailed one of the greatest solos in the repertoire with crunchy, defiant virtuosity, ending with a lovely trill and a last, long bowed silence.
Juan Pablo Contreras's 'Mariachitlán' for piano four-hands pays homage to the Mexican state of Jalisco, 'where mariachi music originated' and the composer was born. Nominated for a Latin Grammy in 2016, 'Mariachi Land' was now making its debut in a new arrangement for and commissioned by the orchestra. Described as reflecting 'the experience of hearing multiple mariachi bands vie for listeners' attention in the Plaza de los Mariachis in Jalisco's capital, Guadalajara', not only the storyline but much of the music could have come out of an MGM South of the Border, Golden Age musical. There were lots of mariachi sounds, plaintive cello, viola and oboe solos and classical music beautiful mariachi trumpets who might have sounded more tipsy.
Completing the Latin theme, Martín and the orchestra exploded into Mendelssohn's 'Italian' Symphony with enthusiasm, sang the theme with exhilarating lyric energy and drive, and then found a steady rhythm and pace that suited much of what followed. There was a wonderful variety of nuance and detail from the winds, not surprisingly for a conductor who rose from the ranks as a world-class flautist. There was an unusual sweetness to the Con moto moderato and the Finale was dispatched with all the energy they could muster after an exhausting, uninterrupted 75 minutes of demanding notes and emotions – not least, perhaps, because it was LACO's first self-produced concert at the Hall.
After the applause and cheers subsided, Martín serenaded the evening's sponsors with a lullaby by Telemann on a flute he just happened to have brought along with him. The whole orchestra then played the Intermezzo from Gerónimo Giménez 's famed zarzuela opera, La Boda de Luis Alonso, with gusto and verve.
On such a landmark night it was good to see the Los Angeles Times critic Mark Swed, gaunt and leonine, silhouetted against Frank Gehry's towering jumble at the Colburn School across Grand Avenue from Disney Hall's spindrift and sails. Swed was a 2021 Pulitzer finalist in criticism for 'essays that broke through the silence of the pandemic', and, one might add, for his contributions to the growth of a public for classical music in Los Angeles for 25 years and the realization of magnificent visions.
Laurence Vittes