Germany Miroslav Srnka, Singularity: Soloists, Klangforum Wien / Patrick Hahn (conductor). Cuvilliés Theatre, Munich, 7.6.2021 (ALL)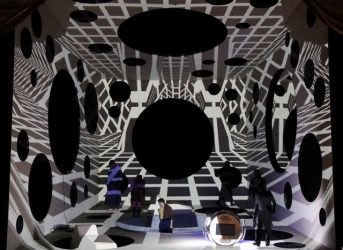 Production:
Director – Nicolas Brieger
Set design – Raimund Bauer
Costumes – Andrea Schmidt-Futterer
Lighting – Benedikt Zehm
Videos – Stefano Di Buduo
Sound – Matouš Hejl
Dramaturgy – Malte Krasting
Cast:
Soprano Analogue – Eliza Boom
Soprano Digital – Juliana Zara
Mezzo Analogue – Daria Proszek
Mezzo Digital – Yajie Zhang
Tenor Analogue – George Vîrban
Tenor Digital – Andres Agudelo
Baritone Analogue – Andrew Hamilton
Baritone Digital – Theodore Platt
Singularity is a new opera written for the Bayerische Staatsoper's Opera Studio by Miroslav Snrka, a Czech composer with whom Munich audiences are familiar. Two of his previous works, Make No Noise and South Pole, were premiered here, the latter with no less than Thomas Hampson and Rolando Villazón in the two main roles and under the baton of Kirill Petrenko. He displays a strong mastery of sound effects with an orchestration full of finesse, miles away from the sonic deluges that Aribert Reimann displayed in Lear (review click here) which Munich audiences heard recently. He also definitely has a strong sense of humour, reminiscent of Ligeti.
The libretto was written by Tom Holloway. It is an English understatement to say it is not really lucid. Each character has masked 'digital' doubles. Without going into too much detail, the basis of the story seems to be the disappearance of the tenor's girlfriend, a soprano, who then seeks to find her through recovered emails. Then the tenor meets up with a mezzo and a baritone. There is a series of discussions that suggest that true love is to be found in the exchange of messages, where phrases are mixed with emojis, until mezzo and baritone briefly discover physical love. Then the soprano and her double reappear and all merge into the 'singularity' of the world.
So, in short, the story is not very easy to follow.
But make no mistake, there is no weak moment that makes the attention wane. The vocal writing is very varied and original. The masked double that accompanies every singer allows for some fascinating musical effects, none of them gratuitous. The singers rap, belch, speak, shout, murmur… and sing, and Srnka's writing for an enchanting eight-voice ensemble at the end of the work has a real line during which the exquisite hall of the sumptuous Cuvilliés Theatre is plunged into a semi-darkness filled with stars.
The quality of the vocal parts, the superb lighting and video effects, the reflections of the singers and their doubles, and the instrumental effects – including two beautiful orchestral interludes – make for a captivating whole.
This evening owed much to the titanic work of the musicians. To see and hear a modern work that demands so much of the singer-actors shows how much such premieres benefit from a high-class technical level. The virtuosity of the singers is equal to the inventiveness of the staging. Patrick Hahn leads his Klangforum Wien ensemble with mastery and confidence.
Singularity will be viewable on demand here from 9th June for a period of thirty days.
Antoine Lévy-Leboyer