Germany Aribet Riemann, Lear: Soloists, Chorus and Orchestra of Bavarian State Opera / Jukka-Pekka Saraste (conductor). 30.5.2021 performance at the National Theater, Munich, streamed (directed by Myriam Hoyer) on 1.6.2021. (JPr)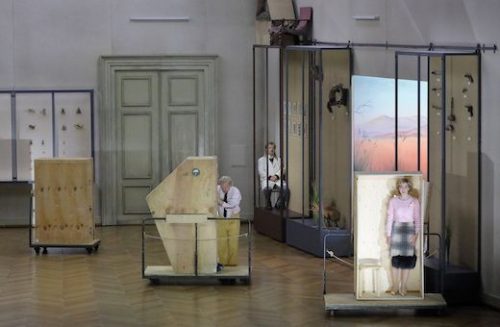 Production:
Production – Christoph Marthaler and Joachim Rathke (collaborator)
Set – Anna Viebrock
Costumes – Dorothee Curio
Lighting design – Michael Bauer
Chorus director – Stellario Fagone
Dramaturgy – Benedikt Stampfli, Malte Ubenauf
Cast:
King Lear – Christian Gerhaher
King of France – Edwin Crossley-Mercer
Duke of Albany – Ivan Ludlow
Duke of Cornwall – Jamez McCorkle
Earl of Kent – Brenden Gunnell
Earl of Gloucester – Georg Nigl
Edgar – Andrew Watts
Edmund – Matthias Klink
Goneril – Angela Denoke
Regan – Ausrine Stundyte
Cordelia – Hanna-Elisabeth Müller
Fool – Graham Valentine
Servant – Dean Power
Knight – Marc Bodnar
Please forgive me for my zero knowledge of Shakespeare's King Lear though research shows that was based on the legend of Leir a mythological British king of about the eighth century who did basically what the Bard's Lear does. Since he is elderly and wanting to abdicate, he decides to divide his realm among his three daughters, Goneril, Regan and Cordelia, declaring he will offer the largest share to the one who loves him most. Cue much intrigue and plotting against the old king. The story has attracted many composers and Verdi for one had a finished libretto for many years that he never got round to setting to music. Benjamin Britten was another who considered the play for an opera, but it was never to be.
Pianist and composer Aribert Reimann (now 85) was the frequently accompanist of the celebrated German baritone Dietrich Fischer-Dieskau who apparently suggested King Lear to him as early as 1968. Reimann did not receive a commission to write it until 1975 and this was from the Bavarian State Opera. The world premiere (in a production by Jean-Pierre Ponnelle with Fischer-Dieskau in the title role) was at the National Theatre Munich – where this new Christoph Marthaler production was seen and heard – in July 1978, with Gerd Albrecht conducting.
The German libretto is by Claus H. Henneberg who I suspect has made many excisions to reduce the story to a running length of 2½ hours. The youngest daughter, Cordelia, cannot adequately express her love for her father in the way he wants and is banished from the kingdom; leaving to marry the King of France. The loyal Earl of Kent disapproves of Lear's plan and is also exiled. The two older daughters share the inheritance with their husbands, but it is soon clear that their proclamations of love for Lear are simply an exercise in greed. I suspect Shakespeare's text is more nuanced than Henneberg's as he just concentrates on Lear and all the betrayal he is ensnared by on the one hand, and the transfiguration of Cordelia on the other.
Certainly, Act I appears to be the CliffsNotes of Shakespeare's original and is fairly relentless with singers being regularly given voice-shredding declarations. Whilst the much superior Act II is somewhat more philosophical and charts Lear's pitiful descent into madness and culminates with him being reconciled with Cordelia. Reimann provides a raucous, cacophonous, text-driven score where the voices are left to their own devices with no musical line available to support them and as a result what we hear is primarily Sprechgesang. I understand the composer uses a basic twelve-tone idiom employing tonal clusters and the microtonal division of string parts into as many as forty-eight lines. There also seems to be a wide use of percussion – a prerequisite in 'modern' music – including plenty of funereal drumming. It is not without interest, despite the music veering – until the second half at least – between moods of barbaric fury and bleakest despair.
Although this wasn't obvious from the stream, I understand that because of coronavirus restrictions only the strings and woodwinds were in the pit and the sound of the brass, percussion and harps, as well as the chorus was piped-in from elsewhere. So, it was a considerable achievement for conductor Jukka-Pekka Saraste to hold everything together as well as he seemed to during all the scenes and the expressive orchestral interludes.
I was astonished how much Reimann 'samples' Wagner's Tristan und Isolde and fragments of its music are dotted through Lear and its influence is most heard during Cordelia's 'farewell' ('Mein Lieber Vater') where the music has a tenderness and – truth be told – tonality that we have rarely heard before in the opera.
Lear obviously requires an extensive cast, who all get something to sing but the central roles are, of course, Lear himself, the three sisters and Gloucester's first-born son Edgar who is one of the plotters; as is the duke's illegitimate son Edmund, the arch-manipulator, because he feels unfairly undervalued. The Fool is a spoken role (here mostly German but some English too from Graham Valentine) and he comments on what we are seeing: Marthaler (making his Munich debut) makes him a rather louche Beckettian figure.
Well, what does Marthaler make of all this? There is the impression – not for the first time – of a director shoehorning an opera into a previously conceived Konzept. It begins with a white-coated museum employee (muttering in French) opening up a vaulted gallery, then ushering in four visitors with their audio guides and introducing them to the characters who we will soon become invested in standing about like waxworks at Madame Tussauds, either in display cases or against a wall. Some of them will later be ferried around on a platform trolley, come in and out of wooden packing cases, or return to the displays which will later include a diorama with stuffed animals. Also, Edgar will at one point be found sleeping at the bottom of a large cabinet with specimen jars. Stage right and above is a shallow balcony – frequently used as a vantage point – and linked to the lower floor by an executive lift out of which the museum director (Lear) in navy blazer, tie and trousers emerges with his right eye blackened. He also appears to be their insect expert as the first we hear from him is Hamlet and not King Lear! His 'To be, or not to be' starts everything with a laugh as he positioned the bee he was holding into an entomological display. Dorothee Curio's costumes are modernish ­– somewhat timeless – without being anything that is really fashionable in 2021. For instance, the red-haired Goneril is in a violet woollen suit and Edmund wears a yellow polo neck and shiny grey slacks.
Goneril and Regan conspire together spritzing perfume for some reason. For the famous storm scene, Kent has a wolf skin round his neck and trollies Lear around as he exclaims (in German) Shakespeare's 'Blow, winds, crack your cheeks! Rage, blow!'. There is Reimann's haunting bass flute at the start of the second act as he takes the drama by the throat and shows the horrific blinding of Gloucester. For the mad scene Lear has a chest full of medals and no trousers! Everything spirals out of control towards the story's tragic denouement and as events unfold Lear is now totally 'doolally' and alone, mourning Cordelia and leaving him to proclaim something of a Liebestod for his dead daughter. A bit like the 2006 fantasy film Night at the Museum where the exhibits come alive at night, at the end of Marthaler's Lear there's a place for all those remaining (Edgar, Edmund, Gloucester, Goneril, Regan, Cordelia) whilst the Fool wanders off. Lear addresses his final lines to a bee he is putting back in its case. The museum worker enters again, turns on some lights and another visit commences. Intriguing as this staging is, I was left with the sense that Marthaler has trivialised Shakespeare's epic play, though others may think differently.
I was full of admiration for the entire ensemble willing to risk their vocal cords singing in this opera. I can only judge what I heard during this stream and of course was not in the theatre. For me, most of the singers were frequently sorely tested by the vocal range Reimann demands of them, particularly Angela Denoke's Goneril and Ausrine Stundyte's Regan. (Sadly, I often found Denoke especially difficult – sometimes painful – to listen to.) On the other hand, totally absolved of criticism were Hanna-Elisabeth Müller's Cordelia which was oddly affecting as much as Reimann's music would allow and countertenor Andrew Watts as the Beatle-haired, mop-topped Edgar whose voice from bottom to top was astonishing and often something of incredible refinement and beauty. Matthias Klink's Edmund was almost Iago-like in his bottomless vehemence and Georg Nigl elicited our sympathy at Gloucester's plight. As did Christian Gerhaher as a grizzled Lear, though he is never the most charismatic of artists. I am only joking when I say that Gerhaher must be insane himself to take on this role and just for that he deserves much credit. His attention to the text was as exemplary as ever and his portrayal was bluff and honest with his Lear being someone with the weight of the world on his shoulders. Gerhaher sang with incredible stamina, however I wish his sturdy baritone had been less gritty so that his Lear could have been a little more bronze-hued. It was a remarkable achievement, nonetheless.
Jim Pritchard
For more about Bavarian State Opera click here.