United Kingdom Waterloo Festival [2] – Schubert: Solem Quartet (Amy Tress, William Newell [violins], Stephan Upshaw [viola], Stephanie Tress [cello]), Anthony Friend (clarinet), Catriona McDermid (bassoon), Stephen Craigen (horn), Marianne Schofield (double bass). St John's Waterloo, London, 4.6.2021. (MB)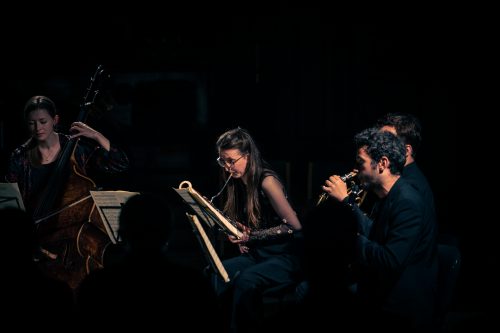 Schubert – Octet in F major, D 803
Back to St John's, Waterloo, for the next in Spotlight Chamber Concerts' contribution to the Waterloo Festival. It was clear that the Solem Quartet and friends enjoyed their performance of Schubert's Octet. So, surely, would all in the audience have done; this audience member certainly did. As we begin to rebuild our lives in line with this year's Festival's guiding word, 'respair', that return of hope after seemingly endless despair, far from yet banished, civilisation and enjoyment are not the least of the resources on which we shall continue to call. They were found in abundance here at nine o'clock on a Friday night, as outside the sun and inside the spotlight began to fall.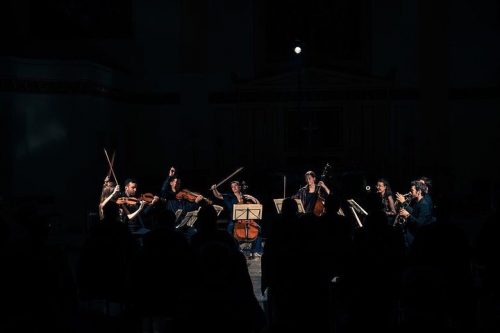 Pregnant with expectation — a feeling common to us all right now — the first movement introduction, redolent of works by Schubert's Viennese Classical predecessors yet unmistakeably his own, presaged the mood to come: of a world that might still long for the serenades of Mozart, yet which ultimately knows that time is past. The main Allegro was beautifully, meaningfully flexible, shifts in tempo contributing to the greater whole. There was a keen sense in work and performance alike of roots in tradition, without so much as a hint of the merely reactionary. The development's turn to F-sharp minor proved rightly both surprising and the most natural thing in the world, heard and felt with a pathos given space to blossom — and which therefore did. There was a fine impression of tonal ascent to the moment of return. During that recapitulation, I especially loved the transfer of melodic line between Catriona McDermid's bassoon and Stephen Upshaw's viola.
The Adagio flowed like a river on a summer's day: subtly yet undeniably. The more closely one listened, the more there was to listen to. Expressive, non-dogmatic variation of strong vibrato guided our path, enhancing the impression of a string quartet joined and enhanced by friends. Stephen Craigen's horn and Anthony Friend's clarinet likewise did much to guide an unerring tonal plan, realised in full when Schubert's owl of Minerva began at movement-dusk to spread its wings. A scherzo as fresh as it was bright nonetheless seemed predicated on the memory of something darker. The trio relaxed on the one hand, intensifying on the other, its counterpoint both blithe and serious, the scherzo's reprise heard in the light of what had changed.
The fourth movement sang with a naïve charm that yet knew its place was too late, thus turning, heartrendingly, to variation. Each variation was finely characterised yet found its place within the greater scheme. If it would be invidious to single any one out, it was perhaps inevitably the turn to the minor mode that touched most deeply. There was a subtle melancholy — at least I fancied so — to the Minuet, which again suggested already the neoclassicism of a time that knew its distance from Mozart. Allied to that, even necessitated by it, was a sense of corners still to be turned, of new vistas still to be seen and heard.
Darkly Romantic tension in the introduction was shown to be but one side of the finale's coin, the sheer good nature of its harmony and counterpoint the other, in a finely judged performance that both refused to be hurried, let alone harried, and yet with seeming effortlessness maintained its forward impetus. It took us through contrast and conflict to something more equitable and, yes, civilised: something greatly needed in our present condition.
Mark Berry
For more about the Solem Quartet click here.