United Kingdom Mozart, Le nozze di Figaro (reduced orch. by Jonathan Lyness): Soloists, Chorus of Opera Holland Park, City of London Sinfonia / Lada Valešová (conductor). Opera Holland Park, London, 15.6.2021. (CC)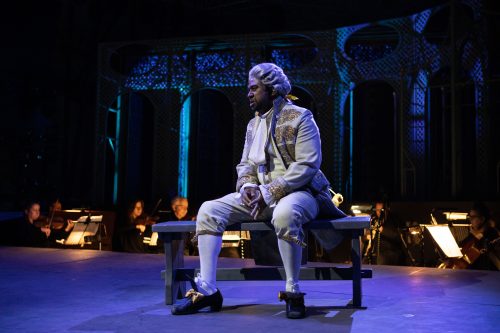 Production:
Director – Oliver Platt
Set and Costume designer – takis
Lighting – Rory Beaton
Movement director – Caitlin Fretwell Walsh
Cast:
Count Almaviva – Jacob Phillips
Countess Almaviva – Siân Dicker
Susanna – Charlotte Bowden
Figaro – Ross Ramgobin
Cherubino – Charlotte Badham
Marcellina – Hannah Bennett
Doctor Bartolo – Alex Jones
Barbarina – Isabelle Peters
Don Basilio/Don Curzio – Guy Withers
Antonio – Henry Grant Kerswell
First Bridesmaid – Naomi Kilby
Second Bridesmaid – Susie Buckle
This performance of Mozart's eternal masterpiece The Marriage of Figaro (sung in Italian) marked the tenth anniversary of Opera Holland Park's Young Artists Scheme. Reflecting Opera Holland Park's laudable commitment to new talent, this offers a platform on a major London stage (as well as encouraging development via the OHP's Inspire programme).
The young cast rehearses alongside the fully professional cast, plus they are accorded a dedicated rehearsal space for a four-week period. Mentoring, language coaching and a Sitzprobe are all part of the deal. The Young Artists performances are always highly anticipated events, and rightly so. From the evidence of this Figaro, we will encounter several of the names further down the line …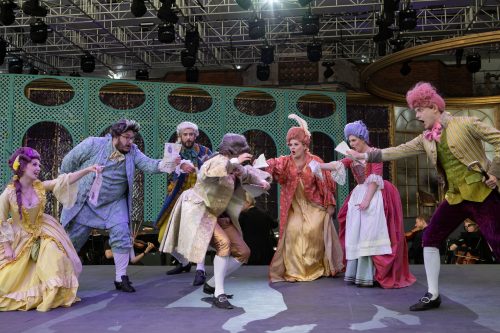 All this in a newly designed auditorium (by takis) that features socially distanced vintage chairs (mercifully with cushions) taken from previous productions (not limited to OHP's). Also, takis is responsible for designing this production of Figaro, itself applied to the La traviata set by Cordelia Chisholm: a miracle of imagination in which period costumes (again by takis) met karaoke (Cherubino singing with an imitation mic). The director Oliver Platt makes the most of the available space (both in front of and behind the orchestra). Placement of characters is perfectly judged throughout. Of course, the fact that the world actually goes dark as the opera progresses meshes perfectly with the nocturnal complexities of the final act, enhanced here by the use of torches onstage. One caveat: is it just me who finds the idea of disco dancing to Mozart outdated? This is a trope that now feels age-old and seems to have lost its allure …
Sadly, indispositions hit the young too, and the advertised Figaro, Jaylon Loy's place was taken on this occasion by the excellent Figaro from the main production, Ross Ramgobin. His 'Se vuol ballare' was a masterclass in acting married to vocal command, his 'Non più andrai' impeccable. But it was the sheer held-breath beauty of his final act 'Tutto è tranquillo e placido' that clinched the deal.
Amongst the Young Artists, too there are names to note: first up, Charlotte Badham's Cherubino, superbly convincing at all times and delivered with charm, humour and impeccable diction (particularly so in 'Non so più'). The Countess, Siân Dicker, seemed to warm into the evening, her 'Porgi, amor' less settled than her 'Dove sono'. Making a convincingly youthful Count Almaviva, Jacob Phillips was strong of both voice and character, and involving in the process. Charlotte Bowden impressed as Susanna, while Guy Withers threw himself into the roles of Don Basilio and Don Curzio. Hannah Bennett was a strong Marcellina; only the Bartolo of Alex Jones felt rather underpowered.  A shoutout perhaps to Henry Grant Kerswell, who took the part of the gardener Antonio and absolutely made the most of its humour.
The 'find' of the evening, though, has to be the Barbarina of Isabelle Peters. Her Act IV 'pin aria' – so often dismissed as a 'little cavatina' – was a gleaming jewel of beauty and delight. Peters held the stage brilliantly, her delivery impeccable – clearly a name to watch.
The conducting offered many an insight and the tempo for the busy Overture allowed for all detail to shine through, yet the sense of bustling anticipation remained. But some other tempos seemed less than ideal – one often felt that just a touch more would tip it over into Mozart's blazingly infectious energy. There is no doubting that on a technical level, Lada Valešová is a brilliant conductor and on more than one occasion it was her lightning reactions and intense rapport with the orchestra that quickly pulled ensemble together. Valešová appeared in complete control throughout, and the high standard of orchestral playing was surely a reflection of the City of London Sinfonia's respect for her. The score was heard in a well-realised reduced orchestration prepared by Jonathan Lyness.
A beautiful evening. Like many (all?) of the audience, I felt a feeling of relief and sheer happiness at returning to Opera Holland Park: particularly with this positively inspiring celebration of youth that held so much promise for the future.
Colin Clarke
For more about Opera Holland Park click here.