United Kingdom The Royal Ballet's Balanchine and Robbins: Dancers of The Royal Ballet, Robert Clark (piano), Orchestra of the Royal Opera House / Koen Kessels (conductor). Livestreamed (directed by Peter Jones) from the Royal Opera House, Covent Garden, 11.6.2021. (JPr)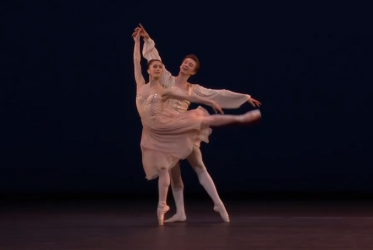 Apollo
Choreography – George Balanchine
Music – Igor Stravinsky
Lighting designer – John B. Read
Staging – Patricia Neary
Dancers:
Apollo – Matthew Ball
Terpsichore – Melissa Hamilton
Calliope – Claire Calvert
Polyhymnia – Fumi Kaneko
Handmaidens – Mariko Sasaki and Amelia Townsend
Leto – Annette Buvoli
Tchaikovsky Pas de Deux
Choreography – George Balanchine
Music – Pyotr Il'yich Tchaikovsky
Costume designer – Anthony Dowell
Lighting designer – John B. Read
Staging – Patrician Neary
Dancers – Marianela Nuñez and Vadim Muntagirov
Dances at a Gathering
Choreography – Jerome Robbins
Music – Fryderyk Chopin
Solo piano – Robert Clark
Costume designer – Joe Eula
Lighting designer – Jennifer Tipton
Staging – Ben Huys
Dancers:
Green – Fumi Kaneko
Mauve – Mayara Magri
Pink – Yasmine Naghdi
Apricot – Anna Rose O'Sullivan
Blue – Romany Pajdak
Purple – Reece Clarke
Green – Téo Dubreuil
Brick – James Hay
Blue – Taisuke Nakao
Brown – Marcellino Sambé
Apollo opened this celebration of classic works from two choreographic giants of the twentieth century and George Balanchine created this masterpiece of neoclassicism – in association with composer Igor Stravinsky – for Diaghilev's Ballets Russes in 1928. He did revise it in the late 1970s, but The Royal Ballet recreate it as first seen complete with the prologue – a rather disturbing depiction of Apollo's birth – and the ending where the Greek god leads the three muses on an ascent to Parnassus
I first saw Rudolf Nureyev dance this ballet and it was a favourite of his and he performed it throughout his career from his 1967 début in Vienna to his 1991 final 'Nureyev and Friends' tour to Australia. He apparently considered Balanchine to be the greatest of choreographers. The coming-of-age story has Apollo (the god of music), visited by three Muses: Terpsichore (muse of dance and song), Polyhymnia (muse of mime) and Calliope (muse of poetry). Balanchine's visual imagery is striking, and the title role provides the dancer with endless interpretive riches.
I would have liked rather more synchronicity of movement at times during the Pas d'action for Apollo and the Muses and the armography throughout could have been smoother. Claire Calvert emoted exuberantly as Calliope; there was an appealing vivacity to Fumi Kaneko's Polyhymnia; whilst as Apollo's favourite muse, Terpsichore, Melissa Hamilton's long-limbed elegance was clearly out to impress the young god. (Is it just me or does Balanchine pay homage to Mikhail Fokine's The Dying Swan at the end of Terpsichore's variation?) Another highlight was the delightful duet for Calliope and Polyhymnia. Naturally, Matthew Ball looked divine (in all meanings of the word) and there were the familiar extravagant and full circles of his arm for his lute 'playing'. There was great poise in his aristocratic bearing, however, the wonderful expressivity of the upper half of his body wasn't always reproduced in his legs which were occasionally rather stiff. I also didn't see any of Apollo's childlike wonder at the world he has been born into.
The Royal Opera House Orchestra under the baton of Koen Kessels did justice to Stravinsky's strings-rich score giving great attention to its vibrant and revelatory instrumental colours.
Almost perfect in miniature was the dazzling performance of Balanchine's Tchaikovsky Pas de Deux, an exuberant display of ballet bravura and exceptional technique. I understand the often-swelling music is some that never made it into the originally published Swan Lake score and disappeared until rediscovered in the archives of the Bolshoi Theatre in 1953. Marianela Nuñez is always great to watch and there was crisp and articulate execution of her jumps, spins and all Balanchine's quicksilver footwork, but she did not seem – on this occasion – to be totally at her lyrical best and obviously wasn't as swept up in the joy of what she was performing as her partner, Vadim Muntagirov, clearly was.
He is in a rich vein of form and he has always been an impeccable stylist, but Muntagirov now commands the stage whenever he dances. His engaging smile never left his face no matter the exertions. The timing and cleanness of his dancing is remarkable, his 'double tours en l'air' were spectacular and he finished his variation with a flourish on one knee to a well-deserved ovation. Muntagirov took risks during the coda and everything paid off handsomely as he thrillingly flew around the stage. I pondered on any conversation there might have been between Muntagirov and conductor Kessels before this Tchaikovsky Pas de Deux. For me I imagined he said to him 'the faster you play the music, the quicker I'll dance to it!'.
Prior to his ballet's 1969 premiere I understand Jerome Robbins wrote: 'There are no stories to any of the dances in Dances at a Gathering, there are no plots and no roles. The dancers are themselves dancing with each other to that music in that place.' It was Robbins's first new work for New York City Ballet after his years on Broadway. To Chopin mazurkas, waltzes and etudes – played with stamina and virtuosity by pianist Robert Clark – Robbins created something that is frequently just pure movement with linked solos, duets and ensemble dances. Against a simple blue backdrop partnerships are fluid as colour-coded dancers melt into the arms of another or interact teasingly or playfully with them. Apart from joy, there is also longing, sadness and meditative reminiscence in these dances. From time to time, the almost incessant motion stopped and dancers are able to just breathe in the space, taking slow steps around the stage. Never more so than right at the end when the men bow to the women who curtsy in return, before all link arms briefly and pair up as the ballet ends.
This was the third ballet I have seen Marcellino Sambé (Brown) begin in recent weeks and during something of an adagio solo he moved with his customary practiced ease and as Robbins's ballet progressed there was more brio, especially in a romantic duet with Yasmine Naghdi (Pink). Naghdi herself had a languid, achingly beautiful love duet with the elegant Reece Clarke (who was honestly much too tall to partner her). My highlight amongst many was the joyfully playful and flirtatious duet for Anna Rose O'Sullivan (Apricot) and a cartwheeling James Hay (Brick). It was a close-run thing, but it was all the women who were transcendent – including Fumi Kaneko (Green) and Romany Pajdak (Blue) – and I especially enjoyed the close-ups of the face of Mayara Magri (Mauve) during the more reflective moments as it mirrored some real inner emotions.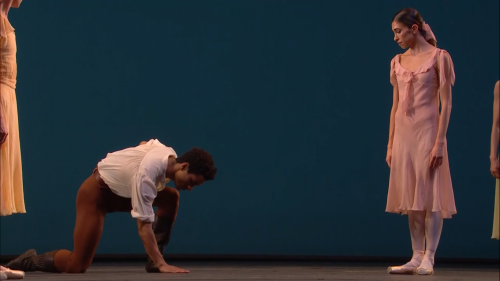 During the final Nocturne we saw Sambé reach down and touch his hand on the stage floor: it was a gesture that appeared to be symbolic of the gratitude of the entire company to being back where they belong and doing what they love.
Jim Pritchard
For more about what is on at the Royal Opera House click here.