United Kingdom Dvořák, Beethoven: Edward Kay and Holly Randall (oboes), Barry Deacon and Douglas Mitchell (clarinets), Tammy Thorn and Emma Selby (bassoons), Alexander Wide, Ruth Spicer and Robert Harris (horns), Mark Derudder (violin), Miguel Rodriguez (viola), Thomas Isaac (cello), David Daly (double bass). Plymouth Guildhall, 27.7.2021. (PRB)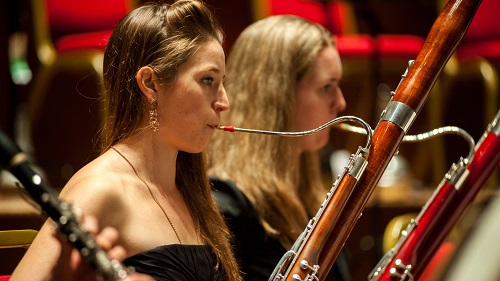 Dvořák – Wind Serenade in D minor Op.44
Beethoven – Septet in E-flat major Op.20
It has been some eighteen months since the Bournemouth Symphony Orchestra's previous concert in Plymouth. The pandemic has affected practically everyone around the world, but the arts and music have been the areas of daily life on which it seems to have wreaked particular havoc. I am not drawn to concerts online, so I was especially looking forward to hearing top-quality music-making in the city once more. I was also curious what form my first in-person orchestral experience would take. Naturally, I had an electronic ticket, which one may print beforehand, or – as usual now – show on a phone screen. No glossy programme either, just an electronic version. Here, as you might have expected, the odd phone notification chime could occasionally be heard, when someone reading the programme forgot to mute the device. On the other hand, the seating was most satisfactory, since social distancing meant that seat numbers were easy to find and there was a lot of space on either side (also for coats and bags normally kicked under the seat).
Social distancing also gave the players a lot of room to spread out across the stage. Dvořák's Wind Serenade's original scoring is for two oboes, two clarinets, two bassoons and three horns; parts for cello and double bass were added to strengthen the bass line. There also is an ad lib part for double bassoon: in Dvořák's time, it was not so easy to obtain this somewhat exotic instrument. David Daly's contribution tonight on double bass provided a substantial and sure-footed bass to the ten instruments he was supporting above. Even so, it would have been an added treat to have had a double bassoon on board, just for the wonderful extra 'reed-buzz' this would have given those catchy semiquaver runs on the second half of bar two, and whenever else this busy little phrase cropped up.
A pre-Covid concert in Plymouth Guildhall would nearly always have involved a full symphony orchestra, and quite often a concerto soloist. It would begin at 7:30 pm. and last some two hours including an interval, to let people mingle and spend money at the bar. Tonight's concert started at 7 pm. and had no break, ending a little after eight. It felt rather surreal to be back home before nine, having been out and enjoyed a feast of music.
BSO Chief Executive Dougie Scarfe succinctly explains in the programme what difficulties orchestras have met since the first lockdown kicked in, and how things are to change now, though still without any real sense of security. Scarfe writes: 'Of course, life is still far from normal, and I would like to take this opportunity to say a sincere thanks to our colleagues who operate the (Plymouth) Guildhall, for all their work with us to make tonight's performance a safe and enjoyable experience.'
The event is part of the recently launched BSO On Your Doorstep series, which brings the highest-quality chamber performances to a number of venues right across the South West, and helps to fill a vast musical and social chasm for all us aficionados in the area.
When the eleven wind and string players took up their socially distanced seats, two thoughts may have occurred to people: 'Gosh, that's rather few players for such a large stage; and isn't there going to be a conductor?' Well, I might have been sceptical of spacing out a string quartet to keep players' distance: the uniquely homogenous and intimate sound might become compromised. But here the mix of woodwind, brass and strings really came into its own. If you closed your eyes, they produced a glorious wash of sound and colour of truly symphonic proportions. As the performance unfolded, it was as easy to concentrate the ear on a particular section or on the whole ensemble, or just focus on one instrument. The overall sound gave the extreme clarity to the individual lines, and a perfect ensemble balance in any tutti and at any dynamic level.
A conductor's presence might be justifiable in a piece for a small string ensemble but orchestral wind players tend to be somewhat more individual in character, given that there may well only be two to each instrument even in a regular classical orchestral ensemble. The eleven players here did, in actual fact, have a conductor. The role fell to BSO Principal Oboe Edward Kay. He sat in the leader's regular place, controlling proceedings with eye gestures and very occasional discrete movements of the instrument. Just before the start, Kay welcomed the audience. He emphasised that, while this was the players' job (which, on this occasion, involved a coach trip from their Poole HQ to Plymouth and back, almost three hours each way), they were all looking forward to presenting a totally professional performance, but in a relaxed, informal atmosphere.
From the very opening of the Serenade's familiar Moderato quasi Marcia first movement, it was immediately apparent that this was going to be one of those evenings to cherish for a long time. For all its size, Plymouth is very poorly resourced in terms of professional classical music. If you factor in the social effects of the pandemic, the value of this BSO visit – musical, intrinsic, or therapeutic – cannot be overestimated.
I have listened to, and reviewed, a good number of CD performances since the first lockdown but I was amazed how good it felt to encounter the perfection of live playing once more: ensemble, balance, dynamic range, empathy for Czech dance music, its rhythms and styles – right on our doorsteps, too. The piece must be fun to play, and the artists communicated it clearly. I especially enjoyed seeing Edward Kay give a cautionary nod to a fellow player (when there was perhaps a tricky entry) and then always look back at them with a really appreciative smile. And the player immediately responded in kind, in itself a tremendous way to boost confidence on the hoof. The ending must rank among one of Dvořák's best, and most exciting. When it comes off flawlessly, it will elicit a cheer from the audience. For me, this was certainly one of the most exciting and spine-tingling conclusions I have ever heard in a performance of this exceptional work, and I think the audience was with me one hundred percent.
With no interval, it was calmingly satisfying to watch two of the stage crew remove four chairs and rearrange the seating to accommodate the needs of the next piece, as if every move had been specially choreographed. Violinist Mark Derudder and violist Miguel Rodriguez joined the players who stayed for Beethoven's Septet.
There is a noticeable difference between the two works performed tonight. There are opportunities for individual instruments to shine in the Wind Serenade, but this tends to be limited to the designated principal part; in the Septet, everyone is a potential soloist. Assuming leadership on this occasion was Mark Derudder, Japanese-born violinist who moved to Belgium at the age of two. Here, he never put a foot wrong the whole time. His virtuosity and technical assurance, plus a warm tone and idiomatic sense of style, were for me the perfect exponent for Beethoven's writing, which ruthlessly takes the player soaring up to the very top of the range one minute, and then calls for passion and expression at the opposite end of the tessitura. Derudder made extremely light work of all that, including a full-scale cadenza in the Finale. He is a more flamboyant player than Edward Kay, so it was rewarding to witness his way of coordinating the players equally unobtrusively.
Each player needed to be an outstanding soloist in their own right, equally capable of duet-ting seamlessly with others, and, at times, merely acting as part of any supporting ensemble where, for example, the violin has the temporary role of prima donna. Each performer's contribution was again very fine. They combined to maintain a well-balanced sound, and the performance would be very hard to better – and the seven players were really enjoying themselves as befits chamber music-making.
I expect that everyone present was hoping for at least a short encore, as the hour had gone by very quickly, and it was going to be a finish somewhat earlier than usual. In an ideal world and perhaps at a different time, there may well have been an encore, but the main thing was that the players brought two stunning performances to our very doorstep, and will return sometime in the future, once planning further ahead becomes more of a reality.
Philip R Buttall