Switzerland Donizetti, Lucia di Lammermoor: Soloists and Chorus of the Opernhaus Zürich, Philharmonia Zürich / Speranza Scappucci (conductor), Opernhaus Zürich, Zurich, 26.6.2021. (CCr)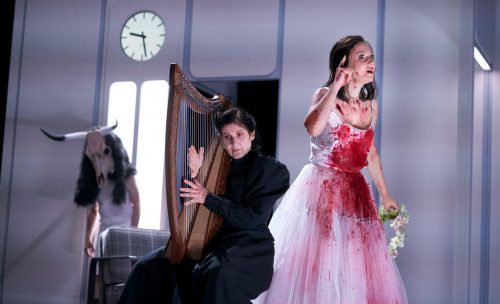 Production:
Director – Tatjana Gürbaca
Set and lighting designer – Klaus Grünberg
Assistant set designer – Anne Kuhn
Costumes – Silke Willrett
Costume assistance – Kerstin Griesshaber
Lighting – Franck Evin
Chorus director – Janko Kastelic
Dramaturgy – Beate Breidenbach
Cast:
Enrico – Massimo Cavalletti
Lucia – Irina Lungu
Edgardo – Piotr Beczała
Lord Arturo Bucklaw – Andrew Owens
Raimondo – Oleg Tsibulko
Alisa – Roswitha Christina Müller
Normanno – Iain Milne
The initial feeling of sitting in the opera house was uncanny, waiting for this new production to begin. There was the late start (rare for trains-on-time Zurich), plus the orchestra was absent (given Covid, they and the chorus were broadcast in remotely), and there were only roughly 200 souls in attendance (which, even given restrictions, was not a sell-out crowd). It was something akin to sitting in a lavish airport terminal, waiting for a dumpy chartered plane to some far-flung place. They even showed a sort of in-flight safety video explaining all the Corona protocols. You know the feeling: of being vaguely excited to fly, but still feeling more attuned to all the little annoyances of it.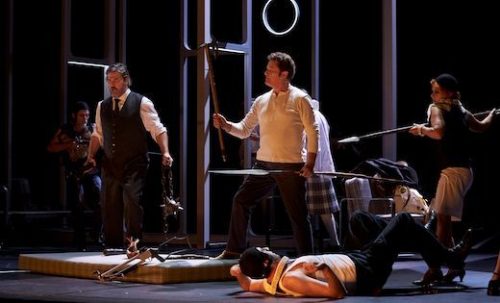 And what annoyances there were – first and foremost, all the production's incoherence amidst its ultimate paltriness. The logic of the shabby rotating stage and its nearly identical rooms, for example: what was the sense of it, what did it mean when a character left one room and entered another, or stepped outside altogether? Anything? And why did it look like a bunker, and what was the 1960's modular panelling supposed to evoke? Or the costumes: isn't it a bit lazy to put Lucia's brother Enrico in a suit just to show he's a bad guy? And why were the extras either all in kilts or in anachronistically chavvy tracksuits? One or two kilts, I get: a nod to a nominal Scotland. But ten? Kitsch without a wink is merely ugly.
The director was Tatjana Gürbaca, whose 'good' kitsch I have thoroughly enjoyed, even rejoiced in, elsewhere (review click here). For her Donizetti, however, she fell straight back into modern opera staging's worst bad habit, the conceit of sloppily superimposing 'ever new hermeneutic deep drilling' (to quote the music critic Stephan Mösch) onto the psychology of the story. It's an approach that can blow you away when it works, reinventing an opera's tired storytelling. But when it's done half-heartedly, the effect is worse than bad cosmetic surgery.
There are (promising!) efforts to overlay child abuse during Lucia's childhood into her identity as a self-aware but vulnerable adult (played compellingly by Russian soprano Irina Lungo), and the addition of children to the stage to double Lucia and her brother Enrico is not entirely senseless. I even felt a whiff of the great hallucination scene in the film Phantom Thread when Lucia sees her deceased mother play a harp. But in the end, they're neither apparitions with power, nor compelling alter-egos. It doesn't help that Gürbaca's stage direction of a cardboard child actor playing the boy Enrico, for example, or her stage direction of the hapless extras who replace the chorus that sings off-site, seem in turns under-rehearsed and overcooked.
All of which forces one to ask whether a business-as-usual mediocre opera production is at least still a balm to the soul given Covid's live music drought, or whether it is actually an affront. An opera audience after a global health crisis, even in well-heeled Zurich, deserves a production that has in some way digested or absorbed or reflected that crisis. And the opera company itself, given the crisis that musicians have faced for over a year now, should be crying out for the soul-searching of going back to the drawing board, back to the essential questions of why they make this art and all of the things they might say with it.
Just think of the possibilities of using real actors for crowd scenes instead of the often herd-like mass of a hackneyed standard opera chorus! What a chance to refresh the narrative! Notwithstanding that thanks to Michael Utz there was excellent management of the live broadcast of the orchestra and chorus into the opera house; there is no improvisation here, no exploiting the circumstances. Infuriatingly, this production takes no chances. It points neither backwards to the bare soul of lavish bel canto opera, nor forward towards any lushness of new ideas. Perhaps the pandemic has numbed my palette, but I can't say I have ever experienced a new production that tasted so much like reheated leftovers.
Are there nevertheless balms to the soul along the way? Yes: Irina Lungu's singing and acting as Lucia. Lungu's soprano is both agile and warm. Her coloratura descents are super velvety, though ascents can sound slightly uneven, just short of shrill at times. Lungu's pitifulness during the final Act II duet with star tenor Piotr Beczała is superbly dramatic, and never maudlin. Donizetti as grand human dramatist is explosive here, thanks to Speranza Scappucci's charged and charging conducting.
Beczała sounds fabulous, of course, and even looks the part of a youthfully noble James Dean pendant to Lungu's Natalie Wood. Why such a youthful Edgardo needs so much portamento in his tenor is beyond me, though; Beczała is a sensitive actor (review click here), and could have done a good bit more to match his superb vocal power with his portrayal of the character. If I shell out the money to see this Lucia when it is revived next year, it will be for the sole reason of seeing how Benjamin Bernheim tackles the only role of this production that makes any sense.
Casey Creel