United Kingdom Glyndebourne Festival Opera 2021 – Mozart, Così fan tutte (Bärenreiter edition, ed. Ferguson / Rehm): Soloists, Orchestra of the Age of Enlightenment / Riccardo Minasi (conductor). Glyndebourne Opera House, Lewes, East Sussex, 4.7.2021. (CC)
Production:
Director – Nicholas Hytner
Revival director – Simon Iorio
Designer – Vicki Mortimer
Lighting designer – Paule Constable
Cast:
Ferrando – Konu Kim
Guglielmo – Huw Montague Rendall
Don Alfonso – Alessandro Corbelli
Fiordiligi – Ida Falk Winland
Dorabella – Julie Boulianne
Despina – Hera Hyesang Park
Actors – Ashley Bain, Alistair Beattie, Henry Curtis, Philip Dew, Megan Francis, Caitlin Fretwell Walsh, Vigee Harding, Andrew Haylerm Anthony Kurt Gabel, Janvier Rasero, Colm Seery, Daniel Vernan
It is turning into a good summer for Mozart: after Opera Holland Park's Young Artists Figaro in mid-June (review click here), over to Glyndebourne for a blissfully fuss-free production by Nicholas Hytner of Così fan tutte, first staged at the 2006 Festival. And Mozart has always been a cherished part of Glyndebourne right from the beginning. Così was first performed on 29 May 1934 there with a cast that included the Guglielmo of Willi Domgraf-Fassbaender and the Ferrando of Heddle Nash; Fritz Busch was of course the conductor. The very first opera at Glyndebourne the day before was Le nozze di Figaro.
This 2021 Così was obviously and necessarily performed to a reduced capacity audience – safety was paramount, and brilliantly and effectively handled, as one might expect from Glyndebourne. In particular, safe exit from the theatre at both interval and close was effected with barely a delay. And not only the audience was reduced; despite the presence of various unobtrusive silent actors on stage, there was no chorus. Understandable, but strange to hear an orchestra-only Act I 'Bella vita militar' …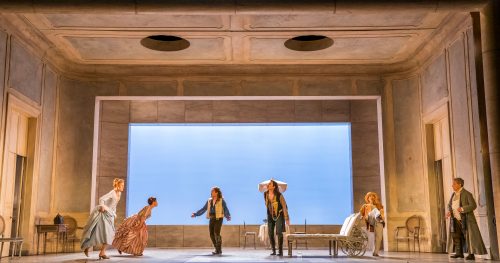 Hytner's production (seen here in this revival by Simon Iorio) is blissful in its non-interventionism. The brilliant blues of the Naples sky are simply represented; the set is simple. And by presenting us with, effectively, the barest of what Mozart asks for, we can revel in the antics of it all. Even more powerfully, the extremes of the action, from farce to tender, excruciating pain, are felt full force. Scene changes are quick and effective thanks to the injection of several 'actors'; but all this would be naught without Paule Constable's spectacular lighting, particularly effective in the later crepuscular stages of the opera: the evocation of a room with the light fading outside is simply magical.
The conductor Riccardo Minasi opted for the Bärenreiter Urtext edited by Faye Ferguson and Wolfgang Rehm in arrangement with Faber Music Ltd, London. Minasi has enjoyed notable recorded success, with a fabulous Pergolesi Stabat Mater and a disc of C. P. E. Bach Cello Concertos on Harmonia Mundi among them. He is highly experienced at working with the top level of vocalists. After cancellations of Don Giovanni (2020) and Rossini Il viaggio a Reims (December 2020/January 20201), both in Zürich, coming to Glyndebourne for Così must have been balm indeed. The Overture was fast and punchy, and the Orchestra of the Age of Enlightenment reacting with quicksilver reflexes to his direction there and throughout. His vigorous, batonless direction propelled the music forwards, tempo often swift but never breathless. Always telling when an orchestra appreciates the conductor at the close, as was the case here. A real musician's musician.
The continuo, Ben-San Lau harpsichord and Luise Buchberger cello, was a further collective star of the evening, ever alert, beautifully managed throughout, enlivening recitatives with a ravishing drizzle of sparkle. Rarely have I heard continuo contributions with such sheer life as this.
And so to the singers. Well-loved baritone Alessandro Corbelli is star billing indeed; he commands the stage whenever he enters. His experience is vast, and his alchemical mix of perfect tuning/diction/timing/acting leaves us with masterclass after masterclass. Corbelli makes a speciality of roles such as Don Alfonso – and who can forget his Glyndebourne 2016 Dr Bartolo (reviewed by myself in its 2016 BBC Proms incarnation click here) – and he was absolutely in his element and faultless throughout. No surprise that he goes on to perform Don Magnifico in La Cenerentola (Tokyo and Los Angeles) later this year.
In the 2019 season, Corbelli and Hera Hyesang Park had together starred in Rossini's Il barbiere di Siviglia; and how brilliant it was to see the Alfonso here with a Despina who was his equal vocally, as well as demonstrating an equal delight in plotting. Park is a miracle of a singer. Her 'voices' of Doctor and Notary were an absolute riot; if you're going to do it, really go for it, and she certainly did. But there is far more to this singer: her light voice has such beauty; it is light but emphatically not insubstantial. It was San Francisco's loss when their Così was sadly cancelled in October 2020 as, I am sure, it was the Met's when her Zerlina Don Giovanni was cancelled in March (she is also surely a born Zerlina). Park's 'In uomini, in soldati' was as light as a well-cooked soufflé, every word perfectly placed, her 'Una donna a quindici anni' the very model of eloquence. She phrases beautifully and so stylishly while inhabiting her character fully. Her DG album I am Hera was well received on MusicWeb International (click here and here).
Of the male lovers, it was the Guglielmo of Huw Montague Rendall, a former Jerwood Young Artist and John Christie award winner, who was the more confident of the two, his voice beautifully rounded and confident. The South Korean tenor Konu Kim, as Ferrando, was rather too forthright in the earlier stages of the opera – one dynamic only, and that one too loud. But 'Una aura amorosa' softened somewhat and there was more nuance on display as the opera continued.
I was lucky enough to catch French-Canadian singer Julie Boulianne as Marguerite in the 2019 Glyndebourne La damnation de Faust (although I was not reporting on it). In this Così, her Dorabella shone; she will reprise the role at Covent Garden next summer, all being well. Boulianne takes on both soprano roles (Cendrillon, for example) and mezzo ones (her repertoire includes Charlotte Werther which she will also perform in 2022 at the Vienna State Opera). She has everything required for one of the finest of Dorabellas, that much is certain: her highly impressive 'Smanie implacabili' was an emotional and musical highlight of the performance.
Of course, in this opera Mozart frequently writes for Fiordiligi and Dorabella together, so their voices must mesh. And so it was, with the bright – glinting, even – soprano of Ida Falk Winland's Fiordiligi working beautifully against the darker shades of Boulianne. Interestingly, Falk's last major opera performance seems to have been in August/September 2019 as the Countess (Figaro) at Gothenburg in Stephen Langridge's production; her Fiordiligi was cancelled in Belgium's Opera Vlaanderen in Antwerp. She certainly has the extended range demanded for 'Come scoglio' and can move from extreme top to extreme low end easily; she has the vocal virtuosity too for the runs.
Mozart's Così seems to sit in a slightly lesser echelon than Figaro and Don Giovanni in contemporary estimation, perhaps because of its subject matter. Yet Hytner's superbly clean production and Minasi's informed, vital conducting conspire to convince us that this need not be so; Mozart's score is a multiplicity of miracles, and even then the whole is even greater than the sum of its parts.
A triumph: of organisation, of performance, of production. Please note, the performances on July 22 and 25 will be conducted by Leo McFall.
Colin Clarke
For more about Glyndebourne Festival 2021 click here.