United States Colorado Music Festival – Kaleidoscope: Christopher Taylor (piano), Ji Su Jung (marimba), strings and percussion of the Colorado Music Festival Orchestra. Chautauqua Auditorium, Boulder, Colorado, 23.7.2021. (LV)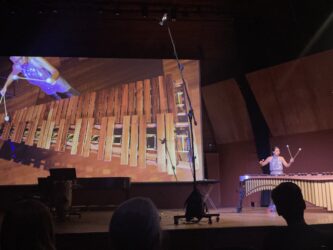 Nebojsa Zivkovic – 'Trio per Uno'
Nico Muhly – 'Big Time' for String Quartet and Percussion
Peter Klatzow – 'Concert Etudes for Marimba'
Derek Bermel – 'Turning'
Keith Jarrett – 'The Köln Concert' (Part IIC)
Leigh Howard Stevens – 'Rhythmic Caprice'
William Bolcom – Piano Quintet No.2
The second of three Music of Today concerts at the Colorado Music Festival was as much about hanging out with the musicians as it was with the composers, and it gave a glimpse into how the festival plans to move forward. The pandemic has given institutions like this one the opportunity to re-strategize for the present and the future: a future in which the Kaleidoscope audience would be swelled by millennial and Gen Z generations with a much larger appreciation for classical/new music (and who aren't scared by genre as much as past generations) seems like a good return on investment. Not to mention future generations of fantastic artists.
Technology played a key role. A large-screen projection showed the music making from a variety of angles, with fleeting moments of latency, including a disorienting overhead camera shot that often transformed the movements of the musicians into choreography. The camera shots shifted so randomly that they became participants as much as the humans.
For Nebojsa Zivkovic's 'Trio per Uno', in which three players shared a bass drum plus 20 others of their own, the dance master was not Busby Berkeley but hypnotically mechanized with the swagger at times of a drum and bugle corps without the bugles. In Peter Klatzow's Etudes and Leigh Howard Stevens' iconic 'Rhythmic Caprice', the cameras gave breathtaking looks at Ji Su Jung brushing, tickling, pounding, caressing and otherwise at play, at rest and pacing behind her eight-foot-long marimba, pausing in between only to consider her choice of sticks for the next part.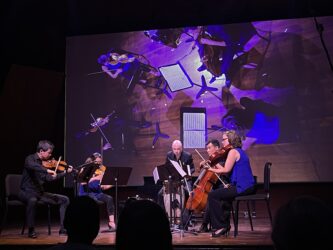 The most substantial piece on the program was Nico Muhly's 'Big Time', in which the sometimes-distorted shots of the musicians were an integral part of the musical adventure, while the merger of quartet and percussion suddenly made perfect sense. It began with the viola and cello singing a song punctuated by light tapping. At one point, sweet tendrils of sound led to exquisite little silences with the bongo signaling like the side drum in the second movement of Bartók's Concerto for Orchestra. The end was haunted by fragmentary gestures.
In meditative solo sets by Derek Bermel and Keith Jarrett, and in William Bolcom's very serious Piano Quintet No.2 with players from the Colorado Music Festival Orchestra, Christopher Taylor gave deeply involving performances in which he seemed to be continually stretching, absorbing and stretching some more in order to come closer to and retrieve the music's core.
Laurence Vittes