France Aix-en-Provence Festival 2021 [1] – Wagner, Tristan und Isolde: Soloists, Actors, Estonian Philharmonic Chamber Choir, London Symphony Orchestra / Sir Simon Rattle (conductor). Livestreamed (directed by Corentin Leconte) from Grand Théâtre de Provence, Aix-en-Provence, and available on Arte Concert until 30.8.2023. (JPr)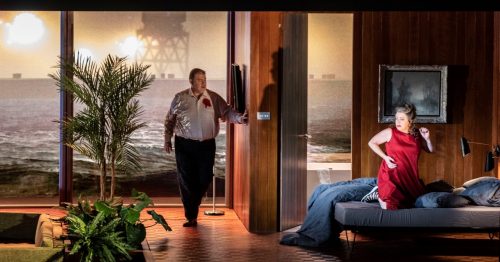 Production:
Director – Simon Stone
Set designer – Ralph Myers
Costume designer – Mel Page
Lighting designer – James Farncombe
Choreography – Arco Renz
Chorusmaster – Lodewijk van der Ree
Cast:
Tristan – Stuart Skelton
Isolde – Nina Stemme
King Marke – Franz-Josef Selig
Kurwenal – Josef Wagner
Melot – Dominic Sedgwick
Brangäne – Jamie Barton
A Shepherd/Voice of a Young Seaman – Linard Vrielink
A Steersman – Ivan Thirion
Some critics have not followed the evolution of opera during the various lockdowns but for me there have been increasing occurrences of Konzept first and then opera second. I have an open mind as reviews on this site will attest to, yet that is when there is some dramaturgical truth to what I see. 'Kinder! Macht neues!' Wagner once exclaimed and it is right to query the relevance of myth in our time, however, Simon Stone's new Aix-en-Provence Tristan und Isolde makes little sense as far as Wagner's original is concerned.
You can see how Stone is an admired theatre and film director as his Personenregie is excellent and moving the characters about is a credit both to him and his choreographer Arco Renz; though his Tristan is a genuine head-scratcher from first to last. As the prelude meanders its way along the curtain rises on a play-within-a-play and Ralph Meyers's Act I set is ultra-realistic (as are his second and third act ones and they must have cost a fortune). We are in a well-furnished – in a clean, modern style – penthouse looking out onto a high-rise cityscape. The other acts are definitely Paris, though if there was an Eiffel Tower to be seen here, I didn't. There is a kitchen to one side, a large bed on the other with apparently an en-suite, and in between is a dining and lounging area with a large display cabinet to the rear (of the sort we have seen behind prominent figures talking recently on Zoom).
Isolde is married to Tristan, but it is probably not her first marriage, and we seem to be at a Christmas party and all the leading characters are there, including Melot (Isolde's son?) and King Marke who we will later discover might be Isolde's superior at the (interior?) design start-up she oversees where the punkish Brangäne is her assistant. Isolde does not trust Tristan who she will catch in a clinch with a young woman at this celebration. There is so much going on and this is just the prelude remember! There is an exchange of gifts including socks for Tristan as well as, I think, the knife which will represent the 'sword' as the story unfolds (and that will draw a little of his blood in Act I). The guests leave and Tristan checks his mobile phone for his late-night assignation with the woman: he pours some milk away and makes the excuse of getting more and leaves. Isolde prepares for bed, and so do we now enter her dreams or are these past memories because out the window are stormy seas and the apartment now become more like a stateroom on a luxury liner.
There looks to be a home invasion with the Steersman as a hooded figure in waterproof clothing as Tristan and his drinking buddies – who help themselves to the party leftovers – will be. Isolde wants to confront Tristan about his infidelity and Brangäne will have a Nike box of pharmaceuticals to offer Isolde by way of the Todestrank she wants, though of course will spike her drink with something more happiness-inducing. It looks as if the ship is coming into port as the sun is shown rising and Tristan and Isolde are grappling on the bed.
Stone's invention begins to flag as early as the second act which finds Isolde in her design studio. (It actually raced along probably thanks to the infamous – and formerly traditional – cut?) Tristan comes and goes with his carry-on luggage having picked up some dry cleaning. Isolde brandishes someone's lacey red undies she has found in his belongings and this triggers another trip down memory lane and a date night she once enjoyed with Tristan. Brangäne brings an elaborate takeaway which is set out on one of worktables but is never touched again. Isolde is in a red dress and Tristan in a white shirt and jeans and four alter-Tristan and Isoldes – representing various romantic entanglements or family crises – appear during the Liebesnacht love duet and there is even one Tristan in a wheelchair who needs oxygen! The actual couple themselves are more often than not socially distanced until they start clambering on a table and kiss against the red sky out of the window. At this point Marke turns some lights on, we see Paris outside and perhaps we are drawn back to the (more recent?) present. The way Marke removes his wedding ring perhaps suggests he is Melot's father and Isolde's ex-husband? Tristan seems oddly sleepy and only rarely rouses himself and eventually an infuriated Melot stabs him (his stepfather?) with the cutting tool Isolde made sure we noticed earlier in the act. She now turns it on herself, but Melot stops her going through with it.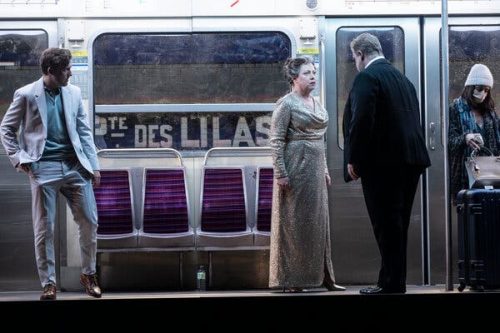 For Act III there is a graffitied four-door Paris Line 11 metro carriage travelling through the city centre but oddly into the countryside as well between stations. (I saw a metro train on stage only recently in the Paris Opera's Faust click here.) There are masked passengers, a busker playing a cor anglais, Isolde is in a glittery light gold evening gown and chatting with Melot whilst Tristan wears black tie and is dozing again before deciding to text his lover which infuriates Isolde once more. Melot too is angered and stabs Tristan again. The metro clears at Porte des Lilas just basically leaving Tristan, Kurwenal and the Shepherd, though at Télégraphe passengers get back on and then on and off again at Jourdain; and so it goes on before the carriage empties again at Goncourt leaving Tristan and Kurwenal briefly alone. It is here that Isolde reappears just as Tristan dies of his wounds and Isolde slumps down. All hell breaks loose at République and Melot fights himself onto the metro and is stabbed by Kurwenal who kills himself as Brangäne and Marke are too late (as ever) to stop the bloodshed. The carriage lights go out before everything appears to rewind at Hôtel de Ville to when Tristan texted earlier in the act and Isolde sings her Verklärung or Liebestod. Now realising – and not before time – that their marriage is over, it looks like she texts him goodbye, hands Tristan her wedding ring and finally Isolde steps off the metro together with Melot at Châtelet.
Undoubtedly it was all brilliantly executed but what we see is an entirely different opera to what we hear. I can only comment from what I actually heard through loudspeakers, but it all clearly benefitted from the relatively small 1300plus auditorium and the set which brought all the singers right to the front of the stage for most of the time. I enjoyed listening to the orchestra so much that I perhaps would have preferred just to have the music without both the voices and all that Stone makes us endure, as it is as much as part of the drama as the singing. The intensity we saw in close-up of Sir Simon Rattle's conducting during the Act III prelude was not matched by the wonderfully virtuosic London Symphony Orchestra's more languid playing and it looked as if they were fielding a number of younger players. Rattle's Tristan und Isolde was nuanced and you would expect nothing less than his excellent control of rhythmic pulse which is so essential to giving this opera a clear sense of direction. His tempo choices were commendable, and it was obvious that Rattle was determined not to have his singers battle with the orchestra at any point. The downside of this was, for instance, how Tristan's Act III ravings were more tamed than torturous.
Another reason for that is – and it gives me no pleasure to write this – the better days of his seasoned Tristan and Isolde, Stuart Skelton and Nina Stemme, might be behind them. Skelton's basic sound remains adequately heroic and he can still muster a lovely mezza voce final 'Isolde!', but elsewhere his Tristan was frequently effortful and mostly unromantic. Too often Skelton blatantly pushed his voice beyond its natural limits and there were frequent hints of gravel and more which disrupted some vocal lines. As the layered, conflicted Isolde, Stemme reminded me of Joan Crawford in her heyday. There is no doubting her intelligence and musicality and that can go a long way in Isolde's music. However, there was some unsteadiness at times to Stemme's dark, almost mezzoish (hasn't it always been?), soprano. Her Isolde did not show any real arc and throughout she was just mostly jealous and bitter, her character's femininity was lacking and her hard-won Liebestod was not the soaring apotheosis it should be.
There were better performances from the rest of the cast led by Franz-Josef Selig's sad, dejected, and movingly sung King Marke. I particularly liked Jamie Barton's Brangäne whose mezzo-soprano – in this notable role debut – easily cut through any lush orchestral textures thanks to her steely, powerful voice which is also capable of much beauty and emotion. There were moments when I wished Barton had been singing Isolde! Josef Wagner was the loyal, deeply concerned Kurwenal and he used his bass-baritone – the shortness of his role notwithstanding – imaginatively and convincingly, Dominic Sedgwick was a strong Melot and although Linard Vrielink had been obviously told to give an unfamiliar Lieder-like profundity to the young sailor's song in the first act, he later sang warmly as the Shepherd.
Misquoting a misquotation: 'It's opera, Jim, but not as we know it'!
Jim Pritchard