Spain Puccini, Tosca [4]: Soloists, Pequeños Cantores de la JORCAM, Chorus and Orchestra of Teatro Real / Nicola Luisotti (conductor), Teatro Real, Madrid, 22.7.2021. (JMI)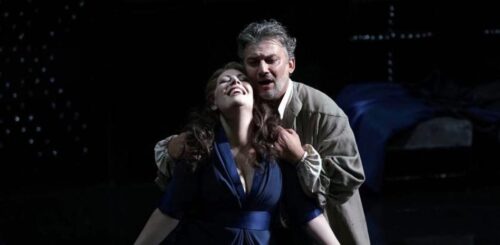 Production:
Direction and sets – Paco Azorín
Costumes – Isidro Prunés and Ulises Mérida
Lighting – Pedro Yagüe
Cast:
Tosca – Sondra Radvanovsky
Cavaradossi – Jonas Kaufmann
Scarpia – Carlos Álvarez
Sacristan – Valeriano Lanchas
Angelotti – Gerardo Bullón
Spoletta – Mikeldi Atxalandabaso
Sciarrone – David Lagares
Jailer – Luis López Navarro
Shepherd – Inés Ballesteros
The Teatro Real performances of Tosca this season have culminated with four that can be considered extraordinary due to the presence of two of the great divos of the moment, Anna Netrebko and Jonas Kaufmann. The most recent one featured Anna Netrebko as Tosca (review click here), and now we heard Jonas Kaufmann in the part of Mario Cavaradossi, accompanied by Sondra Radvanovsky and Carlos Álvarez. It is a trio of protagonists that is difficult to improve upon, and they will be repeating their roles in a few days at the Peralada Festival, albeit in a concert version.
The orchestra was under the baton of Nicola Luisotti, and he gave a fine reading, although on this occasion there was some excess sound in the first act.
Sondra Radvanovsky was Floria Tosca and, as she did a few days ago, triumphed in the part. There is no doubt that she is one of the great sopranos of the moment in this type of repertoire, and her Tosca is one not to be easily forgotten. Her voice is very particular, and one cannot say that it is extraordinarily beautiful, but she handles it very well and shines in the high notes. A few days ago, I said that comparisons are inevitable, and attending the Toscas of Anna Netrebko and Sondra Radvanovsky on consecutive days is a rare privilege. In my opinion, they are the two great Toscas today. Netrebko exhibits the greater vocal beauty which does not, however, make her Tosca better than Radvanovsky's. After an interminable ovation, she agreed to offer an encore of 'Vissi d'arte', an aria in which she shines in a special way.
Mario Cavaradossi was played by the great German tenor Jonas Kaufmann, and not only was he superb, his performance was clearly above those of his three colleagues in the character in previous days. Kaufmann was returning to Teatro Real, where he had sung in an opera only once before, and that was 22 years ago. He appeared in La clemenza di Tito, and his voice today has little to do with what it was then.
His interpretation of Cavaradossi was what one would expect from an artist of his stature. For the first time here, we heard a brilliant interpretation of 'Recondita armonia', which was an aperitif for the wonderful singing that followed: always in good taste and intention with that dark, magnificent voice like few others. His Act III aria was very personal with beautiful piani, although it's possible that it might have seemed too delicate to some afficionados. He, too, had to repeat the aria after a thunderous ovation.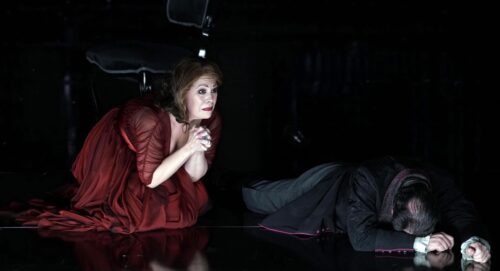 Carlos Álvarez returned as Scarpia and was excellent, though his voice is not the best suited for verismo. He was impeccable, but I must confess that Luca Salsi the day before was even better.
My thoughts on the production and the rest of the cast are as before.
Jose M. Irurzun