United Kingdom LIVE From London Summer 2021 [1] – Stardust: VOCES8 (Andrea Haines, Molly Noon [sopranos], Kate Jeffries-Harries [alto], Barnaby Smith [countertenor], Blake Morgan, Euan Williamson [tenors], Christopher Moore [baritone], Jonathan Percy [bass]). VOCES8 Centre, London, livestreamed on 4.7.2021. (CC)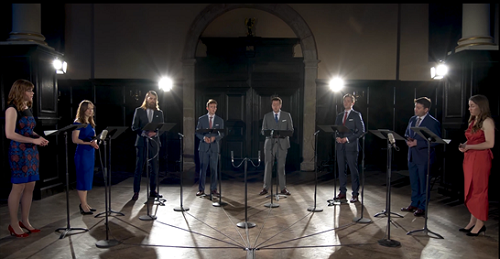 Byrd – Laudibus in Sanctis
Kevin Allen – O Sacrum Convivium
Schütz – Selig sind die Toten
Rheinberger – Mass in E flat: Kyrie
Gjeilo – Northern Lights
Scott Davis – Stardust (world premiere)
Britten – Flower Songs: The Evening Primrose
Alfvén – Aftonen
Sigurbjörnsson – Heyr, himna smidur
Mumford & Sons – Timshel (arr. Jim Clements)
McLean – Vincent
Kern – I Won't Dance
Jolson – Me and My Shadow (all arr. Clements)
Encore: Arlen – I've Got the World on a String
It is nice to be back again with VOCES8 as they begin their summer season and they launch it with a new recruit: Molly Noon, who on present evidence seems to have integrated seamlessly into the VOCES8 experience.
It was a stroke of genius to begin with Laudibus in Sanctis by William Byrd, a Psalm 150 Latin paraphrase, from the Cantiones sacrae. A madgrigalian motet, this is one of Byrd's most magical works, VOCES8's beautifully blended, warm sound coupled with their vital, alive rhythms made for a positively life-enhancing beginning to the summer series; the sheer buoyancy of 'Magnificum Domini' seemed to encapsulate the life VOCES8 brought to this piece in microcosm. Some glorious lighting emphasised the sheer joy of this piece.
The dark mysticism of Kevin Allen's O Sacrum Convivium seemed interludial when compared with the complete contrapuntal mastery and harmonic radiance of Heinrich Schütz's Selig sind die Toten (Blessed are the dead). All voices were equal in this performance – they need to be – and it was lovely to hear Molly Noon's soprano as such an integral part of the group (the two sopranos were placed at opposite ends of a group semi-circle).
The choral music of Rheinberger contains infinite beauties, nowhere more so than in this glorious, slowly unfolding Kyrie. Time for a plea for more from this composer; followers of the VOCES8 series may remember a memorable performance of Rheinberger's Abendlied by the Gesualdo Six back in August last year (review click here).
Ola Gjeilo was one of the first Composers-in-Residence for VOCES8.  His Northern Lights takes its text from the Song of Solomon. VOCES8's performance of Northern Lights was tremendously rich and many-layered. One of the group's core strengths is to retain a warmth of sound without muddying textures, and that trait paid off in spades on this occasion.
Taylor Scott Davies a friend of VOCES8 – his piece uses cluster chords but in a gentle way. This is a very interiorised, remarkably touching response to a love that was always meant to be. This was the world premiere performance of a piece that will surely receive the currency it deserves.
Two twentieth century pieces reflect the power of a sunset in this programme: Britten's beautiful 'The English Primrose', gentle, and beautifully balanced and Hugo Alfvén's radiant Aftonen. Although not part of the same pairing, Thorkell Sigurbjörnsson's Heyr, himna smidur (Hear, smith of Heavens) is clearly cut from similar cloth as it speaks its message of peace and healing and its plea for Divine guidance. After that, Timshel felt a little too easy listening, perhaps.
'VOCES5' it was that performed McLean's poignant song Vincent, the reduced five-voice scoring reflecting the tenderness of the lyrics, a showcase for the velvety voice of Blake Morgan. Jerome Kern's I Won't Dance showcased Euan Williamson and Andrea Haines, all solo lines smoothy delivered. Finally, the Rat Pack classic, Al Jolson's Me and my Shadow.
VOCES8 do these arrangements so well; it was lovely to hear Harold Arlen's Cotton Club classic I've Got the World on a String as a slick-as-Brylcreem encore.
Next up in the summer season is All shall be well: the ORA Singers and Zeb Soames on 11 July (livestreamed at 7pm BST).
Colin Clarke