Spain Puccini, Tosca [3]: Soloists, Pequeños Cantores de la JORCAM, Chorus and Orchestra of Teatro Real / Nicola Luisotti (conductor). Teatro Real, Madrid, 21.7.2021. (JMI)
Production:
Direction and Sets – Paco Azorín
Costumes – Isidro Prunés and Ulises Mérida
Lighting – Pedro Yagüe
Cast:
Tosca – Anna Netrebko
Cavaradossi – Yusif Eyvazov
Scarpia – Luca Salsi
Sacristan – Valeriano Lanchas
Angelotti – Gerardo Bullón
Spoletta – Mikeldi Atxalandabaso
Sciarrone – David Lagares
Jailer – Luis López Navarro
Shepherd – Inés Ballesteros
Teatro Real is ending the current opera season with some extraordinary performances of Tosca. Four have been added to the schedule, and they feature appearances by two undisputed divos of today, Anna Netrebko and Jonas Kaufmann. It is not only their presence in Tosca, but also the fact that it is practically the artists' debut in this house: they were here 20 years ago but have returned only for recitals or concerts.
This evening offered a totally new cast in the lead roles: the great Anna Netrebko was joined by tenor Yusif Eyvazov and baritone Luca Salsi. Obviously, the public responded as one might have expected: seats sold out as soon as they were available, despite the fact that the prices were clearly higher than usual.
I commented in an earlier review on the Paco Azorín production and have nothing to add: 'The production is the well-known one by Paco Azorín, which premiered at the Liceu in March 2014 and was revived there in June 2019. Azorín does a fairly traditional job in terms of sets and costumes, and the production's interest decreases from act to act.'
Conductor Nicola Luisotti once again gave an admirable reading, as he always does in operas by Verdi and Puccini.
The novelty was on stage, and particularly in the presence of Netrebko as Tosca. As noted above, it was almost her debut in the theater: she had not sung opera here since 2001 when she took part in the Mariinsky Company's War and Peace. Tosca is a character that Netrebko has recently added to her repertoire; she debuted in it three years ago at the Metropolitan Opera, and subsequently sang it at La Scala and in Munich, Vienna and elsewhere. Her performance was what one would expect from this artist, and she especially stood out in Act II where she was magnificent from beginning to end. She was also very good in the other two acts but less brilliant, and she sometimes gave the impression of having rehearsed too little. Her 'Vissi d'arte' was wonderful and received a huge ovation of almost three minutes, but despite the insistence of the audience, she did not give an encore of the aria.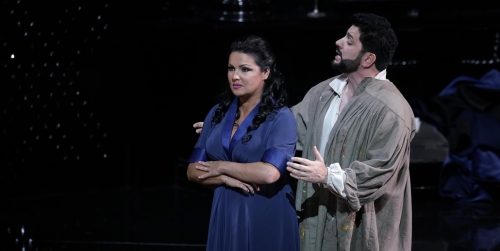 Cavaradossi was sung by her husband, tenor Yusif Eyvazov, who undoubtedly plays in a different league than the diva although they always, or almost always, sing together. His voice is suited to Cavaradossi although not particularly beautiful, and there are excessive open sounds. His 'Recondita armonía' was rather dull, but he received hearty applause from the audience for 'E lucevan le stelle', his Act III aria.
The other major addition to the cast was Luca Salsi as Baron Scarpia. He is the most important Italian baritone of today and often sings the role, although he did not incorporate it into his repertoire until the last four years. He was superb, totally involved in the evil character and giving great meaning to all of his phrases. His second act with Anna Netrebko is one of those to be remembered. It is not surprising that La Scala has decided to open next season with Verdi's Macbeth, with Luca Salsi and Anna Netrebko as the leads.
The rest of the singers were the same as in the earlier performances (click here for comments).
Jose M. Irurzun