United Kingdom Opera Holland Park's Opera in Song: Violetta and Tatyana: Anush Hovhanissyan (soprano) with Ella O'Neill, Dylan Perez (piano), Lauren Young (mezzo), Julien Van Mellaerts (baritone). Opera Holland Park, London, 26.7.2021. (CC)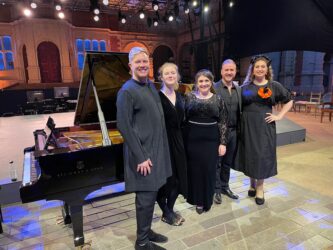 Claudio Silvestri – La traviata Fantasia
Verdi – 'La seduzione'; La traviata: 'Addio del passata'; Ave Maria
Liszt – Petrarch Sonnets
Abrahamyan – 'How fair the spot'
Petrosyan – 'When my eyes see you'
Komitas – 'Lullaby'
Tchaikovsky – Six Duets: (I) Tears; (ii) Passion Spent; (iii) Dawn (with Young); Final Scene from Eugene Onegin (with Mellaerts)
A superb addition to the Holland Park season, this series of 'Opera in Song' concerts (July 25-27) proffered the perfect opportunity to reacquaint ourselves with the talent of Anush Hovhannisyan, seen in Florence as one of The Three Divas (August 2020) and most recently as Musetta in the Covent Garden la bohème. Hovhannisyan has long been associated with the role of Violetta Valéry (La traviata – Glasgow 2017, Cardiff 2018 and, in October 2021 onwards, at the Royal Opera House, Covent Garden in Richard Eyre's well-loved production. Fitting that the 'Addio de passato' formed part of this evening, then – as well as some music from Hovannisyan's homeland, Armenia.
Two pianists shared the honours, both young and talented: Dylan Perez and Ella O'Neill, both of whom already boast impeccable credentials; both of which will enjoy long and successful careers, too, on the strength of their playing on this occasion. But it was Hovhannisyan's night, introducing pieces from the stage with wit and charm, then creating little worlds for each of the composers featured.
But it was with piano we started – piano duet, to be accurate, in Claudio Silvestri's fantasia on La traviata, a piece that seemed markedly successful in seamlessly moving from one famous melody (and scene) to the next. Beautifully performed by Perez (primo) and O'Neill, it led to a fabulous trio of three Verdi offerings, Hovhanissyan on tremendous form. That the music included the lesser-known song 'La seduzione' (a song that reflected Violetta's suffering) and the soprano and piano 'Ave Maria' was itself cause for much celebration. Verdi showed a marked proclivity for the Ave Maria, finding space for it in I Lombardi (where it is sung by Giselda), the very famous appearance in Otello and also in the first of the choral Quattro pezzi sacri. The first aspect of 'La seduzione' was how quiet Hovhanissyan dared to sing, bringing the audience to her, creating the intimacy she had promised in her spoken introduction to the concert. The 'Ave Maria' was a million miles away from the Hovhannisyan we saw as Musetta; the 'Addio del passato' just sent shivers down the spine from first to last, the parlando delivery of text cutting straight to the heart.
There was no interval in this concert – and it was the right decision. The music flowed beautifully from one heavenly isle to another. The three Liszt songs on Petrarch came next, and while Liszt's piano Petrarch Sonnets much better known, hearing the voice and piano settings was revelatory, not least in underlining the vocal cantabile that lies at the heart of Liszt's solo piano music, as well as perhaps pointing us in the direction of Liszt's own Lieder output. Perez's contributions were masterly – and in the first, 'Pace non trovo' ('I find no peace'), with a voice one really heard the Bellinian slant of this music. Hovhanissyan's beautifully long lines in 'Benedetto sia 'l giorno' ('Blessed be the day') led to the most beautiful piano playing from Perez in the concluding 'I' vidi in terra angelici costumi' ('I saw angelic virtue on earth'). Here, interaction between singer and piano seemed perfectly as one, reacting to each other with infinite ease.
Worth noting that Hovhanissyan's range is wide enough to do all of this repertoire full justice – she is listed as soprano but has a lovely, ample lower register. The trio of Armenians, Eduard Abrahamyan, Robert Petrosyan and the composer just known as Komitas followed. Ella O'Neill seemed the perfect partner – her sound is lovely and burnished, perfect for these songs, particularly perhaps the melancholy of the Petrosyan. 'How can I silence my heart?' asked Hovhanissyan – the effect was devastating. The first song, the Abrahamyan, was brighter, holding plenty of appearances of the word 'Anush' which, it turns out, translates as 'sweet'; and how intriguing was Komitas's 'Lullaby', with its aspects of vocalise and its sparse piano part.
It was left to Tchaikovsky to close (no encore) – and who could do it better? Three of the six Duets for soprano and mezzo introduced the wonderful Scottish singer Lauren Young, who will go from here next to sing the Witch in Humperdinck's Hänsel und Gretel for British Youth Opera and thence, in April, to a Messiah at Cadogan Hall in London. Young was perfectly chosen to complement Hovhanissyan's voice, her warm mezzo beautifully rounded in 'Tears,' revealing the sheer size of her voice in the troubled 'Passion spent' (a lot of angst, there) and, with Perez on the piano, 'Dawn', with the two singers in beautiful harmony together. Young is most definitely a name to watch.
Finally, the last scene of Eugene Onegin. One might have thought this was a risk, performing something so dramatic with piano in a space so used to big emotions with orchestra. Both pianists performed as Tchaikovsky's characteristic descending lines of Fate took us to dark regions. Again, the singer joining Hovhannisyan, the baritone Julien Van Mellaerts, seemed perfect, with perhaps Hovhanissyan penetrating just that bit further to the heart of Russian melancholy and tragedy.
A fabulous evening. Hovhanissyan's stamina is huge, to have survived that programme with her voice seemingly intact: she is also the most welcoming of hosts.
Colin Clarke