United Kingdom Mascagni, L'amico Fritz (reduced orch. by Tony Burke): Soloists, Opera Holland Park Chorus, City of London Sinfonia / Beatrice Venezi (conductor). Opera Holland Park, London, 22.7.2021. (CC)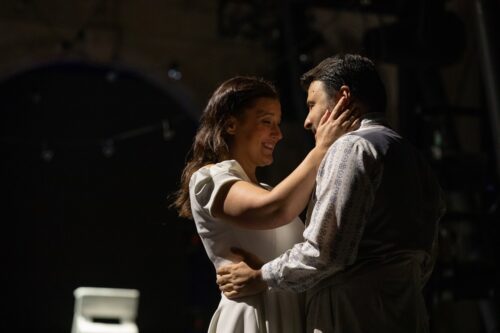 Production:
Director – Julia Burbach
Designer – Alyson Cummins
Lighting Designer – Rory Beaton
Choreographer – Cameron McMillan
Cast:
Fritz Kobus – Matteo Lippi
Suzel – Katie Bird
David – Paul Carey Jones
Beppe – Kezia Bienek and Victoria Simmonds
Hanezò – Themba Mvula
Federico – Mike Bradley
Caterina – Rose Stachniewska
This is a new production of Mascagni's delightful opera L'amico Fritz; the third production at Opera Holland Park in the last quarter century. And it is precisely because of stats of this ilk that Opera Holland Park deserves to flourish forever. The company's devotion to verismo and giovane scuola opera is utterly remarkable, and has led to the resurrection of such gems as Mascagni's Isabeau (UK premiere, 2018) and his utterly beautiful Iris (2016).
Perhaps L'amico Fritz occupies a unique position in Mascagni's output though. It directly followed on from Cavalleria rusticana, a stratospheric success for the young composer. How does one follow that most powerful of one-acters? By taking a libretto that is as harmless as candyfloss appears to be the reply. The plot is simple: a confirmed bachelor (going as far in the opera as wagering a vineyard that he will never tie the knot), landowner Fritz Kobus, realises he has fallen for Suzel, the daughter of one of his tenants. The second act brings the famous 'Cherry Duet' (a Pavarotti favourite), the two become closer but there is a fly in the ointment: the Rabbi David has found a bride for Suzel. The third act furnishes a happy ending, with the two lovers declaring their feelings for each other and the Rabbi donating the winnings from his bet (the vineyard) as a wedding present for Suzel.
The setting is Alsace, a disputed territory over history, hence the Germanic-sounding names. There was no specific clue as to geography in the props of this stripped-down staging, with a group of stepladders arranged haphazardly around the stage (there must be a better collective noun for stepladders, surely? An ascent?). One of these stepladders would be the prop of choice for the Cherry Duet, while other 'props' (door, drinking glass) were simply mimed. Much was in black-and-white, but Suzel wore a cherry-coloured dress (funnily enough). The fact that all of this succeeded is testament to the sheer creativity of the team at OHP. Lighting (Rory Beaton) was, as usual, expert. Beppe wore a pair of angel wings to denote his role as Cupid. Visually, the evening was as perfectly cogent as it was musically. Conductor Beatrice Venezi ensured superb playing from the smaller group of players (as so often this season, reduced scoring was used, this time courtesy of Tony Burke at Pocket Productions). It was impossible not to notice the suave woodwind phrasing early on, or the passion of the Intermezzo (not as famous as Cav's one, for sure, but definitely worth seeking out), and Venezi's clear rapport with both singers and instruments in terms of flexibility, and the ability to establish tempi quickly, paid huge dividends. It would be remiss not to mention the contributions of the leader (Cupid plays a violin in the opera), Charlotte Reid, beautiful of tone and ever-expressive throughout. There was also notable trumpet playing when called for; luxury casting in the 'pit' here as the player was David Blackadder.
The Fritz on this occasion was Matteo Lippi. While his Ruggero (La rondine at OHP in 2017) seemed to play second fiddle to Elizabeth Llewellyn's Magda (review) here he was all virile Italianate lines, his voice strong throughout all registers, ardent, believable (as much as anything in this opera comes under that heading). His beloved Suzel found Katie Bird in fine fettle (she makes her OHP debut in this role). Paul Carey Jones was excellent as the Rabbi David, his voice exceptionally firm and strong, and certainly powerful. The true magic both vocally and dramatically came in the second act in 'that' glorious duet between Fritz and Suzel – but the evening was also about showing that L'amico Fritz was about far more than those few moments, and how it succeeded.
A chest infection meant that Kezia Bienek walked the travesti role of Beppe, Fritz's gypsy friend, while Victora Simmonds sang from the pit. My first experience of Simmonds had been in very different repertoire: Henze's Voices with the London Sinfonietta at St John's, Smith Square in 2017. Her repertoire extends from Donna Elvira Don Giovanni through to Jonathan Dove's Flight, so her flexibility is not in doubt. Neither is her clear alignment with Mascagni: her voice was a delight (she sang from the central orchestral 'circle'). Simmonds's voice has dark hues which suited the role of Beppe perfectly, and all credit to Bienek for miming so well.
The fresh voiced Rose Stachniewska was a good Caterina, while Mike Bradley and Themba Mvula were nicely rambunctious as Federico and Hanezò respectively. The contribution of the chorus – as so often at OHP – was flawless.
This is surely the perfect remedy for Covid blues, OHP's Fritz lifts the woes of the world as effortlessly as one might, indeed, nonchalantly pick a cherry. Behind that, though is a raft of work, from the intricacies of socially distanced productions to working with reduced orchestrations and, on this occasion, indispositions.
Of all the seasons I have attended Opera Holland Park, this has been the most successful: a beautiful Young Artists Figaro, a simply stunning from all angles Vixen and now this L'amico Fritz. Roll on the Opera in Song performances starting Sunday 25 July.
Colin Clarke