United Kingdom Waterloo Festival [5] – Bruch, R. Strauss, Dvořák, and Le Beau: Steven Isserlis (cello), Sam Haywood (piano). St John's, Waterloo, London, 24.6.2021. (MB)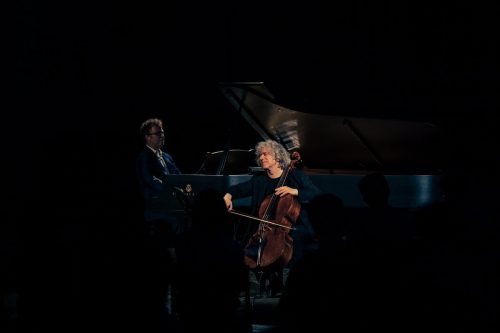 Bruch – Kol Nidrei, Op.47
R. Strauss – Cello Sonata in F major, Op.6 (London premiere of first version)
Dvořák (arr. Isserlis) – Four Romantic Pieces, Op.75
Luise Adolpha Le Beau – Cello Sonata in D major, Op.17
All good things must come to an end, or at least from time to time a pause. Let us hope that this, the last in the Spotlight Chamber Concert series, now also part of the Waterloo Festival, is only au revoir. Anthony Friend's achievement in attracting such an array of musicians, to give such excellent performances at the darkest of times, merits our deepest gratitude; it certainly has mine. This long-delayed concert from Steven Isserlis, now with pianist Sam Haywood, made for a splendid finale — at least for now.
First up was Max Bruch's Kol Nidrei, treated to a performance of High Romantic expressivity, balanced with great dignity, Haywood's sensitivity as accompanist crucial here. Bruch's piece is very different, of course, from Schoenberg's Kol nidre for speaker, chorus, and orchestra. Schoenberg wrote to Paul Dessau that 'one of my principal tasks' had been to 'vitriolize away the cello-sentimentality of the Bruchs etc., lending this decree the dignity of a law, of an "edict".' Whatever one thinks of that, one probably knows what he meant. Dignity takes many forms, however, as does sentimentality. It would have taken a harder heart than mine not to admire and enjoy so committed and freely romantic a performance. The way the music subsided just as dusk outside began to fall offered magic in itself.
Richard Strauss and Schoenberg had a fraught relationship over the years. Schoenberg could not possibly, however, have known the first, 1881 version of Strauss's Cello Sonata, since it only became available last year, Strauss's music having passed out of copyright. (The same fate or opportunity awaits Schoenberg's music next year.) Isserlis and Haywood gave the London premiere with a conviction that suggested a repertoire piece — which, even when one considers the first movement, in which relatively little changed, is perhaps something of an exaggeration for Strauss's revision, let alone this. Both musicians were clearly inside the music, the pianist in particular, unsurprisingly, given quite a work-out. Strauss's talent, at only seventeen years old, at writing for any instrument was heard both in his cello writing and in its combination with piano. There is little, even no, sign of the 'real' Richard Strauss, but it is an enjoyable, incredibly competent piece. The first movement was shaped as if it were Brahms, underlining an astonishing, Mendelssohn-like security of harmony and form. Its successor, an Andante entirely absent from the more familiar version of the work, received a rapt reading that did not obscure but rather enhanced its essential simplicity. The third movement, again replaced in its entirety in the second version, was likewise imbued with all the freshness of discovery and all the apparent familiarity of repertory. Mendelssohn again came to mind. It sang beautifully, if not remotely like the Strauss of maturity. There were some splendidly deadpan surprises too.
Dvořák, arranged by Isserlis, was next. One might never have guessed the Four Romantic Pieces were not originally written for cello and piano such was the success of arrangement and performance, clarifying textures that might conceivably have proved awkward. A delectable, songful performance of the first had genuine simplicity, albeit one that concealed much craft beneath the surface. The second was given in passionate contrast, founded on fine command of detail and articulation, leading aptly enough to a third that seemed to combine many of the virtues of both. Melancholy nobility, moving me considerably, proved the hallmark of the fourth.
Finally, a curiosity: the D major Sonata of Luise Adolpha Le Beau, written, albeit three years earlier and emerging victorious, for the same competition Strauss's sonata failed to win. The first movement's opening proved, like Strauss's, highly accomplished and, in performance, rich in tone. Where it travelled thereafter seemed more arbitrary. It nonetheless benefited from great care and evident belief. This big-hearted performance more or less melted my sceptical heart. A sad, yet warm and dignified slow movement, and pleasant enough finale likewise benefited from committed performance. I could not help but think the latter went on a bit, but did not mind in the slightest. The encore, Cécile Chaminade's Sommeil d'un enfant was very much what one would expect: pleasant and well-crafted in its salon way.
Mark Berry