United Kingdom Mozart (attrib), Mysliveček, C. P. E. Bach, Salieri, Haydn, Mozart 250: 1771 – A Retrospective: Kitty Whately (mezzo-soprano), Steven Devine (harpsichord), The Mozartists / Ian Page (conductor). Cadogan Hall, London. 8.7.2021. (CC)
Mozart? – Symphony in F, K.75 (1771?)
Mysliveček – Adamo ed Eva: aria, 'Non so se il mio peccato'
C. P. E. Bach – Harpsichord Concerto in C minor, Wq.43/4
Salieri – Armida: scena, 'E non degg'io seguiria … Lungi da te'
Haydn – Symphony No.44 in E minor, 'Trauer'
Sixteen months to the day since their last public concert, The Mozartists and Ian Page returned to live performance with a selection of works that hail from 1771.
Much about the Symphony in F, which has a Köchel number of 75, is uncertain, not least its authorship. But Köchel not only gave it a number, but he actually also labelled it as 'No. 42', placing it after the so-called 'Jupiter' Symphony in his numbering. Ever informative in his pre-concert talks, Ian Page had suggested a kinship of this symphony with the symphonies of J. C. Bach (specifically, a gesture that links to Bach's Op.3/6); and certainly there is a certain overall 'cleanliness' of expression here that makes the comparison with the 'London Bach' valid. The music has a sort of 'fresh air' feel to it. The symphony begins with a three in a bar first movement, notable as the composer places the Menuetto e Trio second (thus juxtaposing two triple-meter movements). The antiphonal layout worked wonders with the violin exchanges; notable also was the way the composer seems to throw in a sustained wind chord as a sort of 'brake' to slow the momentum of the opening and thus lead into the second subject.
The conflicted arguments about the work's authorship seem vindicated in the Menuetto e Trio, which has its more decidedly workaday moments as a piece, no matter how suave The Mozartists's delivery might have been. The Andantino, though, is another matter, elegance personified via galanterie and with some beautiful, sustained dyads in the oboes adding a poignancy one readily associates with the Master. Lovely to hear such a pointed and brisk finale (it is marked allegro but felt closer to a presto). Great rustic horn gestures, too, and a nice lip trill at the end.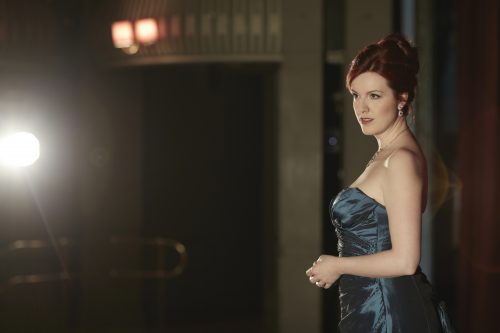 Over to oratorio next, and Josef Mysliveček's Adamo ed Eva (and if you are after a full recording, the one on Passacaille with Il Gardellino under Peter van Heyghen is worth seeking out). One of Mysliveček's eight oratorios, this 'oratorio a 4 voci' is to a libretto by Giovanni Granelli, a Jesuit priest from Genoa. The '4 voci' incidentally are Adam and Eve plus two allegorical angels, Justice and Mercy. Eve's third and final aria, 'Non so se il mio peccato' is one of only two numbers in the oratorio in a minor key. This is Eve lamenting her loss of innocence; lovely how the composer illustrates the Biblical serpent with a rather slithery legato motif, while a faster middle section reveals her terror. The singer on this occasion was the mezzo Kitty Whately, a BBC New Generation Artist 2013-15; she was Peep-Bo in the most recent ENO revival of Sir Jonathan Miller's production of The Mikado, (reviewed by my colleague Jim Pritchard click here). Whately is possessed of a beautifully rich mezzo that suited the music's text perfectly ('I do not know if my sin / was the result of greedy or haughty desire'). Whately's vocal cadenza work was a joy, as was her wonderful legato; together with Page and his players, the performance was actually far preferable to that by Luciana Mancini on the Passacaille recording. Together, Whately and Page reminded us of just how miraculous Mysliveček's music is. The more agitated central section was suitably dramatic – a revelation.
(Those wishing to explore Mysliveček's music further might also like to try his La passione di nostro Signore Gesu Cristo, reviewed by myself on Music Web International click here.)
Steven Devine is one of our finest harpsichord players around at the moment, and the choice of a C. P. E. Bach Keyboard Concerto could hardly have been finer. Bach links the movements together by leaving the preceding one hanging. C. P. E.'s music is always characteristic (some might say characteristically bonkers); idiosyncratic is probably the right term. And here despite the C minor key it seemed joyously unfettered, unhesitatingly and sometimes suddenly presenting moments of great beauty against the prevailing momentum. The players brough a lively sense of 'swing' to the third movement (of four) Tempo di menuetto. And how impressive is the moment when Bach gives us a diminished seventh that seems to cause the solo harpsichord to unleash a flood of arpeggiation. In the finale, even the orchestral accompaniments seem cheeky. Devine's cadenza here was most impressive. A fabulous performance, as bright as a button. Many will surely now this piece through the 1968 George Malcolm, ASMF/Marriner performance, but how much brighter – and fearless in presenting Bach's quirkiness – were Devine and Page. A triumphant performance
Post-interval came an aria from Salieri's opera Armida. Kitty Whately again stepped forward, for Rinaldo's aria of lamenting, 'Lungi da te' (If I can't survive) preceded by its recitative. This was perhaps less successful as an overall performance than the Mysliveček. It is an aria many will know via Christophe Rousset's complete recording of Armida on the Aparté label. There, Rousset convinces us that Armida is great music from first to last, not least in Florie Valiquette's performance of 'Lungi da te'.  Page's performance gave the impression this is very fine music, but it did not quite rise to the same heights. That said, Whately's singing again had so much to recommend it, not least in her long phrases when she sustains – sometimes spins like silk – a line most beautifully.
Finally, one of Haydn's greatest symphonies, the so-called 'Trauer,' one of the 'Sturm und Drang' works. It meant, of course that the second half moved smoothly from lamenting to mourning. Page and his band do Haydn just as well as they do Mozart, and this was a terrific performance, scampering violins in the first movement underpinned by a real sense of unrest. This performance was the very epitome of 'Sturm und Drang' and contrasts were marked, notably between Menuetto and Trio (the Trio with some fabulous horn playing) before the most noble of Adagios followed on. This was simply beautiful; but the finest movement was the Presto finale, pointed, stormy, detailed, syncopations and accents all biting and exciting.
A terrific concert. Whichever concert or opera I attend, there is always the sheer exhilaration of a return to the stage present, and what a joy it is to experience. The next concert by The Mozartists is, as always, keenly awaited.
Colin Clarke
For more about The Mozartists click here.