United Kingdom The Royal Ballet's Beauty Mixed Programme: Dancers of the Royal Ballet, Orchestra of the Royal Opera House / Koen Kessels (conductor). Filmed (directed by Ross MacGibbon) at the Royal Opera House and streamed on 9.7.2021. (JPr)
The Royal Ballet is celebrating its 90th anniversary and their current Director, Kevin O'Hare, presented this livestream by saying how 'After a challenging 15 months it's wonderful to be back on stage and I'm so proud of the company and countless people who have worked so hard to get us to this point.' As are all the admirers of The Royal Ballet! I was an intriguing mixed programme (details below) both looking to the past and to the future.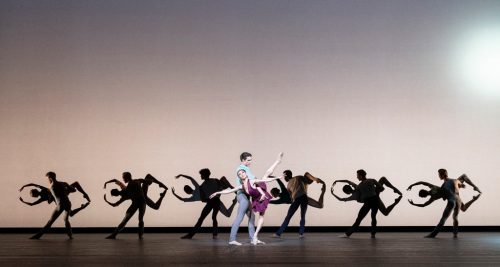 It all began with Anemoi a classical, uplifting new work from first soloist Valentino Zucchetti specifically to feature the younger dancers and O'Hare said how it 'takes the inspiration from Greek mythology as the gods of the four winds usher in brighter times.' It is a plotless, high energy work set to a selection of typically romantic Rachmaninoff music (apparently from his Second Symphony). William Forsythe's Balanchine-inspired The Vertiginous Thrill of Exactitude I recently reviewed (click here) was described – tongue-in-cheek maybe? – as having more steps than Swan Lake, if true Anemoi has more steps than the Forsythe piece! (Another influence is clearly Jerome Robbins's Dances at a Gathering.) There is a captivating succession of solos, duets and large ensemble moments with the women in flimsy – almost light-as-air – costumes. When the music (beautifully played – as everything was – by the Royal Opera House Orchestra under their music director Koen Kessels) is at its most tempestuous the men seem to storm(!) across the stage. Representing(?) two of the four winds Mariko Sasaki and Lukas Bjørneboe Brændsrød (both with great futures I believe) excelled in some lyrical duets including their final extended one which had some extravagant lifts as the music soared. Oddly silhouetted at the back of this as it concluded were six couples; the women being held up and posing stiffly by their partners and looking rather like beetles; eye-catching but odd. I suspect the other two winds were embodied by the spirited Leticia Dias and the leaping, spinning (almost funnelling like a tornado!) Taisuke Nakao in what seemed like a gold lamé hoodie.
The Royal Ballet were not allowed to broadcast Mats Ek's woman with water that was part of the programme in the theatre, and it was replaced by a film from Michael Nunn and William Trevitt of a suited – though bare-chested – Leo Dixon dancing during lockdown and on a bare stage Arthur Pita's new creation Agnus Dei to Rufus Wainwright's song. The soundworld is Middle Eastern and his vocals are tortured as Dixon's moves seemingly as the sole representative of the entire company's anguish and confusion at their 'challenging 15 months'. It appears to drive Dixon to the edge of the abyss in his despair and we see him fall off the stage before hauntingly – and thought-provokingly – being shown rising up against the backdrop of the eerily empty Royal Opera House.
Resident Choreographer Wayne McGregor's brand-new enthralling love duet Morgen is set to Richard Strauss's very famous song with the same name (evocatively sung by Anita Watson and exquisitely played by Vasko Vassilev, the orchestra's principal guest concertmaster). We heard it recited at the start and it begins 'Tomorrow the sun will shine again' and again the words hope for better times soon. Joseph Sissens dancing bare-chested (what is the problem with male dancers putting some more clothes on?) was sinuous and animalistic. Yasmine Naghdi gets an orangey-red shift dress but often seems a lonely socially distanced figure as they circle one other before finally embracing at the end.
I saw the second performance of Kenneth MacMillan's Winter Dreams in February 1991 (an unbelievable thirty years ago!) which included the 'Farewell' pas de deux that has been extracted from it and now has a life of its own: I saw it originally danced by Darcey Bussell and Irek Mukhamedov. Tchaikovsky's plangent music was splendidly played by pianist Robert Clark, and though Laura Morera went someway to displaying the searing passion and anguish of someone soon to be parted from her lover, sadly – and please forgive me – Ryoichi Hirano was rather bland and did not show any real emotion in his dancing.
Beatriz Stix-Brunell soon bids her own 'farewell' to the company to go to university back home in the United States and this performances of Artistic Associate Christopher Wheeldon's After the Rain pas de deux was her penultimate one. Arvo Part's Spiegel im Spiegel is very familiar (more wonderful playing from Vassilev and, this time, Kate Shipway at the piano) and Stix-Brunell is seen in a violet leotard with a deliberately impassive bare-chested (did you guess he might be?) Reece Clarke who frequently held her aloft as she struck poses. It is a languid, mesmeric and beautiful controlled duet which starts (after much swaying and mirrored movement) and ends with Stix-Bunnell like a table, face upwards, her hands and feet on the stage floor, though what this signifies I am not sure, particularly as Clarke slides under her as the short ballet ends.
I was also at (what I have recorded as) the second performance of Sir Frederick Ashton's Voices of Spring in its 1981 revival when it was danced by Merle Park and Wayne Eagling. It is set to a typically delightful waltz – with the same title – by Johann Strauss II and – forty years since I first saw it! – the charismatic, constantly smiling pairing in 2021 were Anna Rose O'Sullivan and Marcelino Sambé.  Her running jumps that skim the floor will live long in the memory, as will the exuberance, sheer brio, and perfect technique of this playful couple. Sambé ends carrying O'Sullivan off aloft on his upraised arm and this was a triumphant ending to Voices of Spring; one of the more show-offy of Ashton's works which was a sheer delight to be able to see again.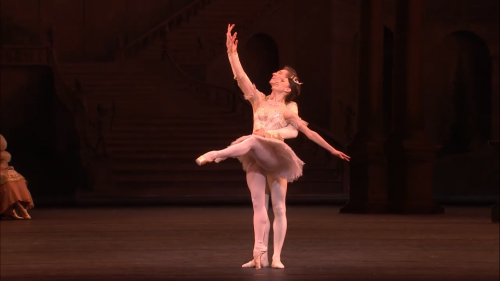 Finally, it was the final act of The Sleeping Beauty, marking 75 years since the ballet reopened the Royal Opera House after the Second World War II (and adding to an earlier theme this time it was my mother who was at the second performance). Paying homage to Ninette de Valois's original 1946 production it all still looks very pretty on stage, though the Claude Lorrain-like backdrop seems a little dowdy by comparison. Aurora's wedding to Prince Florimund is celebrated with the divertissements by fairy-tale characters before the grandest of grand pas de deux. (Sadly, Tchaikovsky was ill-served by John Longstaff's reduced orchestration and I know nothing else – short of using a recording – was possible but it was a throwback to the bad old days of thin-sounding ballet music played live.) The fairy-tale figures of the cats, as well as Red Riding Hood and the Wolf were great fun, and, where appropriate, there was elegance and a pert liveliness from Calvin Richardson, Isabella Gasparini and Claire Calvert in Ashton's choreography for Florestan and his sisters.  For me – and probably due to those I have seen before – Meaghan Grace Hinkis and James Hay never took flight as Princess Florine and the Bluebird. Hinkis brought some sparkle to her variation but, for me, Hay was rather earthbound though there is no doubting his speed and stamina. Marianela Nuñez and Vadim Muntagirov were the most celebrated dancers in this programme and so got pride of place in the grand pas de deux. Muntagirov's noble partnering was absolute perfection, and he is currently unrivalled in his remarkable talent as he soared, spun or raced around the stage. Nuñez was radiant and imperious, pristine in all she did and – as ever – utterly alive in the moment.
Jim Pritchard
Anemoi
Choreography – Valentino Zucchetti
Music – Sergey Rachmaninoff (arr. and orch. Hans Vercauteren)
Designer – Jean-Marc Puissant
Lighting designer – Simon Bennison
Dancers – Mariko Sasaki, Lukas Bjørneboe Brændsrød, Leticia Dias, Taisuke Nakao, Sophie Allnatt, Ashley Dean, Hannah Grennell, Bomin Kim, Sae Maeda, Yu Hang, Liam Boswell,
Harry Churches, Leo Dixon, Joonhyuk Jun, Harrison Lee, Giacomo Rovero
Agnus Dei
A film by Michael Nunn and William Trevitt
Choreography – Arthur Pita
Music – Rufus Wainwright
Costume designer – Yann Seabra
Lighting designer – Simon Bennison
Dancer – Leo Dixon
Morgen
Choreography – Wayne McGregor
Music – Richard Strauss
Lighting designer – Simon Bennison
Soprano – Anita Watson
Solo violin – Vasko Vassilev
Dancers – Yasmine Naghdi and Joseph Sissens
Winter Dreams – 'Farewell' pas de deux
Choreography – Kenneth MacMillan
Music – Pyotr Il'yich Tchaikovsky (arr. Phillip Gammon)
Designer – Peter Farmer
Lighting designer – John B. Read
Solo piano – Robert Clark
Dancers – Laura Morera and Ryoichi Hirano
After the rain pas de deux
Choreography – Christopher Wheeldon
Music – Arvo Pärt (Spiegel im Spiegel)
Costume designer – Holly Hynes
Solo violin – Vasko Vassilev
Solo piano – Kate Shipway
Dancers – Beatriz Stix-Brunell and Reece Clarke
Voices of Spring
Choreography – Frederick Ashton
Music – Johann Strauss II
Designer – Julia Trevelyan Oman
Lighting designer – John B. Read
Dancers – Anna Rose O'Sullivan and Marcelino Sambé
The Sleeping Beauty Act III
Choreography – Marius Petipa
Music – Pyotr Il'yich Tchaikovsky (red. orch. John Longstaff)
Production – Monica Mason and Christopher Newton (after Ninette de Valois and Nicholas Sergeyev)
Additional choreography – Frederick Ashton and Anthony Dowell
Original designer – Oliver Messel (add. designs Peter Farmer)
Lighting designer – Mark Jonathan
Cast included:
Princess Aurora – Marianela Nuñez
Prince Florimund – Vadim Muntagirov
Florestan and his Sisters – Calvin Richardson, Isabella Gasparini and Claire Calvert
Puss-in-boots and the White Cat – David Yudes and Ashley Dean
Princess Florine and the Bluebird – Meaghan Grace Hinkis and James Hay
Red Riding Hood and the Wolf – Sophie Allnatt and Tomas Mock