New Season's Preview: Tonhalle Orchestra Zurich 2021/2022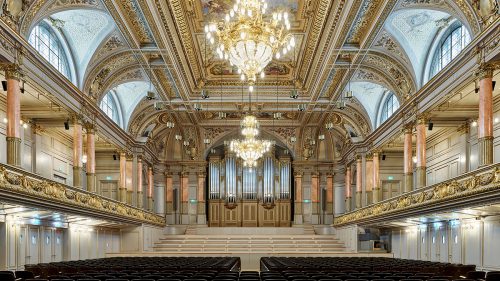 The Tonhalle Orchestra Zurich has just announced its new season's programme. The orchestra moves back into its splendidly renovated old hall, the Tonhalle, down by the lake. It has taken four years to re-paint, re-gild, put in a new floor, seats, air-cooling and humidity system, create a terrace with a view of the lake and the Alps and modernise backstage. A new organ has been installed, and I can testify it sounds magnificent. Everyone looks forward to the opening of the new season, in the 'new old hall'. 'See you am See' (See you by the lake) is the orchestra's current slogan – typically, partly in English, partly in German.
'Artists in Focus' (as opposed to 'in residence') will be the young Norwegian violinist Vilde Frang and pianist Helène Grimaud. Composer in Focus will be none other than John Adams.
Chief Conductor Paavo Järvi very much looks forward to his first season in the new/old hall. While the acoustics in the old hall, built in 1895, were fine, Järvi says the acoustics now are even better; above all, it can take a lot of volume, adding, 'We don't now have to tiptoe'. We look forward, on that basis, to his forthcoming Bruckner cycle.
The orchestra will, pandemic permitting, tour to the Lucerne Festival, Grafenegg, Bucharest, Montreux, Munich, Schleswig-Holstein Festival (Neumünster) and across to Japan.
Soloists include Janine Jansen, Katia and Mireille Labèque, Leonidas Kavakos, Joshua Bell, Maurizio Pollini and Igor Levit. As Järvi puts it, the orchestra is very fortunate not to have to beg soloists to come to Zurich – they simply jump at the chance.
Guest conductors include Sir John Eliot Gardiner, Marek Janowski, Alondra de la Parra, Jaap Zweden, Herbert Blomstedt, David Zinman, Jakub Hrůša, Lorenzo Viotti and Antonello Manacorda.
There will be one open-air concert next June, Carl Orff's Carmina Burana.
Here are some of the highlights with dates. Do come and see and hear the orchestra in its newly renovated hall.
Mahler Symphony No.3 c. Järvi 15/16 September 2021 (opening of the new season)
Saint-Saëns Symphony No.3 c. Järvi 23/24 September 2021
Britten War Requiem c. Nagano Ian Bostridge 7/8 October 2021
Beethoven Symphony No.3 Shostakovich Violin Concerto No.1 c. Järvi/Jansen 27, 28 & 29 October 2021
Brahms Symphony No.1 Martinů Concerto for Two Pianos and Orchestra c. Järvi/Katia and Mireille Labèque
3/4 November 2021
Berlioz L'Enfance du Christ c. Gardiner Monteverdi Choir 27/28 November 2021
Wagner/R. Strauss (Tod und Verklärung) c. Janowski/Harteros 9/10 December 2021
Elgar Symphony No.1 Adams City Noir c. Trevino 13/14 January 2022
Bruckner Symphony No.4 c. Järvi Berg Violin Concerto Frang 19/20/21 January 2022
Bruckner Symphony No.7 c. Järvi Schumann Piano Concerto Grimaud 26/27/28 January 2022
Mahler Symphony No.1 c. Zweden Adams Violin Concerto Gringolts 9/10/11 February 2022
Beethoven Piano Concerto No.1 Hamelin Adams Harmonielehre c. Zinman 9/10 March 2022
Dvořák Violin Concerto Bell Sibelius Symphony No.2 c. Järvi 2/3 April 2022
Beethoven Missa Solemnis c. Krause Der Gemischter Chor Zürich 14/15 April 2022
Bach Matthew Passion c. Herreweghe Collegium Vocale Gent 16 April 2022
Bruckner Symphony No.5 c. Blomstedt 1/2/3 June 2022
Orff Carmina Burana c. Järvi 22/23/25 June 2022
For more details visit the orchestra's website click here
John Rhodes