Spain Festival Castell de Peralada 2021 – Puccini, Tosca (concert version): Pequeños Cantores de la JORCAM, Teatro Real Chorus and Orchestra / Nicola Luisotti (conductor). Auditorio Castell de Peralada, 25.7. 2021. (JMI)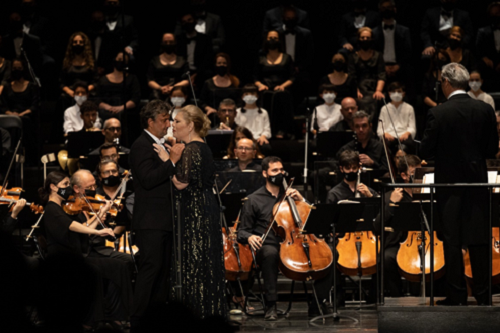 Cast:
Tosca – Sondra Radvanovsky
Cavaradossi – Jonas Kaufmann
Scarpia – Carlos Álvarez
Sacristan – Valeriano Lanchas
Angelotti – Gerardo Bullón
Spoletta – Mikeldi Atxalandabaso
Sciarrone – David Lagares
Jailer – Luis López Navarro
Shepherd – Inés Ballesteros
The Peralada Festival is back in business after last year's cancellation due to the pandemic, and the schedule includes two operas. First up is a concert version of Tosca, and then comes a more rarely seen opera, Handel's Orlando, in a new production by Rafael Villalobos.
The concert version of Tosca stars Sondra Radvanovsky, Jonas Kaufmann and Carlos Álvarez, under the baton of Nicola Luisotti. It is the same cast that one heard three days ago at the Teatro Real in Madrid (review click here), and the artistic result has clearly fallen below that of the earlier performance.
As in Madrid a few days ago, there were two encores, one by Sondra Radvanovsky ('Vissi d'arte') and the second by Jonas Kaufmann ('E lucevan le stelle'). There was little resistance from either to doing the encores.
What has changed in the course of these three days? It has to do with the fact that this was a concert version, and that it was done in an open-air venue and not a theater. Tosca is an opera that is rather badly suited to a concert version because the drama on stage is an essential part from the opening bars. Taking into account that the cast was the same as in Madrid, I was convinced that it would semi-staged: without sets and costumes but full of life. This was not the case: the orchestra and chorus occupied practically the entire stage, leaving a narrow space at the front for the singers, and it was impossible for them to transmit the drama and emotions from where they were. Even Scarpia exited after being stabbed by Tosca, leaving her alone on stage through the end of the second act.
The other influential element was being outside, which had a great effect on the vocal results. Not everyone was affected in the same way: Sondra Radvanovsky had no problems, while Carlos Álvarez and, especially, Jonas Kaufmann, did, and both voices had difficulty reaching the audience. It was not a poor performance, but it certainly was not what one anticipated.
The musical direction was again carried out by Nicola Luisotti, whose reading was quite good and very nuanced. The Teatro Real orchestra was excellent.
Sondra Radvanovsky as Tosca was as brilliant here as in Madrid. She is always a powerful singer, with excellent top notes like few sopranos in this repertoire, although her voice is very particular and not as beautiful as Anna Netrebko's. Her voice reached the audience perfectly.
Jonas Kaufmann was Mario Cavaradossi, and it was his opera debut at this festival, where he had sung on previous occasions in concerts and recitals. His 'Recondita armonia' was disappointing, but he improved in Act III with 'E lucevan le stelle', although his interpretation is not to the liking of everyone. It was clear that he would do an encore, as Radvanovsky had done earlier, and so it was.
Something similar can be said of Carlos Álvarez in the part of Barón Scarpia. I still believe that it is not in verismo that he shines the most.
The secondary characters were the same as in Madrid, and they all did well. Valeriano Lanchas (Sacristan) and Gerardo Bullón (Angelotti) were sonorous, and Mikeldi Atxalandabaso was an excellent Spoletta. Good impressions were left by David Lagares (Sciarrone) and Luis López Navarro (Jailer).
José M. Irurzun