Switzerland Lucerne Summer Festival [2] – Schubert, Beethoven: Staatskapelle Berlin / Daniel Barenboim (conductor). Kultur- und Kongresszentrum Lucerne, 27.8.2021. (JR)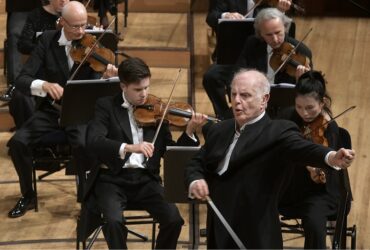 Schubert – Symphony No.5 D.485
Beethoven – Symphony No.3, Op.55 (Eroica)
Years ago, when I was fairly new to concert reviewing, I was told by a lady at the Zurich Opera Press Office, that – above all – I had to be objective. I kept to that, I think, but this concert proved to be a real test of my resolve.
This evening's rather staid, traditional programme was clearly designed to fit as much 'classical' music into the space of just over an hour, so that – according to the current health regulations – the concert needed no interval. It was also probably designed to be easy listening for a very well-heeled, predominantly elderly, international festival audience. Thankfully, due to the continuing easing of Covid restrictions in Switzerland, full concert halls and normal length programmes (with an interval and drinks at the bar) will be with us again in just a few weeks' time, and I cannot wait! So, Zurich will manage to beat Lucerne to it.
And so, to the first work in the programme. Schubert was only 19 when he wrote his Fifth Symphony in 1816. Although it employs smallish forces, its agility and apparent simplicity already point to the makings of a great master. Listening to the first two movements, one is convinced this is late Mozart. Only in the final movements are there signs of a more daring composer, who only really starts to come into maturity with his Sixth Symphony.
Only a few bars were needed to announce the quality and precision of this Berlin orchestra. Barenboim may not – he is nearly 80 – wave his arms above his waist nor jump around on the podium (hardly necessary in Schubert, I will admit), but he kept an even flow; his tempi throughout were broad, which is my shorthand for rather too slow. The Andante con moto had no moto and was soporific. Admittedly, it was all very beautiful; there was clear evidence of painstaking, meticulous rehearsal. One easily forgot that, for the most part, this orchestra is the old opera house orchestra in what was, for many decades, East Berlin. Only in the final movement, an Allegro vivace, was there any sense of urgency, Barenboim constantly preferring weight to fleet-footedness. The audience applauded politely, but no more. Barenboim only just made it onto the stage for a second appearance.
The Eroica needs no introduction. After Beethoven's very conventional First and Second Symphonies, the Third Symphony's very opening strident chords signal the boldness and courage of a composer who wanted to make his own mark. Beethoven was 27 years older than Schubert, yet this symphony – which was considered ground-breaking at the time and a shock for many – was written an amazing ten years before the Schubert symphony we heard in the first half of this concert. Two works, two worlds.
Yet again Barenboim eschewed briskly fresh tempi, so there was little brio in the Allegro con brio. The serious tread of the Marche funèbre was meticulously crafted; Barenboim widened the dynamics with the quietest of pianissimos contrasting with very loud outbursts. The Scherzo lacked sparkle, though the woodwind were precise, and the fanfare for three horns well executed. At the end, however, after what should have been an exciting Finale – and here I must write subjectively – I felt no sense of satisfaction. This was bottom-heavy Beethoven of the old school. Wilhelm Furtwängler came to mind. Blood and guts maybe, but many of us are now accustomed to uplifting period instrument performances with a lighter, more transparent sound.
Allow me a few additional words on the Staatskapelle and on Daniel Barenboim. The Staatskapelle is one of the oldest orchestras in the world, tracing its roots right back to 1742. From 1945 to 1990 it was based in the DDR, the eastern part of Germany, and languished in the shadow of the Berlin Philharmonic, especially while Herbert von Karajan was its Chief Conductor. Notable previous incumbents as Chief Conductors of the Staatskapelle have included Erich Kleiber (twice, both before and after the War), Karajan (during the War!), Richard Strauss and Clemens Krauss. Barenboim has been at the Staatskapelle's helm, as Staatskapellmeister, since 1992 and in 2000 was elected 'Conductor for Life'. Barenboim – often a controversial figure, especially in Israel for his anti-occupation views and his deliberate and provocative choice of a Wagner encore at a subscription concert – will be 80 next year and shows no signs of slowing down; indeed, he says he hopes to conduct another Ring. I am not a believer in even the very best conductors continuing well past their 'sell-by date'; the very title 'Conductor for life' smacks of a closed shop. There are no signs of Barenboim making way for a younger replacement. Yet.
John Rhodes