Austria Salzburg Festival 2021 [1] – Mahler and Bruckner: Elína Garanča (mezzo-soprano), Vienna Philharmonic Orchestra / Christian Thielemann (conductor). Performance at the Grosses Festspielhaus, Salzburg, recorded (directed Elisabeth Malzer) August 2021 and streamed on ARTE Concert until 4.11.2021. (JPr)
Mahler – Rückert-Lieder
Bruckner – Symphony No.7 in E major
The Vienna Philharmonic Orchestra conducted by Christian Thielemann in music by Mahler and Bruckner always looked as if it would be a special occasion and so it proved. Thielemann is perhaps the greatest living conductor of the standard Austro-German repertoire, notably Wagner, Richard Strauss, Bruckner and others, though oddly Mahler has not featured as prominently as some.
For what it's worth my musical triumvirate thesis has – for many years – been that Wagner begat Bruckner who begat Mahler. I have written before how never is this clearer than when listening to Bruckner's Seventh Symphony. Wagner was Bruckner's idol and when he was composing its Adagio he knew Wagner not long for this world. Indeed, it was on 14 February 1883 that Bruckner received the news he had been dreading and learnt the 'Master' had died the day before. This movement, which would always have had an elegiac tone anyway, now turned into a kind of funeral oration. Hearing the Adagio in the context of this history makes it undoubtedly a plaintive elegy and there are the frequent mournful intrusions of the four 'Wagner tubas' and the cymbal crash which – it is suggested – was written into the score when Bruckner got the news that Wagner had died.
There is a suggestion that the symphony's quiet and eloquent opening melody came to Bruckner in a dream and, of course, Wagner is supposed to have 'dreamt' the opening music to Das Rheingold. In Bruckner's first movement (Allegro moderato) Rheingold looms large and the chorale from the always portentous brass at the end – not for the last time – reminds the listener of the 'Entry of the Gods into Valhalla'. Beyond the homage paid to Wagner in the symphony there is influence of the work on Mahler's subsequent music (Mahler studied under Bruckner at the Vienna Conservatory). Notably a theme also arises which suggest Mahler might have been influenced by it when he samples the hymn 'Abide with me' in his Ninth Symphony. The music at the end of the first movement builds then subsidies and ramps up again to a stunning climax which resounds out more like the end of the entire symphony and not just the opening movement.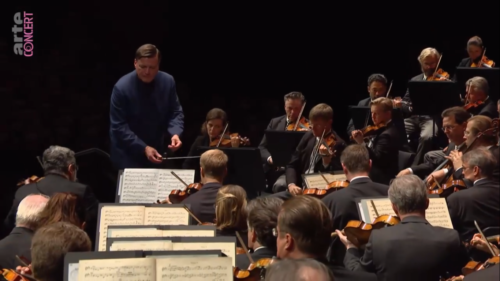 It goes without saying how the VPO reveal throughout the symphony a vast array of orchestral colours and textures and – without further comment – how wonderful it was to see them lead by their concertmaster Albena Danailova. Thielemann (conducting without a score) was almost hypnotic to watch on the podium, gestures are kept to barest minimum and at times his movement is almost balletic. But there is no doubting who is in charge and the significance of any shake of the head, pointed look or quietening hand. After this resplendent opening Thielemann and the VPO brought great dignity and deep poignncy to the reflective Adagio which is the emotional turning point of the work.
As the symphony unfolds the influence on Mahler when he was composing particularly his own Seventh, as well as his Ninth Symphonies, becomes more apparent. Mahler became famous for his use of Ländler just like his mentor does in the Scherzo. What we hear goes from quiet timpani to blazing brass to take us on Bruckner's version of the 'Ride of the Valkyries'. There is a dance here, but they seem to be wearing hobnailed boots.
The Finale which opens with duetting clarinets and surged along with less pomposity and more triumphalism from the two brass pronouncements of its main theme. Unfolding in a rondo-like fashion this most spiritually elevating of Bruckner's symphonies – similar in spirit to Mahler's own Seventh Symphony which also pays homage to Wagner – is brought to a thrilling brass-led (it's Bruckner could it be anything else?) conclusion. And it is that rarest of things – a Brucknerian 'happy ending'! The onrush of tutti orchestral sound soars to the concluding – very uplifting – series of chords which once more makes the listener think of Rheingold. His virtuosic musicians provided Thielemann with a memorable stream of heroic brass tone to supplement splendid woodwind and string playing. The ending was well-controlled by the conductor before the masked full house erupted with thunderous applause and a richly deserved standing ovation.
Before Bruckner there was Mahler's Rückert-Lieder sung by mezzo-soprano Elína Garanča. She is a wonderful singing-actor on the opera stage and yet, although she has emotional sensitivity and vocal range for these intimate songs, they lacked vivid expressivity and were – I'm sorry to write this – rather bland. Of course, the barn-like Grosses Festspielhaus is not ideal for them despite the VPO's slimmed down forces and Thielemann's exceptional acuity for pacing instrumental music, such as in 'Um Mitternacht' with its repeated shifts of metre and tempo.
Garanča's 'Ich atmet' einen linden Duft' was pleasantly enough sung but did not have the 'fragrance' some give it. 'Liebst du um Schönheit' ('I love you for beauty') is the love song of the five and needed more sparkle and rapture. Garanča did manage to imbue each solemn refrain of 'Um Mitternacht' ('At midnight') with increasing despair. Beginning with arms folded she was heard at her best in this one even though her dark chest tones were rather bleached, and it was too much like an internal dialogue. For 'Blicke mir nicht in die Lieder!' ('Do not look into my songs!') Garanča was a little more animated and it was nice to see a rare smile from her when singing about the honeycombs being tasted. The best came last with her profound and heartfelt 'Ich bin der Welt abhanden gekommen' and 'I am lost to the world' seemed to resonate more personally with her. Just like when I heard Garanča sing this before her voice made time stand still, with each of her words lingered over as if they were her very last. It seems churlish to make any criticism of it whatsoever and it had the most exquisite accompaniment from the VPO (kudos to the cor anglais and harp soloists) but, if anything, Garanča was still a little too introspective.
Jim Pritchard