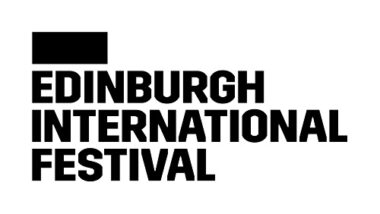 United Kingdom Edinburgh International Festival 2021 [13] – Mozart, Ravel, de Falla, Lorca: Fatma Said (soprano), Malcolm Martineau (piano). Old College Quad, Edinburgh, 27.8.2021. (SRT)
Mozart – 'Der Zauberer'; 'Das Veilchen'; 'Abendempfindung'; 'Als Luise die Briefe ihres ungetreuen Liebhabers verbrannte'; 'Warnung'
Ravel – Cinq mélodies populaires grecques; Shéhérazade
de Falla – Siete canciones populares españolas
Lorca –   Three songs from Canciones españolas antiguas
Egyptian soprano Fatma Said came to fame as the first Egyptian to sing at La Scala, Milan, as Pamina in The Magic Flute; but this Edinburgh International Festival debut was carefully crafted to show that she can do a lot more than Mozart.
She cuts a slight but glamorous figure on stage, and as soon as she opens her mouth you can tell why La Scala was keen to hear her in Mozart. The voice is light and deliciously fresh, with a bright, silvery top. In Mozart terms, hers is a soubrettish Zerlina or a Blonde, a voice in whose company it is really delightful to spend an hour. She also acts delightfully as she sings, investing today's Mozart songs with lots of power and urgency. Each of these songs, after all, is a little drama of its own, and Said pays them the great compliment of taking them seriously on their own terms rather than as consolation prizes for the operas.
She found a touch of exoticism in Ravel's Greek songs, an alluring sensuality entering the voice, revelling in Ravel's eastern inflected chromaticisms. Nowhere was this more notable than in the 'Song of the lentisk gatherers', with its limpid sense of pleasure mixed with yearning. Said also communicated very closely with Malcolm Martineau at the piano, as if giving one another the nod for certain key emotional gestures. Indeed, Martineau was, on balance, the star of Ravel's Shéhérazade, inhabiting all of the oriental colours so successfully that I never once missed the orchestral palette, except, perhaps, the flute in the eponymous second song. Said's coloured her voice so carefully here that she guided us clearly through the travelogue of 'Asie' with colour that was, by turns, mysterious, yearning, excited or tremulous; breathless in the pointed artifice of the final line.
Perhaps the final Spanish songs were the most involving, however, because they contained so many surprises, be it the hyperactive piano line of Falla's 'Seguidilla murciana' or the languid sorrow of his 'Asturiana'. Said coloured her voice so carefully here that it was almost as though a different singer had sung the earlier Mozart, achieving a powerful impression of a cante jondo in Falla's 'Polo', before performing the same marvellous differentiation in the dark lullaby of Lorca's 'Nana de Sevilla'.
Not only was this recital technically perfect, but it showcased such a range of colour and vocal variety that it announces a major talent. You can see it for yourself between 4th November 2021 and 2nd May 2022 when it can be viewed online here.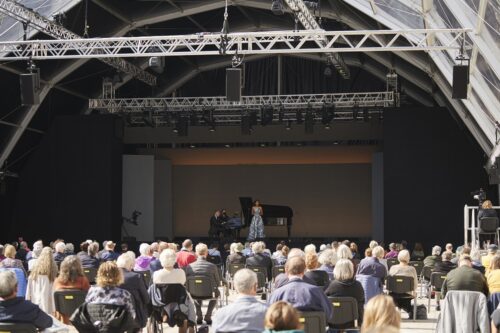 As with my first trip there, the sun came out for my final visit to the festival pavilion in Old College Quad, and we sat basking in weather that shows Edinburgh at its finest. Without wishing to become too poetic, this rather summarises my view of this whole festival. From the bleakest of outlooks earlier in the year, and in the face of rising Covid numbers and international border closures, the Edinburgh International Festival deserves a medal for putting together a festival of A-grade international quality, bringing back to life a festival which has never seemed more necessary than now. Key to that has been the creation of three concert halls 'out of thin air', as Steven Osborne said, which have been as Covid-secure as possible and, as importantly, have been popular with both audiences and performers. With live performance having finally returned to Scotland, the performing organisations have announced seasons that are running up to Christmas, and I can't wait to get started with them. Excited as I will be to get back into the Usher Hall and the Queen's Hall, these all-weather pavilions have been a fantastic innovation, with what can only be described as wizardry to create excellent outdoor sound, and I wouldn't be surprised if we see them back in another context in a future year.
Next year is the festival's 75th anniversary, and Fergus Linehan's last as director. When the festival was founded in 1947, it was done so as to heal the wounds of a world recovering from war and to help create a platform for 'the flowering of the human spirit'. That need to fulfil that brief has never felt more urgent in my lifetime and, for 2021 at least, they have met it triumphantly. Bravo!
Simon Thompson