United States Various, 'An Evening with Esa-Pekka Salonen': Yefim Bronfman (piano), Philadelphia Orchestra / Esa-Pekka Salonen (conductor). Recorded at Verizon Hall in the Kimmel Center for the Performing Arts, Philadelphia, on 5.8.2021, streamed 5-12.8.2021 and reviewed on 6.8.2021. (BJ)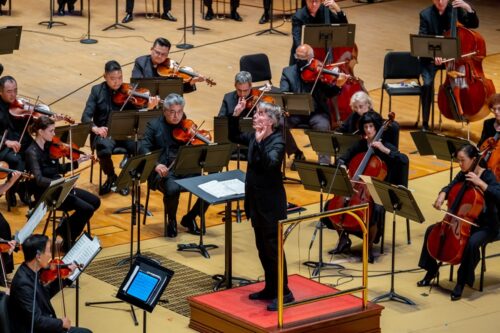 Berio – Four Original Versions of Luigi Boccherini's The Night Retreat of Madrid
Liszt – Piano Concerto No.2
Salonen – Stockholm Diary
Sibelius – Symphony No.7 in C major Op.105
It was fascinating to compare the Esa-Pekka Salonen who conducted this brilliantly conceived program with the Salonen who made his Philadelphia Orchestra debut a quarter-century earlier. In 1996, the Finnish composer-conductor's reputation depended more on the conducting side of his activity – he was just four years into his seventeen-year tenure as music director of the Los Angeles Philharmonic, where he won golden opinions for his dedication to the orchestra's community responsibilities. But both as conductor and as composer, it was his dedication to the modernist styles then widely prevalent that was most audible and visible.
At that 1990s Philadelphia debut, it was his striking performance of Sibelius's Fifth Symphony which emphasized, as I was to write later, 'the seamless forward sweep of the music in a powerfully abstract way, making mere sound seem almost an irrelevance'. That stamped him as a musician far removed from the expressive and often romantic preoccupations of the more conventional sort of conductor, and liable to stress structure over sonority in the music he wrote and the works he performed.
But then, not much later, having taken a year's leave of absence from the Philharmonic to concentrate on composing, he saw, as one might say, the light. 'Only after a couple of years here,' he reflected, 'did I begin to see that the European canon I blindly accepted was not the only truth. Only here, I was able to think about this rule that forbids melody. It's madness. Madness!'
In the 2021 context of cultural obsession with the supposed white-supremacist character of the European musical tradition, we must take care to recognize that Salonen's change of heart was stylistic and in no way concerned with 'systemic racism'. Its outcome, in any case, was evident in his new compositional openness to elements drawn from a much wider range of traditions, stretching even as far as neo-romanticism and minimalism; and it was evident in the gulf between that earlier, stripped-down performance of the Sibelius Fifth and the truly opulent sonorities of the new Sibelius Seventh. Twenty years ago, I would never have expected to find myself declaring that a Salonen performance gloried in sheer sound. Yet, without for a moment abandoning taut structural control, that was what this performance joyfully did – and the quality was just as evident in the evening's local premiere of his own Stockholm Diary for strings.
Though it was composed in response to a commission from two Stockholm orchestras, the 'diary' title of the piece, a roughly twelve-minute work dating from 2004 (and thus clearly one of the first manifestations of the new Salonen), is a trifle puzzling, since there is nothing of a discernibly narrative nature about it. What it does have is an often-ravishing warmth of sonority, as well as a variety of texture and pulse that is frequently energized by touches of life-giving metrical modulation.
Those qualities are no less prominent in Sibelius's last completed symphony, which has stood since its composition in 1924 as perhaps the only one-movement symphony that really deserves the designation: totally organic in its thematic development, each theme growing out of its predecessor with only the merest hint of separable sections. Both works received performances with Salonen's and the Philadelphians' characteristic skill and eloquence, the Sibelius building up by way of radiant string sonorities, trenchant interjections from woodwinds and timpani, and majestic contributions from the trombones and the other brasses to a climax of awesome power.
I thought it was a brilliant idea to open the program with two works that, for entirely different expressive ends, share the single-movement design of the Salonen and the Sibelius. Berio's cheerfully brash elaboration of Boccherini's Night Music of the Streets of Madrid got the proceedings off to an exhilarating start, and Liszt's Piano Concerto No.2 exerted plenty of charm, oscillating between its own moments of full-blown rhetoric and some luscious lyrical passages, sumptuously realized by the orchestra and by soloist Yefim Bronfman. There were also feats of prestidigitation from the pianist, though one or two of his little rhythmic hesitations sounded to me more like the result of technical demands than of interpretative insight.
No matter: Salonen had fashioned a superb evening's combination of entertainment with artistic illumination. More, please.
Bernard Jacobson