United Kingdom Glyndebourne Festival Opera 2021 [2] – Wagner, Tristan und Isolde (semi-staged): Soloists, Glyndebourne Chorus, London Philharmonic Orchestra / Robin Ticciati (conductor). Glyndebourne Opera House, Lewes, East Sussex, 17.8.2021. (CC)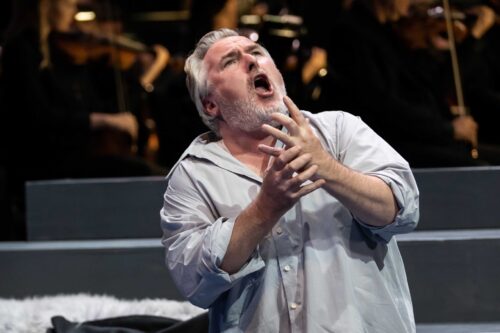 Production:
Director – Daniel Dooner (after the production by Nikolaus Lehnhoff)
Cast:
Tristan – Simon O'Neill
Isolde – Miina-Liisa Värelä
Brangäne – Karen Cargill
King Marke – Brindley Sherratt
Kurwenal – Shenyang
Melot – Neal Cooper
A Shepherd/Voice of a Young Seaman – Stuart Jackson
A Steersman – John Mackenzie-Lavansch (soloist from the Glyndebourne Chorus)
In this time of uncertainty, it must have looked at one point as if Tristan und Isolde would not make it; a massive undertaking for Glyndebourne Festival Opera, we heard Wagner's magnificent work in a semi-staging that worked beautifully. Part of the reason was that Nikolaus Lehnhoff's 2003 original post-Wieland Wagner production emphasised colour and minimalism; part of it was the sheer grit of the performance; and a final part was the presence of the London Philharmonic Orchestra actually onstage, their music visceral. We heard Wagner's lines and contrapuntal textures like never before. All credit, too, to Robin Ticciati (Glyndebourne's music director) for gauging the orchestra's dynamics so consistently well; this was announced as 'Ticciati's first Wagner opera'. One would have guessed only in the freshness and enthusiasm of the conducting; in terms of structural grasp and orchestral detail, this was the work of a conductor with the music firmly in his blood. Ticciati laudably kept the music's directionality taut: he could never be accused of being fast (as Vladimir Jurowski can be in Wagner); the harmonic trajectory was always honoured, as were the moments of harmonic stasis. The London Philharmonic played like Gods and Goddesses, the strings tackling Wagner's notoriously tricky demands with impeccable unanimity. Of all the many orchestral soloists, perhaps David Quiggle's viola solos merit mention for their beauty; section-wise the brass excelled, while the haunting strains of Sue Böhling's cor anglais went straight for the heart,
While I saw Lehnhoff's staging in 2009 with Jurowski conducting, it was not a performance I was reviewing. Over a decade later, and the event is still crystal clear in my mind. This adaptation (by Daniel Donner who assisted in 2003) was cleverly done, with just a set of three (non-curving) steps and lots of colours – so important to Lehnhoff's staging – projected on a screen at the back. Lehnhoff's Tristan was certainly not for everyone (one Amazon customer who reviewed it memorably called the set a 'misshapen polo mint') but the idea that shapes can merely imply – for example the bow of a ship – does work, acting as a window to our own imaginations. The occasional prop was there – a goblet, a sword, a rudimentary crown for King Marke, a piece of piping as a bough for the Shepherd – but we were otherwise in an (even more) liminal space in which the eternal love story could be enacted.
Seeing Isolde sing her Verklärung (Transfiguration – 'Mild und leise') standing, centre stage and spotlit, was certainly in line with the production's aesthetic: it is, of course, all her world then, as the human world recedes, and she ecstatically misreads Tristan's post-mortem muscle stiffening as a 'laugh' ('… wie er lächelt'). Tristan found himself recumbent for much of the final act on what looked like sheepskin until the delirium became too much for stasis. Memorable takes, both.
In fact, both titular principals were making their Glyndebourne debuts, the New Zealand tenor Simon O'Neill and, indeed, the Finnish soprano Miina-Liisa Värelä. John Relyea was making his debut also in this set of performances as King Marke, but was sadly indisposed for this particular day, so there was a luxury eleventh-hour replacement in the great Brindley Sherratt, a performance of astonishing vocal gravitas and stage presence – how memorable his final act 'Tot denn alles!', how beautifully phrased the whole section. One remembers how in 2011, another performance a decade ago, how Sherratt had stolen the show as Fiesco in ENO's Verdi Boccanegra. Not quite a show stealer here – the cast was too fine for that – but moments of astonishing power, nevertheless.
As Tristan, Simon O'Neill certainly has the vocal heft. His was an assumption that grew act by act until he gave us an unforgettable Act III of a man spiralling unto delirium, gripping at every turn, perhaps most impressive at 'O diese Sonne!'. His first act perhaps felt weaker, maybe because his acting perhaps was not quite 'there', and yet not really in any sense ritualised action à la Wieland Wagner either. His voice was a little too nasal early on, too. And yet, and yet … come the second act, and O'Neill and Värelä presented a wholly convincing 'Liebesnacht'.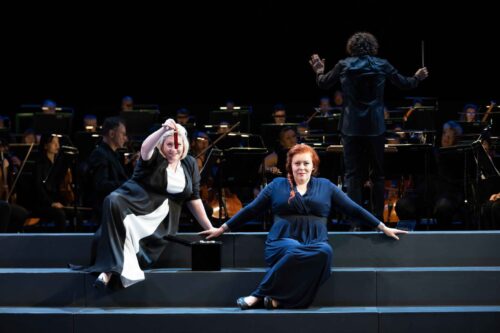 The Chinese baritone Shenyang seems to have had a string of recordings out recently, including Xiaogang Ye's The Song of the Earth on DG. Hearing him live for the first time (as Kurwenal) revealed a fabulous voice, but with really only one dynamic: most of Kurwenal's role was delivered con forza. Isolde's confidante, Brangäne, could hardly have been more different. Karen Cargill is a justly respected singer and is almost certainly not the first Brangäne to threaten to upstage her Isolde; her engagement with the role was complete and utterly believable. The fact she did not upstage her mistress speaks of the strength of Värelä's Isolde. This Isolde had a backbone of steel, obviously fortified by her connection to the Divine Feminine (via 'Frau Minne' and her magic), her 'Mild und leise' vocally transcendent.
All credit to Stuart Jackson as the Young Seaman and the Shepherd, both delivered with confidence, and to John Mackenzie-Lavansch's Steersman. Neal Cooper's Melot was clearly a confident portrayal – it was the role with which he made his New York Met debut in 2016 (he also sang the role under Antonio Pappano at Covent Garden in 2014). For lovers of operatic trivia, the Glyndebourne booklet proudly informs us that Neal Cooper is the nephew of the late Sir Henry Cooper, the legendary boxer.
That we can see Wagner so soon after nationwide lockdowns is a miracle indeed. The adaptability of the musical confraternity has been astonishing throughout this discomfiting period, and this Tristan was surely a prime example.
Interestingly, Robin Ticciati is down to conduct Dame Ethyl Smyth's opera The Wreckers at Glyndebourne next year. On Tuesday 31 August Tristan und Isolde will be performed at this year's BBC Proms and will be broadcast live on Radio 3; look out for another opinion about it from a Seen and Heard colleague in September.
Colin Clarke