United States Rossini, Il barbiere di Siviglia: Soloists, Teatro Nuovo Chorus and Orchestra / Jakob Lehmann (primo violino e capo d'orchestra) and Will Crutchfield (maestro al cembalo). Teatro Nuovo, Damrosch Park, New York, NY, 27.7.2021. (RP)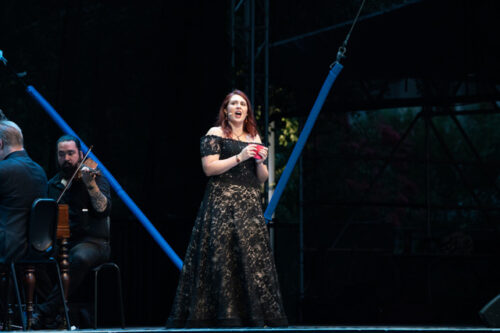 Production:
Director – Cynthia Marino
Stage manager – Anthony Rigaglia
Chorus master – Timothy Cheung
Lighting – Devon Allen
Cast:
Fiorello – Kyle Oliver
Count Almaviva – Nicholas Simpson
Figaro – Hans Tashjian
Doctor Bartolo – Scott Purcell
Rosina – Hannah Ludwig
Don Basilio – Daniel Fridley
Berta – Alina Tamborini
Officer – Wil Kellerman
This concert version of Rossini's Il barbiere di Siviglia by Teatro Nuovo was the first live opera to be performed in New York City since March 2020. It took place in Lincoln Center's Damrosch Park, which is adjacent to the Metropolitan Opera. The Met, along with Lincoln Center's other theaters, has been dark for over a year and a half.
It was part of Lincoln Center's Restart Stages, an outdoor arts center with ten performance and rehearsal spaces designed to help kickstart the performing arts sector and the city's revival. Rossini's comedy proved to be the right choice for the occasion. The high spirits of the cast and Rossini's well-known score were the perfect combination on a warm summer evening.
Founded by American conductor, musicologist and vocal coach Will Crutchfield in 2017, Teatro Nuovo's mission is to present the bel canto repertoire in historically-informed performances with orchestral instruments of the era. That endeavor generally includes presenting the operas in their entirety without cuts, which is impossible at present: under current COVID protocols, shows at the park must end by 10pm.
As Crutchfield points out in his excellent notes in the digital program, the quest for authenticity is elusive and somewhat futile with an opera such as Il barbiere di Siviglia, especially when it comes to casting the singers. Voice classifications were more fluid in Rossini's time, and practicality often carried the day, with transpositions being commonplace to suit the singers on hand. Although written for a low voice, a high soprano was the second person to sing the role of Rosina; and while nowadays the role of Figaro is generally sung by a baritone, that only became the rule once dozens of high notes were inserted into the part.
Outdoor performances are not conducive to appreciating the subtleties of timbre provided by early instruments, and it is a credit to the instrumentalists that so much detail emerged. It was, however, the ornamentation of the vocal lines that provided the period authenticity and most musical interest. The familiar Rossini's arias have seldom sounded fresher or more spontaneous than they did here.
Central to Teatro Nuovo's mission is the training of young musicians in the special skills required to bring this repertory to life. The company's efforts are yielding results as demonstrated by mezzo-soprano Hannah Ludwig, who sang the role of Rosina. Ludwig appeared in lead roles with the company in both the 2018 and 2019 seasons, and with each year her characterizations have become more refined and her voice more lovely and polished.
In a break with tradition, a bass was cast as Figaro, but apart from the luxury of Hans Tashjian's deep low notes, the sparkle in his voice and his ease in the upper register belied that fact. Tenor Nicholas Simpson sailed through Count Almaviva's arias, ornamenting them with abandon. Dr. Bartolo is generally sung by a bass, but the role fit Scott Purcell's baritone like a glove. A first-rate comedian, words tripped off Purcell's tongue at an amazing speed.
The rest of the young cast was of equally high caliber. Bass Daniel Fridley gave a fine account of Don Basilio's 'La calunnia è un venticello'. Alina Tamborini lent her full soprano, notable for its richness and flexibility, to Berta's aria. With only a brief time center stage, both Kyle Oliver and Wil Kellerman made an impact with their forthright voices and enthusiasm.
Crutchfield is adamant that concert performances empower the individual singers and players to create the core experience of opera, which is the music. What fun, however, it would be to hear and watch this cast in a fully staged production.
Rick Perdian