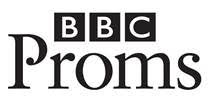 United Kingdom BBC Proms 2021 [9] – Rachmaninov, Stravinsky: Pavel Kolesnikov (piano), Aurora Orchestra / Nicholas Collon (conductor). Royal Albert Hall, London, 11.8.2021. (CS)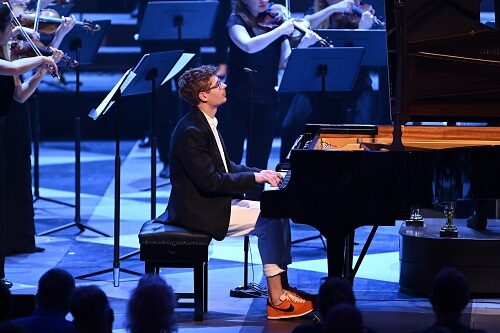 Rachmaninov – Rhapsody on a Theme of Paganini
Stravinsky – The Firebird, suite (1945)
I've struggled a bit with this review, hence its dilatoriness.  On the one hand, there was so much about the Aurora Orchestra's performance, and the direction provided by their conductor Nicholas Collon, that was simply and stunningly 5*, that their evening Prom should be a doddle to describe and discuss.  After all, playing The Firebird from memory, twice in one day – and doing so with such insight and intimacy, precision and musicianship – surely just requires a huge, loud, somewhat stunned, "Bravo!"  And, if anyone thought that Pavel Kolesnikov was going to go through the musical motions in Rachmaninov's Rhapsody on a Theme of Paganini, the work 'prefacing' the Aurora Orchestra's feats, then the pianist's white trousers, smart black jacket and salmon-pink trainers should have alerted Prommers that some sort of statement was about to be made.  Yet, whatever the undeniable 'highs' of the evening – and this certainly was a Prom with that old 'tingle factor' – I still had mixed feelings about some aspects of the evening.
So, here goes – whilst acknowledging that I suspect my view was not shared by the majority in the Royal Albert Hall, and also admitting that my own over-seriousness probably accounts for my reaction.  When I read on the BBC Proms website that between the two works to be performed 'Tom Service and Nicholas Collon introduce Stravinsky's The Firebird suite', I assumed that this would be a sort of 'round-table' discussion.  Thus, I was not prepared for Tom Service's 'Tigger-on-speed' ebullience as he bounded onto the RAH platform and announced that he and the Aurora Orchestra would "explore and reveal" the secrets of Stravinsky's "composition, orchestration, and creative feeling", and that there would be lots of audience participation.  Service then handed over to Collon who spent 20 minutes explaining and exemplifying such minutiae as the difference between fourth, fifth and tritone intervals – interleaved with musical illustration from the perfectly synchronised Aurora musicians; and, in matey addresses to we "guys" in the Hall, suggested that major/minor thirds make us feel happy/sad respectively, and that Stravinsky leaves us in an ambiguous hinterland as the two alternate.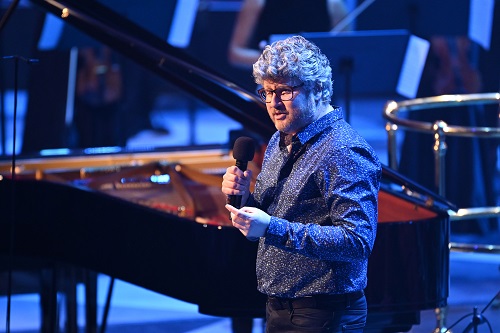 The Aurora musicians' expertly choreographed entrances and exits indicated that the educational progress on which we were embarked was as meticulously rehearsed as was the wonderful performance to come.  There were breathless interjections from Service about "how Stravinsky works his musical enchantment".  As I say, we were asked to participate, as we tried to "get to grips" with the Infernal Dances – "monsters are out tonight".  And, the ability of the Prommers to hum the folk-inspired theme with accurately syncopated agitation was pretty impressive – though the gutsy spontaneity of the Prommers when unexpectedly prompted by violinist Pekka Kuusisto to join him in a wry Finnish folk song, during his 2017 debut Prom, was brought to mind.
I guess that I am not the intended audience for these interactive forays.  Perhaps the target audience were those sitting in their armchairs watching the BBC4 broadcast?  But, while wondering what those who have never so much as picked up a recorder or picked out a tune on a keyboard might make of the difference between the diabolus in musica and your average dissonance, I simply found myself longing for the live unfolding of Stravinsky's ballet – for the music to speak for itself.  Moreover, the performance – idiosyncratic, challenging, thought-provoking – that we had experienced just minutes before, as Kolesnikov showed us that we might not know Rachmaninov's old war horse as well as we think we do, by now seemed sadly far away.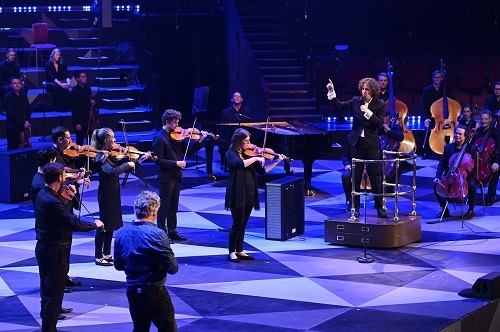 And, so, what of those Paganini Variations.  Well, after the 'hey, listen up' prefatory musical remarks, Kolesnikov signalled that things would not necessarily match our musical memories, as he pungently twisted the ornaments of the second variation, vying with tenacious woodwind and upper strings.  The fifth variation stamped its taut rhythmic foot with gruff impatience, but elsewhere Kolesnikov was understated, coolly detached even, his fingers fleet and soft.  When the Dies Irae arrived, it seemed rather restrained and reticent.  Whether the effect was melancholy or existential, I wasn't quite sure.
This was a performance of surprises, though; at times (Variation XI) the strings' expressiveness was complemented by a sort of Ravel-like improvisatory quality from Kolesnikov; yet the subsequent variation lacked any rubato swagger or, even, sway.  Springy rhythms propelled the fourteenth variation forwards, swift and light, and horn swells pressed onwards too.  Before we knew it, that famous eighteenth variation was upon us: on this occasion it was an Andante cantabile so calm and composed that it relied on Koselnikov's ever so subtle manipulation of the piano's triplet motifs to hint at the emotive weight that Rachmaninov conjures by his inversion of Paganini's theme.  The clarity, transparency and understatement continued to the close, and the work closed with a nonchalant shrug.  The effect was startling, unsettling and refreshing in equal measure.
In some ways, Kolesnikov's encore, Chopin's Prelude Op.28 No.15, was a microcosm of his reading of Rachmaninov's variations in that it eschewed excessive flexibility and contrast, and communicated through restraint and discipline.  The slow-burn building of the intensity of the central section created palpable tension, but the gentler raindrops that framed this ominous weight fell lightly, their delicacy possessing its own quiet rhetoric.  One sensed the Kolesnikov found great calm and fulfilment in playing this Prelude.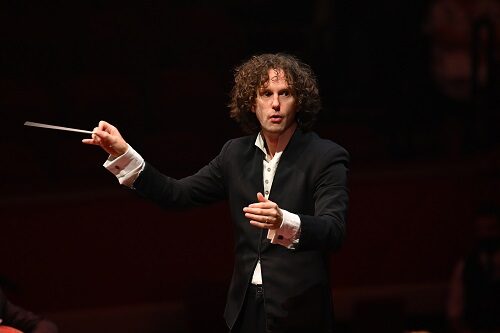 When the miraculously memorised apotheosis of the Aurora's Prom finally arrived, it was just that – miraculous.  There aren't sufficient superlatives to describe the effect of watching and hearing 70 musicians, spread across and up the extended RAH stage, playing with such focus and inter-communicativeness: the roar of an orchestra with the oneness of a string quartet.  It's not simply that they 'knew' their contributions to the whole inside out.  It was as if the musicians had infused the music into their breath and blood; they really 'lived' the firebird's adventures.  One cannot over-praise Nicholas Collon and leader Maia Cabeza for the way they guided their fellow musicians with such a sense of companionship – 'from the inside', so to speak.  It wasn't just the clarity and precision that were remarkable, it was the sheer sense of joy as the musicians relished the firebird's exoticism and Kashchey's evil with equal passion.
It's impossible, really, to single out any individual musicians but cellist Sébastien van Kuijk, first horn Pip Eastop and clarinettist Timothy Orpen were impressive in their solo roles.  One might have wished, in the opening episodes perhaps, for a stronger sense of kinetic dynamism, or for a richer string timbre at times.  And, the brass's golden glow at the close didn't seem quite so overwhelmingly all-embracing as it sometimes can.  But, these are minor quibbles, quickly dismissed.  This Firebird was all about the music-making – and it was inspirational.
Claire Seymour
The concert is available on BBC Sounds and BBC iPlayer.