Australia

Singapore Musical Friendship: J. C. Bach, Finsterer: Melbourne Symphony Orchestra / Brett Kelly (conductor), Iwaki Auditorium, Melbourne. Singapore Symphony Orchestra / Joshua Tan (conductor). Victoria Concert Hall, Singapore. (Musical Friendship is available on Melbourne Symphony Orchestra's YouTube channel and Singapore Symphony Orchestra's Facebook page). (RP)
Johann Christian Bach – Symphony for Double Orchestra in E-flat major Op.18 No.1, Allegro spiritoso
Mary Finsterer – Lumen Prime Aurore (world premiere)
Melbourne and Singapore are 3,765 miles/6,059 kilometers apart, but neither distance nor lockdowns have prevented their orchestras from making music together. The two groups entered into a four-year partnership in 2019, and this short concert is their second digital collaboration. The first, entitled 'Songs from Home', celebrated 55 years of diplomatic relations between Australia and Singapore and was streamed on 7 August 2020.
This short concert, a little over nine minutes in length, is well worth a listen, not only for the opportunity to hear a stunning new work by Mary Finsterer, but also to marvel at the technical wizardry that permitted the two orchestras to perform together from their respective home cities.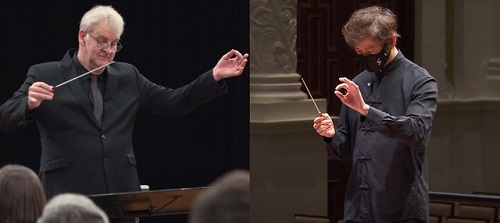 The Melbourne Symphony Orchestra was conducted by Brett Kelly, who served as its principal trombonist until 2019 while simultaneously establishing himself as a conductor. Among the many hats that he wears is that of music director of the Melbourne Youth Orchestras. Joshua Tan, the associate conductor of the Singapore Symphony Orchestra and principal conductor of the Singapore National Youth Orchestra, was his Singaporean counterpart.
Mary Finsterer's 'Lumen Prime Aurore', which translates into English as 'the light first with gold', was a joint commission of the two orchestras. The Australian composer has received international acclaim for works in a wide array of styles that span the Renaissance to Modernism. In recent years, Finsterer has branched out into film music as well as opera. Her opera Biographica, a staged meditation on the life and work of the Renaissance polymath Gerolamo Cardano, was both a critical and box office success at the 2017 Sydney Festival.
With Lumen Prime Aurore, Finsterer explores the luminosity, transparency and shimmering colors of the French Impressionists. It opens with the delicate, bell-like sounds of the celeste; throughout, gentle melodies are given to the English horn and flutes. Only towards the end of the short work is the calm briefly interrupted by full-bodied playing from the horns and strings. This stunning evocation of daybreak was captured perfectly by the two orchestras.
The concert opened with a buoyant reading of the first movement of Johann Christian Bach's Symphony for Double Orchestra in E-flat major. He was the youngest of Johann Sebastian's sons and enjoyed great success as a composer throughout Europe. Johann Christian was one of the first composers to write purely orchestral music, at a time when large instrumental ensembles were primarily used to accompany opera or oratorio, especially in London where Johann Christian made his home in his later years.
In this movement, the two ensembles contrast in both size and timbre with one another. Pairs of oboes and horns, bassoon and strings from the MSO formed the first orchestra, while the second was comprised of two flutes and strings from the SSO.
Plaudits to all for the commitment and ingenuity to keep this musical partnership alive and the music flowing against all odds.
Rick Perdian