Switzerland Lucerne Summer Festival [1] – Schumann: Christian Tetzlaff (violin), Tonhalle Orchestra Zurich / Paavo Järvi (conductor). Kultur- und Kongresszentrum Lucerne, 25.8.2021. (JR)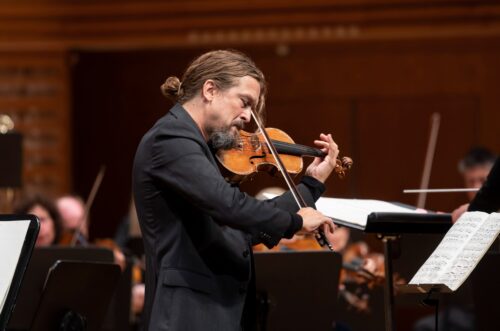 Schumann – Overture to Genoveva Op.81; Violin Concerto WoO1; Symphony No.3, Op.97 (Rhenish)
The prestigious Lucerne Summer Festival started a week or so ago under the theme 'Crazy'. The organisers no doubt also had the pandemic in mind, but the theme neatly matches many of the works in the festival programme. Of course, it applies perfectly to Schumann, who spent his final years in a mental institution near Bonn.
Sadly, coronavirus restrictions meant that only half the hall could be filled. There was no interval, there were no bars – it all felt rather perfunctory. We all wore masks, of course, but no vaccination certificate needed to be shown. The organisers must have found it hard to plan too many visits by foreign orchestras and naturally wished to avoid cancellations. Consequently, they played it safe on this evening by inviting the orchestra from just down the road to come and play in Lucerne. And why not?  The Tonhalle Orchestra Zurich has been nominated (admittedly, along with nine others) for the Orchestra of the Year in Gramophone and I urge you to vote, preferably of course for the Tonhalle (details below); or by all means vote for the Singapore Symphony Orchestra as recommended in a recent interview on this site by my colleague Rick Perdian. The prize is awarded by public vote and, in this past year of few performances, is based on recording output and quality.
Schumann's opera Genoveva is rarely staged (Zurich Opera did so, however, in 2008), but its turbulent overture gets an occasional outing. The opera tells of a woman whose constancy overcomes accusations of adultery. The overture moves from elegiac violins in a darkly brooding and sorrowful opening through throaty bassoons and celli to ultimate redemption. A quartet of horns attempt to bring the work to life but, despite a final flourish and a triumphant close, and a decent performance by the orchestra, this – like the opera – is not one of Schumann's better works.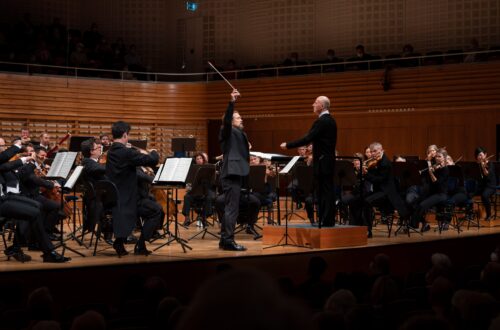 Schumann's Violin Concerto has a fascinating history. It was finished a few years before the composer's death and was never publicly performed in his lifetime. The legendary violinist Joseph Joachim was uncomfortable with the work and decided it contained some passages that proved Schumann's exhausted state of mind. Clara Schumann and Brahms suppressed the work, and it was decreed that it should not be heard for 100 years after Schumann's death (which would have meant 1956); in fact, the Nazis chose not to wait that long, wanting to replace a concert (in 1933) featuring the Mendelssohn Violin Concerto, and replacing it with the Schumann. Perhaps because of this colourful history, the concerto has remained an elusive work on the fringe of the main repertoire. It is not a particularly accessible piece. The long first movement is melancholic; one's attention in this concert turned to the soloist, Christian Tetzlaff, the warm sound of his modern instrument (modelled after a Guarneri del Gesù) and his flawless technique. The short slow movement is beautiful in all senses, there are shades of Elgar in the cello accompaniment; Tetzlaff was suitably heart-rending. Järvi was finally able to inject some jauntiness into the Polonaise-inflected final movement (Lebhaft, doch nicht schnell) but, by then, the work had – despite Tetzlaff's best efforts – left me cold. A delightful and wistful Bach encore, however, had the audience rapt.
The Rhenish Symphony is linked to the great cities on the Rhine, Düsseldorf and Cologne, where I lived as a teenager. Schumann became Director of Music in Düsseldorf at the time he wrote this symphony and was in good spirits, which are evident, particularly in the outer movements of the symphony. He attended a service to appoint a Bishop in Cologne's magnificent cathedral, which inspired him to compose the ceremonial fourth movement.
Not long ago, in their worthy 'Building a Library' series, BBC Radio 3 nominated Paavo Järvi's performance of Schumann's Third Symphony with the Deutsche Kammerphilharmonie Bremen as their top recording choice. I was therefore keen to hear this wonderful symphony in such capable hands. I was not disappointed.
Järvi needed no score, he was in his element after two sombre works. Hardly on the podium, Järvi launched into the surging and exuberant opening with suitable élan, rhythms were crisp, the orchestra could shine. Järvi constantly highlighted the contrasts of the score, with gentle ritardandos and sudden accelerandos, which made for exciting listening. Phrases were lovingly presented. The cathedral movement was full of grandeur, Järvi did not waver from a steady gait, maintaining power and tension. The final movement had us all bobbing along – a fleetfooted rather than weighty performance of a lovely work. The horn section was on top form; the orchestra clearly pleased to show off their skills, with beautifully articulated playing, at a major festival to a partly international audience at the KKL.
We were treated to a touching performance of Sibelius's Valse Triste by way of encore.
Voting for Gramophone's Orchestra of the Year Award remains live until 8am (BST) on 13 September 2021. For more information and to vote click here. The Orchestra of the Year will be revealed on 5 October at the 2021 Gramophone Classical Music Awards.
John Rhodes