United States Berkshire Opera Festival – Verdi, Falstaff: Soloists, Berkshire Opera Festival Chorus and Orchestra / Brian Garman (conductor). Berkshire Opera Festival, Mahaiwe Performing Arts Center, Great Barrington, Massachusetts, 21.8.2021. (RP)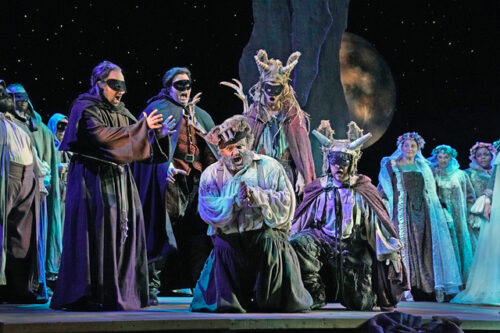 Production:
Director – Joshua Major
Sets – Stephen Dobay
Costumes – Charles Caine
Lighting – Alex Jainchill
Hair & Make-up – Beckie Kravetz
Chorusmaster – Geoffrey Larson
Cast:
Sir John Falstaff – Sebastian Catana
Alice Ford – Tamara Wilson
Ford – Thomas Glass
Mrs Quickly – Alissa Anderson
Nannetta – Jasmine Habersham
Fenton – Jonas Hacker
Meg Page – Joanne Evans
Bardolfo – Max Jacob Zander
Pistola – Jeremy Harr
Dr Caius – Lucas Levy
Host of the Garter Inn – Brian Hailes
Berkshire Opera has a triumph with Verdi's Falstaff, which follows on its impressive production of Tom Cipullo's Glory Denied. The traditional staging was a delight, and the powerhouse cast was excellent. It is an open question as to whether the men sparkled a bit more brightly, both vocally and dramatically, because of their charisma or by design. Director Joshua Major gave the men far more leeway to engage in hijinks than he did the women, in a reversal of what is often the norm.
The set was simple but effective, with a few masterful touches transforming the wooden platform into the Garter Inn, a park outside the Ford manor, Mistress Ford's room and Herne's Oak in Windsor Park beneath a full moon and thousands of glittering stars. Ford's servants struggled to heave the large laundry basket into the River Thames, as well they might, given it contained a man of such massive girth.
The characters seemed to have stepped right out of the late Middle Ages. At first, Falstaff appeared dissolute and disheveled, but he turned himself out quite nicely in a riot of color to woo Alice Ford. The ladies were attired in lavish creations that captured their respective characters and station in life. For those who yearn for beautiful, traditional productions that stick to the script, this Falstaff ticked all of the boxes.
Baritone Sebastian Catana's Falstaff was a wonderful creation. With voice and body, Catana captured the myriad of personality quirks that make up the proud old knight. Catana's twinkling eyes were the passage into his Falstaff's soul. The Mahaiwe Performing Arts Center is a relatively small theater for grand opera, but its intimacy afforded Catana the opportunity to sing many passages sotto voce, which resulted in some extraordinarily lovely sounds from this essentially dramatic voice.
The counter to Catana's wily old man was the dashing Ford of baritone Thomas Glass. He has a voice of power and beauty that clearly won the audience's heart. His baritone can ride the crest of a musical wave and expand effortlessly without strain or any loss of vocal bloom. Glass, with the expert assistance of conductor Brian Garman and the orchestra, provided some truly memorable musical moments.
Another bit of luxury casting was tenor Jonas Hacker as Fenton, who vocally and dramatically was well-nigh perfection. Who could fault Nannetta from falling in love with him against her father's wishes? The secondary male roles – tenor Lucas Levy as Dr Caius, tenor Max Jacob Zander as Bardolfo and bass Jeremy Harr as Pistola – provided much of the lighthearted frolicking that rippled through the performance.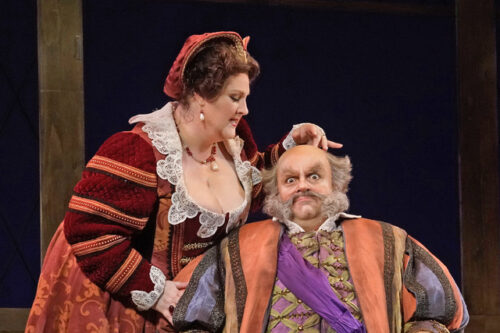 As Alice Ford, soprano Tamara Wilson was a formidable matron who masterfully orchestrated Falstaff's comeuppance. Wilson's soprano is a force of nature, but she too was sensitive to dynamics and phrasing. Her nimble coloratura was spot on and perfectly in tune with the flutes that accompanied it. Alissa Anderson's Dame Quickly was a rather staid affair, devoid of the broad comic touches which mezzo-sopranos generally indulge in. Her voice had the richness and depth for the role, but to compete with the rest of the cast, Anderson needed to turn it up a notch.
Joanne Evans, fresh and light as Meg Page, displayed a lyric mezzo-soprano voice. As Nannetta, Jasmine Habersham sparkled both visually and vocally. Over and over again, the promising young soprano floated beautiful high notes effortlessly. Habersham too can command the stage, as she proved in the final scene when summoning the fairies, goblins and witches to torment Falstaff.
Garman's natural flair for Verdi was on display. The performance was well paced, and he gave ample space for singers to fill out phrases while never stinting on the rich colors and dramatic effects with which Verdi peppered the score.
Rick Perdian