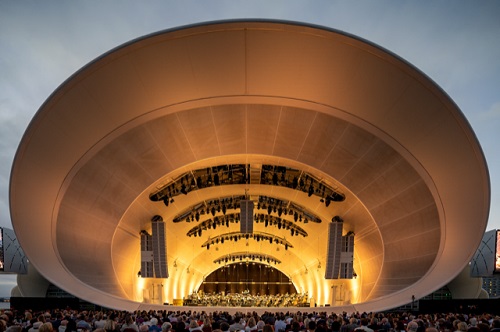 The Rady Shell at Jacobs Park is the first permanent open-air performance venue in the San Diego Symphony's century-long history. With world-class acoustics, video screens and broadband streaming capabilities, this state-of-the-art facility is designed to host more than a hundred concerts and events annually. It is situated in the 3.7-acre Jacobs Park on the city's scenic Embarcadero; the site will be open as a public park for much of the year, affording visitors 360-degree views of San Diego's downtown, marina and bay.
The Rady Shell was designed by Tucker Sadler Architects of San Diego, with performance shell design by London-based Soundforms. Working with the architectural team, Soundforms expanded their award-winning 2012 mobile acoustic performance shell (MAPS) to accommodate a large orchestra with chorus and soloists, and to be a permanent structure on the Embarcadero Marina Park South site.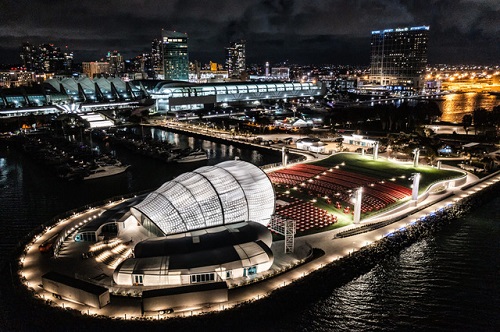 It features concentric, widening, oval rings as the canopy, a structure that reaches a height of 57 feet and a width of 92 feet at the front of the stage. A key partner in its creation is Australia-based Fabritecture, which developed and oversaw the technical design, fabrication and installation of the tensile structure and the backstage support spaces.
Capacity varies from intimate seating up to 10,000. To ensure regular public access to the park, the symphony is limited to hosting 110 half-day or 55 full-day ticketed events, with only six at the maximum 10,000-seat capacity. Most concerts will be for an audience of 3,500. Temporary seating allows for lawns to be open to the public during non-event periods.
More than 99 percent of the $85 million budget came from private funding. It is named for lead donors Ernest and Evelyn Rady who, until this bequest, had not donated any money to the symphony. Ernest Rady, the founder, CEO and president of American Assets Trust, is a Canadian American businessman and entrepreneur who has a net worth of $500 million.
Rady – a self-professed philistine with only an average appreciation for art – is one of those rare angels who is a former billionaire after donating the bulk of his fortune to charity. Long-time residents of San Diego, the Radys plan to give away their entire fortune, which peaked at over $2 billion before they began their philanthropic mission.
For its first concert here on 6 August 2021, Music Director Rafael Payare led the orchestra in the world premiere of Mason Bates's laptop-computer-enhanced 'Soundcheck in C major'. The program included cellist Alisa Weilerstein in Saint-Saëns's Cello Concerto No.1 in A minor, Jean -Yves Thibaudet performing Gershwin's 'Rhapsody in Blue', and bass-baritone Ryan Speedo Green singing opera arias, Broadway hits and other works.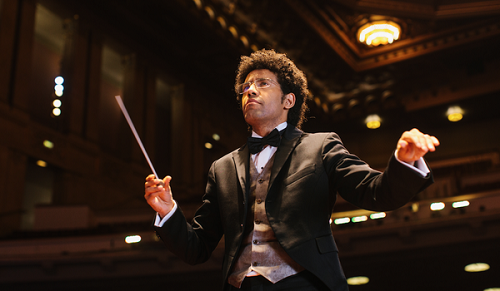 Payare, who is married to Weilerstein, was named the symphony's music director in 2019, succeeding Jahja Ling, whose tenure began in 2004 and ended in 2017. Born in 1980, Payare is a graduate of the celebrated El Sistema in Venezuela, as is Gustavo Dudamel, his friend and fellow Venezuelan. Dudamel, the music director of the Los Angeles Philharmonic, was in the audience for the opening night concert.
Bates's 'Soundcheck in C major' was commissioned by the San Diego Symphony especially for the inaugural concert. Named Musical America's 2018 Composer of the Year, Bates, who won a Grammy for his opera The (R)evolution of Steve Jobs, is hailed as the most-performed composer of his generation. An electronic music DJ as well as a composer, Bates incorporates the harmonies of jazz and techno rhythms into his orchestral works. 'Soundcheck in C major' has musical quotations from 'Kashmir' by Led Zeppelin and 'Won't Get Fooled Again' by The Who.
The Rady Shell's opening was delayed for 13 months due to the COVID-19 pandemic. Because of pandemic-related health concerns, the orchestra's 2021 indoor fall season will be held in large part at the new outdoor venue, not at Jacobs Music Center's downtown Copley Symphony Hall, which opened in 1929 as the Fox Theatre, a Gothic-revival luxury movie theater.
Rick Perdian
For more information on the San Diego Symphony's 2021/22 season, click here.