United Kingdom TIME:SPANS [1] – Yarn/Wire: Laura Barger & Julia Den Boer (piano), Russell Greenberg & Sae Hashimoto (percussion). The DiMenna Center for Classical Music, New York, 24.8.2021. (DS)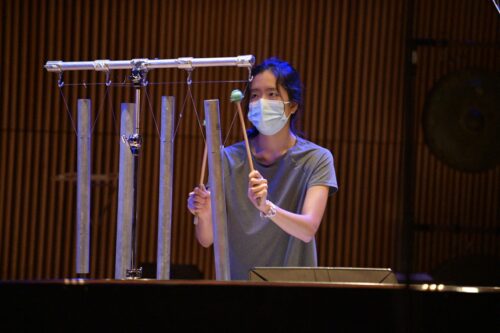 Andrew McIntosh – Little Jimmy
Wolfgang Heiniger – Neumond
Zosha Di Castri – Tachitipo
Since 2015, TIME:SPANS at The DiMenna Center for Classical Music has established contemporary music firmly in the New York City summer lineup alongside the Mostly Mozart fare. There was little possibility of summer 2020 musical gatherings, but the 2021 season brought many of last year's canceled concerts back for in-person performance. And how lucky we were! Yarn/Wire took to the festival stage with three works originally scheduled for August 2020.
The pieces related to the ways in which music can portray or archive experiences beyond the context of the purely musical – a kind of response to the fin-de-siècle tone poem. Neumond by Wolfgang Heiniger related to the artificial (yet seemingly authentic) feelings that early horror films generate in viewers. Heiniger wrote, 'The horror is only fake, but the yearning might be real and present'. A jigsaw of chimes, bangs and electronic organs tuned into eerily microtonal modes resulted in a kitschy re-creation of the memory, perhaps, of one's first viewing of Nosferatu or a crackling reel of the original Phantom of the Opera. To listen to Neumond was certainly to have some fun.
Tachitipo by Zosha Di Castri is a tour de force that requires a complicated instrumental set-up comparable to the writing of James Joyce's Ulysses. COVID protocol kept the audience seated during this 'intermission', and it became clear as we watched that there was no room for error in forgetting any tiny instrument or microphone. The work archives the relationship of writing and authorship to its mechanical tools – the typewriter and its unmistakable clicking keys offer a central sound around which other textures develop. Di Castri wrote, 'The typewriter epitomizes…[modern] attitudes towards writing: efficiency becomes paramount as typing begins to approach the rapid-fire speed of thought in all its desperate fury'.
However, to think that Tachitipo is only about typewriters is to miss the incredible depth of meaning in the monumental combination of sounds and theatrical gestures Di Castri coordinates into a powerful aural and visual experience that draws listeners practically off the edge of their seats. A deeper meaning in the work is the role of women in the work place as harnessed by the invention of the typewriter, along with the evolution of human dependence on technology to be creative. Yarn/Wire's preparation to play such a complex piece signals the incredible endurance, technical subtlety and commitment to the meaning in art that their ensemble clearly values. Tachitipo succeeds at crossing every artistic boundary and deserves performance in an institution like MoMA.
Andrew McIntosh's Little Jimmy – a world premiere – used music to meditate upon nature and, unintentionally, archived losses that we incurred in 2020. McIntosh explained that the area in which he recorded wind in the trees to use as electronic samples in Little Jimmy burned down in the autumn 2020 Bobcat Fire in the Angeles National Forest. This event, he explained, came in the midst of his compositional process and led the work in different directions. McIntosh chooses sounds with an artistry not unlike a painter pairing colors or blending textures with seamless contouring. With two pianists and two percussionists, the quartet of musicians switched between a variety of sonic gestures at very high registers, while focusing in other movements on the tones and overtones of deep, low registers. Bird calls from the field recordings lent an expansiveness to the percussive sounds emanating from the stage.
The evening certainly proved that contemporary music has many paths down which to develop, and the genre of music as representational medium still has much in it for composers to explore. Yarn/Wire's performance of three challenging works that could not be realized without deeply focused ensemble practice in a year that, literally, kept musicians physically apart, was awe-inspiring in itself. This is an ensemble whose mark on the world of music is exceptional.
Daniele Sahr