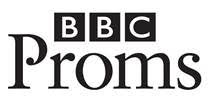 United Kingdom BBC Proms 2021 [24] – Johann Strauss II, Berg, Ravel, Korngold: Francesca Chiejina (soprano), Sinfonia of London / John Wilson (conductor). Royal Albert Hall, London, 4.9.2021. (KM)
J. Strauss II – Die Fledermaus, Overture
Berg – Seven Early Songs
Ravel – La valse
Korngold – Symphony in F sharp
Vienna – city of dreams. Or is it? The Austrian capital provided the fulcrum for this scintillating, brilliantly thought-out BBC Prom, which took us on a musical adventure from the 1870s to the 1940s. Perfectly mirroring the city's journey from a free-wheeling metropolis at the very heart of Europe, to one of post-war austerity – its influence severely diminished, and a shell of its former self – this programme revealed a myriad of music delights, all expertly served up by conductor John Wilson and the Sinfonia of London.
Since bursting on the scene with The John Wilson Orchestra over a decade ago, his exploration of the music of Hollywood has shed an important light on an often-misunderstood genre. He has been evangelical in his mission to show what an important strand of 20th Century music it is, and to banish preconceptions that this music is inferior to what other composers were writing at the time.
He too has been diversifying in recent years, conducting many staples of the British classical repertoire both in the concert hall and on disc to huge critical acclaim. His new orchestra, the Sinfonia of London, originally formed in the 1950s, but which he resurrected in 2018, was making its official concert debut at this Prom, and it couldn't have been a more auspicious one.
Made up of players from the UK's leading orchestras – and it was good to spot some familiar faces within its ranks – this is the equivalent of an orchestra on steroids. From the effervescent opening bars of Johann Strauss's Die Fledermaus overture and the pinpoint accuracy of the ensuing runs in the violins, taken at quite a lick by Wilson, it was evident we were going to be in for an evening of orchestral pleasures. One couldn't be helped but be seduced by, or indeed sway in time to, the Viennese Waltz that Strauss incorporates here – it certainly got the evening off to a rollicking start.
One of Vienna's most celebrated habitués, Sigmund Freud, is writ large over Berg's Seven Early Songs, composed between 1905-8. The Austrian composer, however, didn't orchestrate them till 20 years later, when Schoenberg's 12-note technique was influencing his compositions. There is a lush, late Romanticism in these songs, wedded to an almost psychedelic orchestral pallet, as Berg marries what on the surface to be two opposing styles.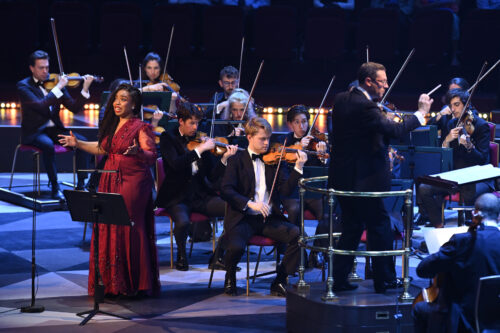 In place of the advertised soprano, Miah Persson, who had to withdraw due to scheduling issues caused by the pandemic, the young, hugely talented Nigerian-American soprano Francesca Chiejina, stepped up to the plate to deliver a sensuous account of the seven songs. Dreamscapes abound, and Chiejina perfectly captured the shifting moods throughout. In the visionary expanses of 'Nacht' ('Night'), her crystalline voice teased out Berg's vocal line to perfection, enunciating Carl Hauptmann's poetry with clarity and nuance. The climaxes could have benefited from more vocal heft – her voice is on the small side for a hall of this size, and Berg's orchestration is often dense. Luckily, Wilson quickly remedied any balance issues, allowing his soprano to shine in 'Die Nachtigall' ('The Nightingale'), and give a mesmerising performance of 'Liebesode' ('Ode of Love').
Another waltz, but of a very different kind to the one that opened the programme, rounded off the first half of this concert. Ravel intended his take on a Viennese Waltz to be a ballet (he called it a choreographic poem), but Serge Diaghilev was having none of it. Undeterred, Ravel went on to publish the work, and was vindicated in his decision as it was an instant hit. It is the antithesis to a traditional Viennese waltz, yet as it was written after the horrors of the First World War, not surprisingly decay and degeneration virtually drip from every note. Wilson and his attentive orchestra caught the mood of the piece to perfection, with each section playing out of their skins. It was exhilarating and terrifying in equal measure.
After the interval we were treated to a comparative rarity – Korngold's Symphony in F Sharp. The recording that Wilson and his orchestra made of this piece last year received plaudits from across the board, so it will come as no surprise that this performance was exemplary in every way possible. Having had to flee Germany when the Nazis came to power, Korngold made a name for himself composing film scores for Hollywood including The Adventures of Robin Hood. After the war he returned to his home city, where his large-scale symphony was premiered. But it didn't prove to be the triumph the composer was hoping for. Tastes had changed and beset by inadequate rehearsal time the work flopped.
Here, however, with Korngold's music coursing through their veins, the Sinfonia of London gave an incandescent performance. Wilson's affinity with Korngold's idiom was evident in every bar – from the dramatic chromatic dissonances of the first movement, via the fiendishly difficult tarantella of the Scherzo, and Mahlerian-tenderness of the Adagio to the rousing Finale – he marshalled his forces to give a stirring account of this unjustly-neglected work.
The orchestra excelled itself, and it was uplifting to be in the presence of a full, non-socially distanced symphony orchestra for the first time since February last year. This was an extraordinary evening on so many levels – an undoubted jewel in this season's Proms.
Keith McDonnell