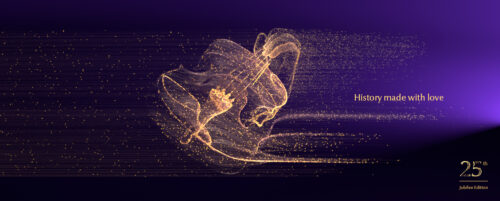 Romania George Enescu Festival 2021 [1]: (SS)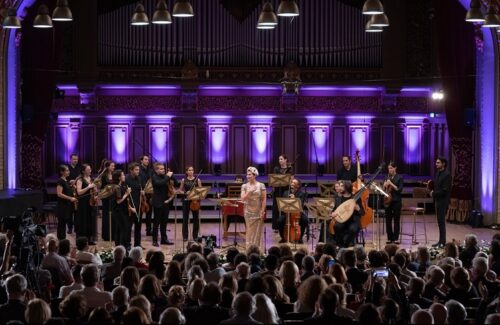 Joyce DiDonato and Il Pomo d'Oro, Romanian Athenaeum, Bucharest, 14.9.2021.
Part I: Gli antichi
Salamone Rossi – Sinfonia grave (Il primo libro delle sinfonie et gagliarde)
Monteverdi – Penelope's aria 'Illustratevi, o cieli' (Il ritorno d'Ulisse in patria); Sinfonia, Ottavia's aria 'Addio Roma, addio patria' (L'incoronazione di Poppea); 'Sì dolce è'l tormento'
Antonio Cesti – Orontea's aria 'Intorno all'idol mio' (Orontea)
Tarquinio Merula – 'Ciaccona'
Giovanni Battista Buonamente – Ballo del Granduca (Il ballo degli reali amanti)
John Dowland – 'Come again, sweet love'
Part II: I moderni
Johann Adolph Hasse – Cleopatra's aria 'Morte col fiero aspetto' (Marc'Antonio e Cleopatra)
Handel – Cleopatra's aria 'Piangerò la sorte mia' (Giulio Cesare in Egitto, HWV 17); Overture, Ariodante's arias 'Scherza infida, in grembo al drudo' and 'Dopo notte'  (Ariodante, HWV 33)
Rameau – Sarabande, Air en rondeau, Air très vif (Zoroastre); Orage (Les Indes galantes)
Denis Matsuev (piano), Choir of the George Enescu Philharmonic, Orchestre de France / Cristian Măcelaru (conductor). Sala Palatului, Bucharest, 14.9.2021.
Messiaen – Les Offrandes oubliées
Grieg – Piano Concerto in A minor, Op.16
Enescu – Poème roumain, Op.1 (multimedia directors: Nona Ciobanu, Peter Kosir)
Ravel – La valse
Joyce DiDonato ended her Athenaeum recital at the 2021 George Enescu Festival with some emotional words about the last eighteen months and their grueling impact on both artists and audiences. It was a stirring reminder of how good, euphoric and slightly unreal it feels to be back at an event like this festival and indeed for such a festival to be back at all. Her program was no less stirring, with two spirited halves styled as Gli antichi (Monteverdi, Cesti, Dowland) and I moderni (Hasse, Handel, Rameau). For me, she remains a somewhat uneasy recitalist – you still see the proudly down-to-earth Kansan who likes to invoke her roots, but it doesn't always gel comfortably with her diva persona. One moment she is tapping her foot to the music and looking as if we are at a very different kind of music festival, the next dismissing her musicians from the stage with a stiffly regal flick of the hand that channels the likes of Jessye Norman or Edita Gruberová. Still, there is no doubting her dedication to her 'Favorite Things', as this touring program was titled, and the way she powered through each aria, vivaciously supported by Il Pomo d'Oro, gave the recital an infectious momentum. Vocal highlights included the Cleopatra arias (one Hasse, the other Handel) and two arias from Ariodante, all of which impressively showed off DiDonato's technical skill and exquisitely controlled messa di voce. There was great expressiveness too, notably in the aching hesitations of Ottavia's lament from L'incoronazione di Poppea ('A-a-a-addio Roma, a-a-addio patria'). And who would have thought that a coquettishly operatic twist on Dowland's bittersweet 'Come again' might have such curious charm?
Barely an hour after DiDonato's final encore of 'As with rosy steps the morn' from Theodora, the Orchestre de France began its program in the vast Sala Palatului. Seeing as this festival is held in George Enescu's honor and his life and work were marked by a close attachment to France and the French language, it was fine to see France's flagship orchestra play Enescu's Op.1, the Poème roumain. Premiered in Paris at the Concerts Colonne, this 1897 work is essentially a single-movement Má vlast and predominantly orchestral, despite some ethereal choral interjections. It is conspicuously sectional with choppy transitions but what really gives it away as the work of a 16-year-old is, as one Enescu biographer put it, the somewhat bland writing and a main theme that sounds like The Hebrides concert overture at quarter speed. Issues of inspiration and structure aside, the piece does show a precocious aptitude for orchestration and this was beautifully brought to life by the Orchestre de France's musicians. Conductor Cristian Măcelaru shaped the piece into the most rounded performance of the evening, with a sensuous ebb and flow that exerted an almost hypnotic effect in the pastoral and folkloric sections. This Poème roumain makes an impressive start to the Deutsche Grammophon project, announced on the same day as this concert, that will see Măcelaru record Enescu's complete works over the next few years of his tenure as music director of the Orchestre de France.
Măcelaru's feel for tension and release was even more strongly present in the other works, though more balanced towards tension than release. Ravel's La valse was so inexorable in this respect that it sounded almost like Boléro. A similarly visceral approach saw Messiaen's Les Offrandes oubliées (even the meditative outer sections) pushed into Turangalîla territory. And Grieg's Piano Concerto, already the composer's most monumental work in terms of scale and gesture, doesn't need much heightening but got it here anyway. Denis Matsuev's playing was even more overblown, but not without sporadic subtleties of touch in the softer passages. As cultural life staggers out of the pandemic, the sight of a large Russian man demolishing a Steinway Model D with such crisp attack admittedly had, at this moment in time, a certain irresistible charisma.
Sebastian Smallshaw