United Kingdom BBC Proms 2021 [18] – Family Prom: Royal Albert Hall, London, 29.8.2021. (JB)
Daniel Kidane – Revel (BBC commission: world premiere, with narration by Lemn Sissay)
Saint‐Saëns – The Carnival of the Animals (new narration by Michael Morpurgo
Performers:
Aminata Kanneh-Mason (violin)
Braimah Kanneh-Mason (violin)
Ayla Sahin (violin)
Timothy Ridout (viola)
Mariatu Kanneh-Mason (cello)
Sheku Kanneh-Mason (cello)
Toby Hughes (double bass)
Adam Walker (flute)
Mark Simpson (clarinet)
Isata Kanneh-Mason (piano)
Jeneba Kanneh-Mason (piano)
Konya Kanneh-Mason (piano)
Alasdair Malloy (glass harmonica)
Adrian Spillet (percussion)
Michael Morpurgo
Sian Ní Mhuirí (scriptwriter/devisor)
Angie Newman (BSL interpreter)
EM Williams (actor)
Claudio Arrau told me that as a young man he had the unforgettable experience of hearing Camille Saint-Saëns play a live piano recital wearing linen gloves (not uncommon at the time). Transparent, eloquent and totally unshowy were words the Chilean born Maestro used to describe the Saint-Saëns magic. While Saint-Saëns did make pre-electric (acoustic) 78rpm records (many now reproduced on CDs) there is no comparison with these and his piano rolls which require a pianola to play them. Londoners, if you would like to hear them you should make your way to The Musical Museum at High Street, Brentford and near Kew Bridge where knowledgeable volunteers explain and demonstrate the early twentieth century recording machines in their collection. Don't miss their piano roll of Rachmaninoff either (I had always wondered what all the shouting was about until I heard this roll.) For Saint-Saëns you will be overwhelmed on hearing Maestro Arrau's above perfectly described trinity.
Saint-Saëns was embarrassed by his The Carnival of Animals and forbade it to be published or performed during his lifetime. That was except for The Swan, which had been written weeks ahead of Carnival and even now remains a favourite cello encore piece (though not usually with two pianos, whose ripples I miss when it is reduced to one.)  Camille told his friends that he didn't want to be remembered as a frivolous composer. But what about a fun composer, dear Camille? Gioachino Rossini made a career on just that and would surely have enjoyed that spoof you made on him. (Rosina's aria, Una voce poco fa is sung graciously in Il barbiere di Siviglia and in Carnival is hammered out rapidly on the xylophone and called Fossils!)
All the above is only me setting out the cultural baggage which half-forgotten and mostly uninvited, wells up from previous experiences. All criticism is subjective, whether or not the critic wants it to be.
But one positive thing this unfortunate performance has revealed to me: why Saint-Saëns had not wanted his Carnival to be performed publicly in his lifetime. Every comedian knows that jokes told repeatedly fall flat. Everyone that is, except some of the Family Prom team.
The first warning that all may not be well came in the programme's notes of Saint-Saëns's fourteen fun witticisms as 'movements': movements are to be found in the sonatas and symphonies of Beethoven and Brahms but have no place in Saint-Saëns's wit despite what others think.
I confess that I have never liked the idea of adding poetry into Carnival. The Saint-Saëns jewel is robust as well as delicate. That is its genius. And a game the composer has played before. Hilaire Belloc's The Bad Child's Book of Beasts could work, maybe. Noel Coward may just about be acceptable as narrator and Stevie Smith's incomparable voice has the same mischievousness. Maggie Smith has rather a good line in dry wit (oops, what was that I said?).
Michael Morpurgo has been given a deserved knighthood for the results of a scheme with his wife to introduce the children of urban London to the joys and pleasures of farming. Something along the lines of This old man, he played one, He played knick-knack on my thumb; With a knick-knack paddywhack, Give a dog a bone, This old man came rolling home. Except that Sir Michael was not rolling home or anywhere else. He was fumbling with sheafs of papers, then stumbling over words he attempted to speak. Did he actually write these words as it said he did? And what were they anyway?
But an over-enthusiastic (young?) claque was immediately active the moment each jewel finished. They sounded as though they were seated in the gallery. Each of the Saint-Saëns sketches lasts less than five minutes. So, there was more uncalled for applause than music. The Promenaders' area had very few people in it. Even the rest of the Royal Albert Hall was scarcely blessed in attendance. Impoverishment all round. (The 7pm performance was broadcast live on BBC Four and can be retrieved on BBC iPlayer to hear these disappointingly sad bleeps.)
However, it is a pleasure to report some excellence amid the mash-up. The flute is one of the easiest wind instruments to play, which is probably why so many young players take it up. But to play it well? That is entirely another matter.  Adam Walker (LSO's principal flute) was this performance's other matter. The Aviary strikes fear in every flautist who attempts it. Walker delivered it like child's-play. Those magic seconds finish before they properly start. The birds' feathers flutter like butterflies in a showcase that will stay forever with all lucky enough to hear them.
EM Williams is a non-binary actor and darted around the huge hall with grace and athleticism, strongly recalling Shakespeare's Puck in A Midsummer Night's Dream, its flittering echoes evoked in Mendelssohn's incidental music to the play. But her voice comes out forced and contrived. If only Sian Ní Mhuirí (scriptwriter and devisor) and Alice Purser (casting director) had had the good sense with Them to avoid such weaknesses and come in strongly for the non-binary strengths, They would have scored a significant success.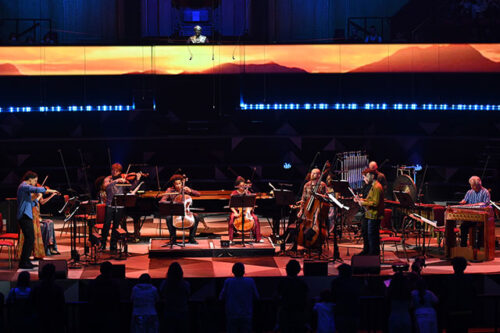 By far the best known of the Kanneh-Mason family is Sheku (winner of BBC Young Musician of the Year and soloist at Prince Harry and Meghan Markle's wedding) who must be applauded for making the bold choice to play The Swan in pianissimo. His two sisters (Jeneba and Konya) provided the beautiful ripples on the two pianos for the swan to ride. However, it didn't quite work. Evidently no one had told Sheku what every singer and actor must know: to deliver quietly you must double or even quadruple your projection. There were moments when his sound just disappeared, and I was not on the back row of the circle. This mishap only applies to those in the hall. The BBC's sound engineers will have put it right for radio and television.
Speaking of staying forever, I should say that Alan Yentob has made a delightful documentary, on the inordinately talented Kanneh-Mason family (augmented for this Prom), filmed when he spent some with them in lockdown for his Imagine BBC series. This House is Full of Music is currently back on BBC iPlayer and still available for a few weeks.
Non-binary Williams also has an important part to play in the twenty-minute curtain-raiser with the same strengths and weaknesses as Carnival. Revel is in four movements, as composer Daniel Kidane (born 1986) explains in a programme note.  So, in this BBC world premiere Williams was joined by Lemn Sissay whose lush, velvety baritone voice read a poem (his own?) ahead of each of the four movements: Dawn, Journey, Revel and Home. Both men have lived in Manchester where in the summer, in Alexandra Park, Moss Side, a Caribbean Carnival takes place with colourful costumes. In Journey I heard distinct echoes of Arthur Benjamin's Jamaican Rumba – fun in the four hands at one keyboard version, which is a joy to play and hear. Altogether a truly colourful Caribbean Carnival.
Jack Buckley