United Kingdom Royal Philharmonic Orchestra 75th Anniversary Concert – Delius, Elgar, Walton: Sheku Kanneh-Mason (cello), Bryn Terfel (bass-baritone), Philharmonia Chorus (chorusmaster: Gavin Carr), Royal Philharmonic Orchestra / Vasily Petrenko (conductor). Royal Albert Hall, London, 21.9.2021. (JB)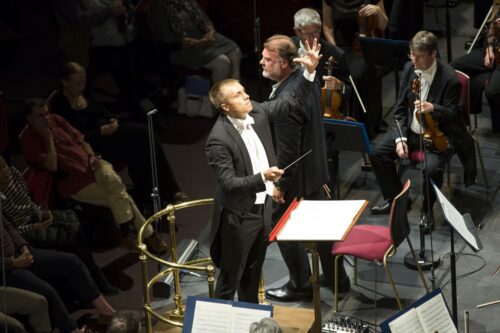 Delius – Over the Hills and Far Away
Elgar – Cello Concerto
Walton – Belshazzar's Feast
This concert was so gloriously enjoyable, it is hard to know where to begin. Well, as someone said to Alice when she herself was in Wonderland – and Wonderland is what it felt like – Begin at the beginning and go on till you get to the end, then stop.
It all began with a younger member of the wealthy Beecham family – one Thomas (yes, that one!) – deciding he would syphon off some of the family's huge profits from their laxative pills business, towards the promotion of music, making music available to those who knew little of it. Beecham was largely self-taught in music and a glaring practitioner of the philosophy that no one can ever teach you anything that you don't already know. The model, gifted improviser.
When everything was going wrong during a rehearsal of Aida, an elephant entering the stage for Radamès's triumphant return, disgraced itself on the set. Hmm, the maestro mused aloud, critic as well as performer. Laughter all round. The rest of the rehearsal went swimmingly. Much later, in a Berlioz rehearsal – a composer he championed in London – there arose the need for a harpist. Send for Miss Goossens he called. (There were two harpist sisters, Sidonie and Marie) Which one Sir Thomas? asked the orchestra manager. It doesn't matter replied young Thomas!
Roughshod? Yes. A born communicator? And how! As natural as Jamie Oliver in the cooking business. When Beecham called Eva Turner to participate in The Dream of Gerontius, he apologised for the relative brevity of the role. If it were only two bars, you may be sure I would be with you Sir Thomas replied the Lancashire lass from Oldham to the Liverpool conductor. No one quite embodied the making of music as much as Beecham. And his virus was mercifully highly infectious.
Flash forward seventy-five years to the Royal Albert Hall. The exceptionally charismatic Russian-British conductor, Vasily Petrenko, has stepped onto the podium as the Royal Philharmonic Orchestra's newly appointed Music Director. He is also now Principal Conductor of the State Academic Symphony Orchestra of the Russian Federation and will divide his time between the two orchestras. As well as other guest conducting commitments. Could Anglo-Russian relations be more solidly established? Resign you fools who consider yourselves politicians! Music speaks!
To my shame I have never heard Petrenko in action until now. He turns to make a speech to the audience. My heart sank. Speeches from the podium are always a terrible bore. Most of the Royal Albert Hall's seats were taken. But from the moment he started to speak he had the audience in his hands. I have never felt a concert audience holding its breath to listen to a speech. Maestro Petrenko has the Beecham touch.
Delius was another composer who Beecham promoted: I should say energetically promoted. A programme note tells me that Over the Hills and Far Away was first heard in Croydon in 1946, conducted by Beecham. It follows Delius's love affair with the English countryside (though in this case, it was inspired by Norway, where Delius met Greig. Delius's defining quality is his CHARM, of which Greig, however, was a world master.) I don't want to be peevish, but I find the charm of Delius somewhat routine (too harsh?) compared with Vaughan Williams say, whose charm comes through in the concerto we heard later in this concert, even before you look at the overture for Vaughan Williams's The Wasps or his English folksong arrangements. Petrenko's balance between woodwind and strings was moving in the Delius hills, as was his pacing of this Nature adventure. The fault is mine clearly if I don't hear genius in Delius.
There is one recording of the Elgar Cello Concerto which is the greatest in everyone's mind, including mine. Jacqueline du Pré played on a Matteo Goffriller (1659-1742) cello: the luthier lived and worked in the Veneto (the area surrounding Venice) making all four string instruments, but his cellos are the most prized. And priced! Sheku Kanneh-Mason has had the great good fortune of being given a Goffriller cello on permanent loan. And with it he surpasses Ms du Pré. This is now one of those rarest of rare incidents where it is impossible to know which is giving most: the player or the instrument. (Italian violinist, Uto Ughi is another with a Stradivari).
The Elgar Cello Concerto has always struck my ears as funereally reassuring. It is that paradox which gives the work its unique energy. It asks of the ear – and of the cellist – a lot of questions; any hint of an answer is always agnostic. Its earthiness also manages to be ethereal. It also calls for a spontaneity, but a spontaneity of the gods which must not appear spontaneous. It is hardly an accident that Elgar began his conducting career with the inmates of a Victorian lunatic asylum. Moreover, the great man is on record saying how much he learned about music from these discarded citizens. As every teacher worth his salt knows, it is not what you can put into a pupil, but what you can get out of them.
I recently had reason to chastise Sheku at a BBC Prom where he played The Swan from The Carnival of the Animals. If I remember correctly the two pianists were his sisters, providing the ripples on which the swan rides. He made the bold choice of giving us this piece in various shades of pianissimo. Wonderful. Surely just what Saint-Saëns had in mind. But he forgot the art of projection. So the sound was lost in the vast Albert Hall. But for Elgar his projection was divine. Like his conductor he had the audience in the palms of his hands. We could hardly believe our good fortune. This will surely go on record as the finest ever account of Elgar's concerto. And I didn't know that Sheku possessed a Goffriller cello, which would do the job for him if only he spoke to it kindly. Which tonight he did.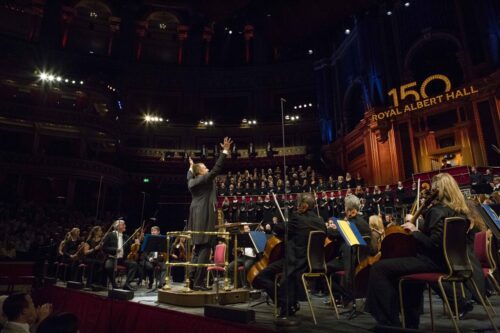 William Walton was fond of recounting an episode when as a shy young, unknown composer, he ran into Elgar in the men's urinal at Victoria Station. (I hear Lady Bracknell saying what station is irrelevant.) Elgar spoke first asking the young man if he knew who might win the two-thirty. Of course, the boy had no idea. End of conversation.
Still, the young man adored Elgar's music. He was much helped by the Sitwell family in his youth. Edith's poems in a collection she called Façade had its first performance at the Sitwell house in Chelsea. William's wit matched Edith's and poet, and conductor of the ensemble, Constance Lambert, were the reciters through a megaphone, which might have been too much of amplification. (This is always a problem with Façade, like the last time William heard his music live on the island of Ischia, where he lived. The reciters were Marghanita Laski and me, with Jan Latham Koenig conducting the Koenig ensemble.)
Thomas Beecham was instrumental in organising the premiere of Belshazzar's Feast. He obtained the interest of the Leeds Choral Society and suggested to the composer that in all probability you will never hear this work you are writing again, but up there in Leeds they have some rather good brass players, and if I were you, I'd throw in a couple of brass bands. William duly did: two brass bands (seven players in each) one to the right and one to the left of the conductor, says the score. This was admirable for William to capitalise from his experience as a boy chorister at Christ Church, Oxford. Both orchestras and choruses make excellent use of antiphonal writing. The choruses are also doubled.
The idea was always that Sir Thomas would conduct. But when Beecham saw the score he hastily passed it to his young assistant, Malcolm Sergeant – known to orchestras as Flash Harry and a womaniser. Sergeant made the mistake of acting inappropriately to Lady Walton, for which he received such a sharp slap that he probably never did anything again like that. Beecham knew his own limitations and at that time it was unusual to have time changes from one bar to the next – 3/4 to 4/4 to 6/8 for instance. This comes up very successfully in the worship of heathen idols. I had forgotten how skilfully the percussion section is written here: five players including an anvil and a huge gong are kept very busy.
It is not a mistake to think of the antiphonal choruses as the protagonists of the cantata. Gavin Carr is an admirable chorusmaster and Osbert Sitwell's words (selected from the Books of Daniel, Psalms and Revelation) were beautifully articulated. Almost as beautifully articulated as the narrator, Sir Bryn Terfel. He is the only one I have ever seen without a score: from Bryn's soul directly to the souls of the audience. His magnificent, velvety voice is nuanced from drama through to compassion.
The Royal Albert Hall's mighty organ (Katherine Dienes-Williams) rang out with earthquake-like trembling. Its appearance is brief but effective.
I have finished. But I hope to be reporting on further RPO concerts with choruses.
Jack Buckley