United Kingdom BBC Proms 2021 [19] – Wagner, Tristan und Isolde: Soloists, Glyndebourne Chorus, London Philharmonic Orchestra / Robin Ticciati (conductor). Royal Albert Hall, London, 31.8.2021. (JPr)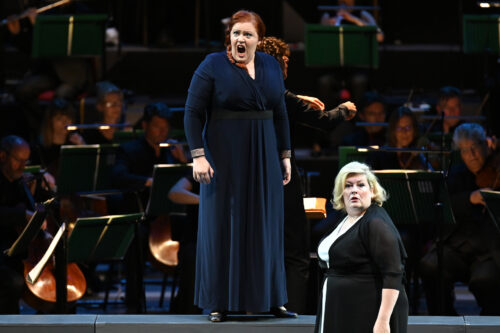 Staging: (Daniel Dooner after Glyndebourne's 2003 Nikolaus Lehnhoff production, reworked by Paul Higgins for the BBC Proms)
Cast:
John Mackenzie-Lavansch – Steersman
Simon O'Neill – Tristan
Miina-Liisa Värelä – Isolde
Karen Cargill – Brangäne
Shenyang – Kurwenal
John Relyea – King Marke
Neal Cooper – Melot/Tristan (Act III)
Stuart Jackson – Shepherd/Young Sailor
I will not be the first to remind readers that when Wagner was composing Act III of Tristan und Isolde he wrote to his muse Mathilda Wesendonck: 'I fear the opera will be banned – unless the whole thing is parodied in a bad performance – only mediocre performances can save me! Perfectly good ones will be bound to drive people mad – I cannot imagine it otherwise'. After five performances at Glyndebourne this summer their semi-staging of Tristan came to the BBC Proms and probably drew one of the biggest audiences of a poorly attended season. Certainly for all of Act I and stretches of Act II, it was heading towards being the finest Wagner I have heard at the Royal Albert Hall since Parsifal (with a commanding Petra Lang as Kundry) almost 21 years ago to the day. That was conducted by Sir Simon Rattle and now it was his protégé Robin Ticciati (music director of Glyndebourne Festival Opera) who brought this Tristan to the Proms.
Nikolaus Lehnhoff's production was first seen at Glyndebourne in 2003 and subsequently revived and would have been seen in its original version had the pandemic not intervened. The orchestra apparently needed to be socially distanced and that would only work if they filled the stage with the singers acting at the front on and around a wide stepped platform. It was infamously reviewed in The Guardian recently as suggesting 'vanishingly little of Lehnhoff's staging, and almost nothing of the sets and props, survive'. Director Daniel Dooner then responded: 'Every move, head-turn, look, intention, expression and subtextual reference in Lehnhoff's highly detailed regie is there, as is the lighting and all seven of the original props. What isn't there is simply the set and the costumes.'
My history with this production is that when it was originally revived it was one of the first UK operas transmitted to cinemas; my wife and I didn't enjoy what we saw and heard so much that we never stayed for the end. That was part of it, another issue might have been problems with the actual relay, but I cannot remember for certain. Lehnhoff was an assistant to Wieland Wagner at Bayreuth in the mid-1960s and – compared to all the recent Tristans I have reviewed which have little to do with Wagner's original – his semi-abstract staging now looks ultra-traditional despite the occasionally oddity (a rather strange looking masked Stuart Jackson as the Shepherd with his slim tree branch as a staff). There was a rather Star Trek-looking series of arcs giving a time tunnel sense of depth, or perhaps it is as if we were looking into a vortex. This allowed for a series of steps for the characters to move onto, about and off.
It was generally rather static as I remember with little contact between Tristan and Isolde who often just stood side-by-side (socially distanced?) and faced out to the audience to sing, as did most of the others. There was a limited colour palette, mostly a darkish blue and briefly possibly a golden glow (as here at the Proms at the start of Act II). Another issue in 2007 was Robert Gambill and Nina Stemme; I appreciate how fêted Stemme's Isolde is, but she has not always impressed me (review click here) and Gambill was deeply disappointing. It was never conceived to test anyone's sanity and Lehnhoff allows us to hear what the protagonists are thinking; though we are not really convinced by the motivation for their actions, nor do they really engage us emotionally. Of course, a lot of this must come from Wagner's music which explains that which cannot be shown on stage, however something other than a stand-and-deliver approach will always help.
What was seen at Glyndebourne (review click here) seems to have been faithfully recreated on this year's specially extended Royal Albert Hall concert platform, but I suspect the singers needed to go much further than at Glyndebourne to make their entrances and exits. Changing colours flooded the stage or were replicated on the LED screens to the rear of the orchestra. Tristan and Isolde had appropriate costumes (though not the original 2003 ones) but everyone else was dressed – at best – for a standard concert performance, or – at worst- a rehearsal.
Ticciati kept everything flowing well in the narratives but there was some sense of drift in the bigger dramatic moments. Nevertheless. this flexibility in his tempos was a big plus and Ticciati clearly knows how to slowly build to a climax, cranking up the tension and holding back until the very last moment before he unleashed the total power of the impressive London Philharmonic Orchestra – notable for some incandescent changes of colour – at any of those climaxes. (Kudos to Sue Böhling's idiomatically plaintive cor anglais amongst many virtuosic solo contributions.) Sadly, the pre-recorded chorus sounded like the ghostly crew in Wagner's Flying Dutchman though hearing the 'hunting horns' and Brangäne's portentous warnings from the far reaches of the gallery had a visceral effect. (Weirdly, John Mackenzie-Lavansch's sweet-toned opening 'Sailor's Song' seemed to emanate from the bust of Sir Henry Wood in front of the organ!) What was an issue was that the orchestra was often much too loud threatening to swamp the singers and it did from time to time, especially at the start of Act II.
If the singers have had to combat that wave of sound coming from behind them at Glyndebourne it may explain what befell Simon O'Neill after the first two acts who was announced as having lost his voice. What O'Neill did sing during his sterling Act I and his contribution to one of the finest Act II love duets I have heard showed his prominence as a heldentenor; there was never an ugly sound (of how many Tristans can you say that?), a rare lyricism, wonderful diction and suitably heroic top notes. (For my wife and me it was as if the late great Wagner tenor Alberto Remedios had been resurrected, and for us that is no higher compliment and evidence of how good we thought O'Neill was.) Glyndebourne was fortunate to have Neal Cooper's fully prepared – off the book – alternative Tristan in the cast as Melot. He sang from the side of the stage whilst a barefooted O'Neill acted Tristan's third act ravings often slumped on some sheepskin covered bedding as stage director Paul Higgins appeared briefly as Melot and was quickly despatched near the end of the opera. Cooper's contribution was therefore criticproof and he sounded a stolid, reliable Tristan.
Miina-Liisa Värelä was an honourable Isolde and while her lower register was not particularly strong her high notes were secure if a little pinched. Nevertheless, she brought all the necessary dramatic conviction, focus and energy to the flame-haired 'wild Irish maid'. Perhaps there is a question mark about her vocal stamina because her Verklärung (Liebestod) was underwhelming.
Once again, I would have preferred the singer of Brangäne to have been Isolde (why does it happen so often?). There was committed and surprisingly nuanced acting from Karen Cargill as the faithful – though meddlesome – servant and her resonant voice had power and great expressivity. There was a very solid 'supporting cast', with Shenyang as a rather stentorian Kurwenal, clearly loyal to his master but with little of the old retainer about him, and the sonorous John Relyea was a noble, dignified, deeply hurt, ultimately regretful King Marke.
Jim Pritchard