Lammermuir Festival 2021 [2]: (SRT)
The Gesualdo Six – St Mary's Church, Haddington, 12.9.2021
Fading: Motets by composer including Tallis, Byrd, Park, Blok-Wilson and Cruttwell-Reade
Ryan Corbett and Djordje Gajic (accordions) – Innerwick Parish Church, 12.9.2021
Stravinsky – Petrushka
Vladislav Zolotaryov – Children's Suite No.1
J.S. Bach – Prelude & Fugue 'St Anne' in E flat
In whose company would you rather spend 75 minutes of your time: a celestial choir or a pair of squeezeboxes? Actually, why choose? The first Sunday of the Lammermuir Festival contained both, with brilliant results each time.
The celestial choir was The Gesualdo Six, six young men whose blend is so tight and their sound so rich that they might not quite be mistaken for a choir of angels, but they come pretty close. The second of their Lammermuir Festival programmes was called Fading, and consisted of music inspired by (but not limited to) the ancient monastic service of Compline, the service for evening, said as the shadows lengthen and the sun fades.
For one thing, it was a marvellously eclectic programme, featuring music ranging from Hildegard of Bingen to newly-composed contemporary pieces, and it was performed with an ear for the haunting atmosphere of the encroaching evening. They were helped by the soaring surroundings of Haddington's St Mary's Church, which sometimes felt like the seventh performer. The opening plainchant was sung in processional, beginning unannounced from the back of the church, the audience falling gently silent as the singers walked towards the front, and several numbers were sung with some offstage elements that made sensitive use of the space to get deeper into the music and increase its power to move.
The blend of the singers is so good you couldn't fit a cigarette paper between the voices, with the exception of their countertenor, Guy James, who has such spice in his voice that he cuts over the texture in a way that leads the sound and gives it a spine-tingling edge. He was a particular asset in a setting by Owain Park – who both directs the choir and sings bass in it – of Hail, Gladdening Light, James's ethereal tone hanging over the warm lower harmonies like a shimmer of ice. Such a combination was also perfect for the Renaissance section of the programme, which sounded like it was being sung by experts who knew the style intimately, with haunting Byrd and Fayrfax to go alongside Tallis and Gombert.
However, the real points of interest came in the contemporary numbers, expertly chosen to tap into the contemplative atmosphere while retaining some hard edges to the music. Jonathan Seers's Look down, O Lord used sharp chromatic edges to remind us that night can bring uncertainty and pain, while the dappled beauty of Ninfea Cruttwell-Reade's Car auprès de toi mimicked pictorial pointillism as the harmonic lines slid in and out of focus. Veljo Tormis's gorgeous Marjal aega magada was an Estonian lullaby invested with the spiritual intensity of a religious vision, while Gerda Blok-Wilson's O little rose, o dark rose was dark and warm, heavily scented and very inviting.
Some of my finest experiences of the Lammermuir Festival have been in choral singing like this, and there is more to come next weekend. It is a sign that the festival directors are not only connected to great artists but that they can fit their music expertly to their venues: this programme wouldn't have worked as well in a smaller church. It is part of the festival's appeal that it takes audiences to locations that are beautiful in and of themselves, and it exposes them to great music that seems to fit each place like a glove.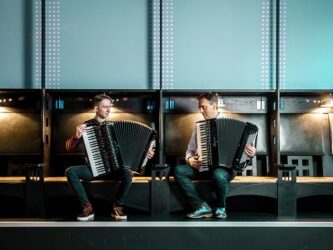 However, while The Gesualdo Six's concert might have been the most beautiful of the day, I don't think it was the most memorable. That came the same morning, in little Innerwick Parish Church, overlooking the wide stretch of water where the Firth of Forth broadens into the North Sea. The little church was as full as it could allow with social distancing, and I am sure many more would have attended if they could, to hear some astounding accordion acrobatics from Ryan Corbett and Djordje Gajic. Corbett is a classical accordionist in his final year of study at the Royal Conservatoire of Scotland, where Gajic is his teacher, and between them they did things it would never have occurred to me to ask an accordion to do.
Gajic alone played a Children's Suite by Vladislav Zolotaryov, a Soviet composer who expanded the accordion's repertoire by writing in a style that was not approved by his Communist overlords. I hadn't come across him before, but his suite paid his young listeners the great compliment of writing proper music for them.
The real fun came in the duets, though, beginning with an arrangement of Petrushka (all of it!) that really shouldn't have worked, but really, really did. The busy atmosphere of the Shrovetide Fair came to buzzing, dazzling life under the fingers (and ever-extending arms) of two musicians who, after all, were playing the very instruments that Stravinsky's score seems to mimic in parts. Stravinsky's jagged cross-rhythms and biting syncopations sounded far better on two accordions than you have any right to expect, something surely helped by the fact that Corbett and Gajic were playing their own arrangement of the composer's version for piano, four hands.
They played with energy and a great ear for colour, even including the drumming (on the top of the accordion) to represent the transitions between scenes, and their playing was so fully technicolour that I didn't miss the orchestral effects at all. They also lent an air of poignancy to the later sections of Petrushka's isolation and loneliness, with a desperate wheeze representing the puppet's murder and appearance as a ghost. The nerve-jangling rawness of the climax was every bit as full as you would normally get in a concert hall and, if this arrangement is a bit of a curiosity, then it's one I am really pleased to have heard.
As if to show the scale of what else they can do, they then played Corbett's own arrangement of Bach's 'St Anne' Prelude and Fugue. This was less obviously pictorial, of course, but an accordion and an organ aren't really so different, and what sounds good on one majestic set of bellows sounds nearly as good on another. One or two technical slips aside, they created an expansive, magisterial prelude, and the opening minutes of the fugue were entrancing, the musical lines wandering around and through one another before finally coalescing into something musically unified and utterly compelling. Above all else, it was fabulously entertaining.
Corbett's encore, the prelude to Act I of La traviata, sounded as though you couldn't have chosen a finer instrument to represent an expiring consumptive. If only Verdi had thought of it!
Simon Thompson
The Lammermuir Festival runs until Monday 20th September, for information click here.