Austria Mondsee Musiktage 2021 – 'Lehrer und Schüler': Isabelle Engels and Lisa Maria Schumann (violins), Matthias Buchholz (viola), Irena Josifoska (cello), Annika Treutler (piano), Auryn Quartet (Matthias Lingenfelder, Jens Oppermann [violins], Stewart Eaton [viola], Andreas Arndt [cello]). Schloss Mondsee, Mondsee, 30.8.2021. (LV)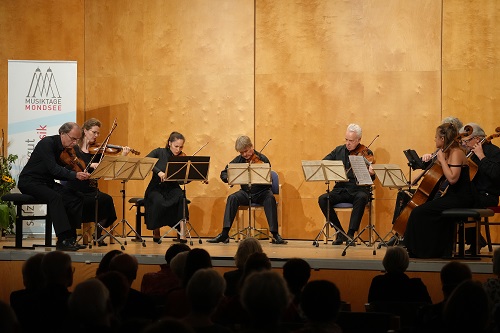 Schubert – String Trio in B-flat major D.471
Penderecki – Chaconne for violin and viola
Mozart – Piano Quartet in G minor K.478
Mendelssohn – Octet in E-flat major Op.20
The Mondsee Musiktage chamber music festival, thirty minutes from Salzburg (where the wedding in The Sound of Music was filmed), was celebrating its return to maskless concerts and full attendance; and the Auryn Quartet was celebrating its final year as the festival's resident ensemble and forty years as a quartet with their original personnel. Playing together with three former students from their Detmold Hochschule für Musik courses, the Auryn and their colleagues performed with the kind of core warmth, fidelity to the score and seamless ensemble playing that has distinguished the Quartet over the course of their remarkable history.
'They affect no starry airs', Andreas Speer, their longtime recording engineer for Tacet, recently told me, 'but listen carefully and have a lively interest in adjusting to the common musical goals of their colleagues and developing ideas alongside them. They are a wondrous social and musical structure, constantly changing and evolving, and yet unchanging in essence. A kind of meta-person. What a work of art!'
Isabelle Engels, Matthias Buchholz and Irena Josifoska used Schubert's unassuming String Trio to introduce the evening's magic to a full house of 300, including a teacher and five young schoolchildren, in the similarly unassuming but acoustically fine hall. They folded their lines together with impeccable intonation and a way of speaking naturally; Engels in particular had a touch of Auryn first violinist Matthias Lingenfelder in the relaxed preparation of her bow arm.
Penderecki's Ciaconna for string orchestra was written in memoriam after the death of Pope John Paul in 2005; played in the composer's transcription for violin and viola, it is a self-contained, independent artistic statement. Subtle and virtuosic, it is filled with emotions of a genuinely Romantic kind that reflect the Auryn Quartet's commitment to humanity. I had heard them demonstrate this in 2015 amidst the Hungarian migrant crisis, when cellist Andreas Arndt made a moving speech to the audience before a performance of Haydn's Seven Last Words of Christ with the writer Walter Jens's profound, disturbing observations on the simple biblical verses read by Joseph Lorenz.
The performance that followed of Mozart's Piano Quartet in G minor was an affectionately thoughtful performance: everything grows naturally out of what proceeds, and thus no turn or trill can be quickly rushed through. The precision and warmth were to be expected from Auryn Quartet students, while Annika Treutler coaxed beautiful sounds out of the gleaming Fazioli piano, especially in her exquisite solo after the first movement's double bar. Although she and her colleagues took a dangerously moderate tempo for the Rondo, it turned out to be fast enough to encompass and enchant with the theatrical succession of episodes only Mozart could lay down so effortlessly.
For those in the audience who had known the Auryn Quartet for many years, the knowledge that their performance of Mendelssohn's Octet might be their last added to the drama and the emotion. It was one of those rare performances in which everyone was involved, and the breadth and detail of the eight-part writing made it sound for once like an octet and not a piece for violin and seven other strings. The four Auryn warriors lit up the night, with Lingenfelder magnificent in his final run-through of the theme in the opening Allegro moderato ma con fuoco. They took the Presto finale at an exhilarating headlong pace that showed off the music and the four warriors' eternal youth.
After the end, both the children and the adults left with stars in their eyes.
Laurence Vittes