United Kingdom Puccini, Madam Butterfly: Soloists, Chorus and Orchestra of Welsh National Opera / Carlo Rizzi (conductor). Wales Millennium Centre, Cardiff, 24.9.2021. (GPu)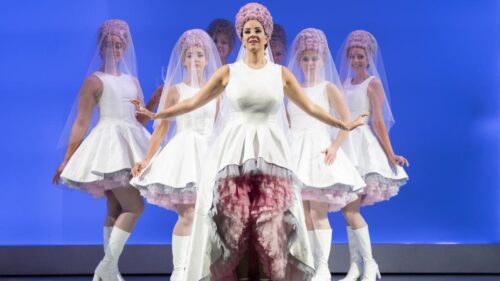 Production:
Director – Lindy Hume
Designer – Isabella Bywater
Lighting designer – Eleanor Higgins
Movement director – Denni Sayers
Chorus Master – Dave Doidge
Cast:
Cio-Cio-San – Joyce El-Khoury
Pinkerton – Leonardo Caimi
Sharpless – Mark Stone
Suzuki – Anna Harvey
Goro – Tom Randle
The Bonze – Keel Watson
Prince Yamadori – Neil Balfour
Kate Pinkerton – Sean Meinir
Over the last few years I have found Madam Butterfly the most intriguing of Puccini's operas. It displays very powerfully his superb judgement of dramatic tension and pace and his mastery as a manipulator of an audience's emotions. In addition it is, in both formal and stylistic terms, especially ambitious, even if doesn't always fulfil those ambitions.
When published by Ricordi, the cover of the score carried the phrase Tragedia Giapponese. Surprisingly, the concept of tragedy which underlies the work seems to take us all the way back to Greek tragedy. Central to that were three principles that Aristotle summed up as three 'unities'. These were, let us remind ourselves: (i) unity of action – there should be a single principal action, (ii) unity of time – the action should take place within 24 hours and (iii) unity of place – the action should happen in a single location. Two of these 'unities' are very obviously adhered to in Puccini's Madam Butterfly. It tells the story of a 'single action' (the marriage of Pinkerton and Cio-Cio-San). Perhaps even more completely it complies with the idea of unity of action – everything happens in and around a single house. Even the unity of time is not an irrelevant consideration here, since the action of Act I and Act II, Scene 1 takes place over three years or so and that of Act II, Scene 2 seems to happen in something like twelve hours. Also, as in many classical tragedies, key actions happen out of sight of the audience (such as Pinkerton's marriage to Kate, and Cio-Cio-San's suicide). All this gives the work a remarkable sense of 'classical' concentration.
Yet in other respects the work was remarkably modern. When first performed in 1904 the imagined events it narrates were only a very few years old. Its expansiveness of reference, ranging geographically from Japan to the USA and its fable's unmistakable themes of the exploitation of women or the contemptuous treatment of an ancient and dignified culture by a superficial and ignorant member of a 'modern' world, exist in creative tension with the quasi-classical concentration of its structure.
Even in 1904 some, surely, must have been troubled by the opera's narrative of the destruction of a (very) young woman and perhaps by its implied commentary on the effects of imperialism. It is hard to imagine an audience nowadays being blind to such dimensions of Madam Butterfly. In the words of Anthony Arblaster quoted from his 1992 book Viva la Libertà! Politics in Opera, in WNO's programme, 'you have to be almost wilfully non-political' not 'to recognise in this story a parable and epitome of the impact of Western imperialism upon the non-Western world'. (It is worth noting, however, that as late as 1981 – in his book The Complete Operas of Puccini – Charles Osborne could include a chapter of 24 pages on Madam Butterfly without mentioning such issues).
The words and music themselves are enough to carry such 'a parable and epitome', so a modern director must be careful not to overstress the relevant details in their production, if the whole is not to feel more like a sermon than a work of art. It is surely important that the audience should recognise themselves as indirectly complicit in what happens before them, not 'safely' distanced by any assumption of their own moral superiority.
The director of this new production, Lindy Hume, has taken an interesting approach, especially in terms of the setting. Her note in the programme begins with the proposition that the Japanese setting can be 'a distraction from the work's larger ethical problem: watching the cruel and systematic disempowerment and wreckage of a fragile 15-year-old girl by forces she cannot comprehend feels like watching a trapped animal, her pain and panic skilfully intensified by Puccini's ravishingly manipulative music'. So, she decided: 'The setting for this production […] is neither in Japan, nor specifically any country. Rather, it is another imagined biosphere, a corner of a recognisable yet dystopic near-future version of our own society. The setting is a playground for the globalised wealthy, an environment where executive pleasures are transacted.' The resulting sci-fi setting – which looked more like a retrospect of 1960s films than a glimpse of the future – had, inevitably the effect of making nonsense both of many details in the libretto and of the 'Japanese' social order and mores in the original. I didn't, I am afraid, find very much in the way of compensatory gains. The production inevitably had more to say about Cio-Cio-San's tragedy than about the wider social and political dimensions of the narrative. Dreadful as the story of Cio-Cio-San's exploitation, abandonment and suicide is, I cannot see that it is self-evidently the 'larger ethical problem'.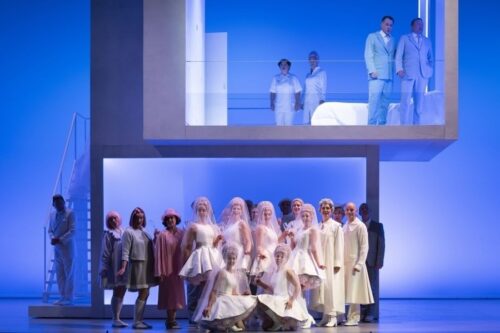 But let us turn to the performance itself. The set and the costume design I found, in large part, mildly irritating and unintegrated. But musically there was a good deal to admire. This was due, in chief, to the contributions of Joyce El-Khoury as Cio-Cio-San and of Carlo Rizzi and the WNO's chorus and orchestra. El-Khoury was hardly 'a fragile 15-year-old girl', but she is a genuine singing-actor. So, as well as giving us a beautiful rendition of a set-piece such as 'Un bel dì, vedremo', she also convinced in the portrayal of Cio-Cio-San's tragic evolution, from naive foolishness through defiant and wilful refusal to recognise or acknowledge the truth and, finally, to the moment of anagnorisis. This was a fully drawn character sung with lyrical power and emotional plausibility.
But, for me, there was a very real sense in which the most important presence of the evening was that of Maestro Rizzi in the pit. As he has done on so many previous occasions, Rizzi drew from the WNO Orchestra a very Italianate passion and lustre of sound. This was already evident in the fugal Prelude before Act I and remained so at a great many points thereafter. However, the orchestral playing was never in danger of swamping or drowning the singers. It always complemented and supported their work as, for example, in Cio-Cio-San's early aria 'Ancora un passo or via', in which Rizzi balanced to perfection the voice and the accompaniment of solo violin, viola and cello, along with the glockenspiel and muted strings. Later in the same act, when Pinkerton and Cio-Cio-San are left alone under the stars, Rizzi and the orchestra articulated very vividly the way in which Puccini uses the orchestra to evoke both the warmth of the night and Cio-Cio-San's emotional intensity. As Joyce El-Khoury sang 'Vogliatemi bene' the upper strings felt like aural silk. It is unnecessary, I think, to offer more instances – let it suffice to say that the whole provided a model of intelligent and sensitive orchestral accompaniment.
Elsewhere the cast was somewhat patchy. Mark Stone's Sharpless was admirable – well sung and acted, a convincing portrait of an honest and decent man, appalled by the behaviour and attitude of his compatriot Benjamin Franklin Pinkerton and genuinely respectful of the Japanese way of life. As Pinkerton, Leonardo Caimi proved to have an attractive voice but, not surprisingly, made little of this psychologically and emotionally shallow character. I struggle to recall any tenor who has ever really convinced me that Pinkerton is genuinely filled with remorse even at the close of the opera, so it would be unkind to complain that Caimi failed to do so. The Suzuki of Anna Harvey was quietly impressive, encompassing well a real range of emotions; she was a clear and firm, almost choric, presence, whether identifying emotionally with Cio-Cio-San or frustrated by her mistress's refusal to see or acknowledge the truth. The Yamadori of Neil Balfour made relatively little impression and was somewhat on the light side in vocal terms. Tom Randle's Goro was suitably oleaginous. As The Bonze, Keel Watson was an impressive stage presence with a powerful voice, but with the absence, in this production, of his Japanese context, he struggled to find a meaningful role in the narrative.
More broadly, Lindy Hume's decision to set the opera in a futuristic 'biosphere' – thus removing its characters and events from any kind of historical environment or context, certainly encouraged (forced?) a focus on, in her words, 'the cruel and systematic disempowerment and wreckage of a fragile 15-year-old girl'. In the performance of El-Khoury and the work of Rizzi and his orchestra she was blessed with forces which ensured that her audience felt to the full the pinning of this particular butterfly (to borrow some phraseology from Act I of the opera). Puccini's operas often bring to my mind a disturbing observation by Edgar Allan Poe, 'the death of a beautiful woman is, unquestionably, the most poetical topic in the world'. Still, to be fair to Puccini he is by no means the only composer who seems to have thought that 'the death of a beautiful woman' was also the most operatic of subjects (Catherine Clément's book Opera, or the Undoing of Women considers many such horror stories).
It is, I think, unfair of Hume to dismiss Puccini's setting as 'misinformed'. While the libretto's representation of Japan would certainly not pass the scrutiny of scholarly historians (are there any operas renowned for their historical accuracy?), it is clear that Puccini and his hard-worked librettists did care about the matter. We know, for example, that Puccini interviewed the Japanese actress Sada Jacco in Milan in 1902 and that he discussed his plans for the opera with Madame Ohyama, wife of the Japanese ambassador to Italy. But even leaving aside such questions, the Japanese setting of Madam Butterfly has, since its composition and early performances acquired further resonances. To take one major example, I surely cannot be the only person who, thinking of the opera's location in Nagasaki, feels unavoidably compelled to think at the same time of the atomic bomb dropped on that city by the Americans on 9 August 1945. There is, surely, a sense in which what Pinkerton does to Cio-Cio-San corresponds, in microcosm, to what other Americans later did to her city and its inhabitants. Such historical accidents, happening after a work of art has been created become part of its meaning – such meanings should be embraced rather than avoided.
Glyn Pursglove