Sweden Leoncavallo, Pagliacci and Puccini, Gianni Schicchi: Soloists, Wermland Opera Orchestra / Fredrik Burstedt (conductor). Wermland Opera, Karlstad, Sweden 9.9.2021. (GF)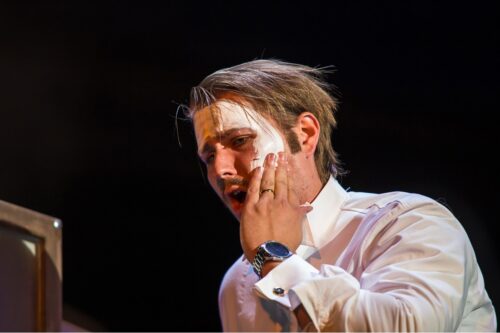 Production:
Director – Ole Wiggo Bang
Sets – Karl Runqvist, Erika Öhman
Lighting design – Jakob Larsson
Costumes – Lisa Durán
Masks & wigs – Elisabeth Näsman
Choreography – Håkan Mayer
Cast (Pagliacci):
Canio – Ole Aleksander Bang
Nedda – Anna-Maria Krawe
Tonio – Anton Ljungqvist
Beppe – Viktor Johansson
Silvio – Victor Ternvall
Cast (Gianni Schicchi):
Rinuccio – Viktor Johansson
Nella – Anna-Maria Krawe
Betto di Signa – Anton Ljungqvist
Zita – AnnLouice Lögdlund
Marco – Victor Ternvall
La Ciesca – Rebecca Fjällsby
Simone – Fredrik Helgesson
Gheraldo – Ole Aleksander Bang
Gianni Schicchi – Marcus Jupither
Lauretta – Emma Johansson
Pagliacci is too short to fill an evening and has to be combined with another opera of similar length. Traditionally that is Pietro Mascagni's Cavalleria rusticana, which is contemporaneous and also deals with violent feelings and jealousy. But of late I have seen a number of productions that break the pattern. Some years ago, Pagliacci was staged together with Béla Bartók's Duke Bluebeard's Castle in Helsinki and Opera på Skäret chose to perform it alongside Puccini's dark and ominous Il tabarro. In Karlstad they chose an altogether different opera from Il trittico, the comic Gianni Schicchi, as a hilarious contrast.
There is no curtain and the orchestra is seated on stage when the onlookers enter the auditorium. To the left there is a curved staircase, and there is very little space on the shallow stage in front of the orchestra. To the far left there is a make-up table. A great deal of stage-business is going on before the play begins and there is very limited dramatic space for the performers. The second act commedia dell'arte 'play within the play' is performed concertante with the actors in tails. Canio, who behind a smiling façade seems deeply worried, spends most of the second part of the opera at his makeup table. There he frequently imbibes whisky, which means that towards the end of the play he is heavily drunk, staggering about the stage, stumbling. He tries to strangle Nedda, but fails and falls to the ground, either inebriated or dead. When Tonio declares 'La commedia è finite!', although both Nedda and Silvio are alive, the atmosphere is utterly tragic nonetheless. It is a taut drama, acted with great conviction. The chorus of nine singers is certainly impressive, consisting of soloists who return in Gianni Schicchi. The Wermland Opera is a small theatre, seating 397 onlookers, and due to coronavirus restrictions there were no more than about 75 persons present at the premiere. Thanks to the generous acoustics of a half-empty house, however, even nine voices could fill the premises with euphony.
Among the soloists I was most expectant to hear Ole Aleksander Bang in the dramatic role of Canio. He graduated from the University College of Opera in Stockholm in 2017 and made his professional debut in Rossini's La Cenerentola in the autumn of the same year at the Stockholm Royal Opera, followed the next year by Almaviva in Il barbiere di Siviglia in Gothenburg. He was then a typical tenore di grazia, lyrical, flexible and elegant – a far cry from the robust heavyweight Canio. So to be honest I was a bit worried about his vocal cords. As it turned out, at age 34, he has now filled out his voice in volume and weight, delivering a strong Canio with impressive stamina and golden brilliance up high. He has had to pay a price, however, since the tone in the mid-register showed signs of wear. In a small venue like the Wermland Opera he certainly filled the house. Whether he will do the same in a larger one remains to be seen. Combined with exceptionally good acting ability, his was in every respect a great reading of this demanding role.
Bass-baritone Anton Ljungqvist as Tonio graduated in 2011 and has a great number of successful roles on his CV. He has self-evident stage-presence, expressive body-language and a magnificent voice, able to express a myriad of feelings and nuances. Tonio is a complicated character, tortured by his physical handicap and the hostility from his colleagues, longing for a woman but rejected and derided by Nedda. No wonder he wants revenge. His is a full-sized portrait of the hunchback. Since I first saw and heard her, Anna-Maria Krawe has grown, both vocally and in terms of stage presence and her Nedda was a credible character, crowned by a nuanced reading of the birdsong aria. Viktor Johansson as Beppe and Victor Ternvall as Nedda's lover Silvio are both promising rising stars.
A lot of preliminary business opens the proceedings after the interval as well. The wealthy Buoso Donati is dead, and the undertaker and his assistants are preparing the funeral. When everything is set up, a string quartet, seated at the front of the stage, plays Puccini's I crisantemi as funeral music – solemn and beautiful. But then the farce begins: searching for the will, which informs the relatives that Donati has bequeathed his entire fortune to the Church, devising an option to get round the will, engaging the unwilling Gianni Schicchi who, persuaded by his daughter Lauretta's loveable 'O mio babbino caro', promises to help but, as the scoundrel he is, manages to manipulate the notary and the relatives and sees to it that most of the property left goes to – Gianni Schicchi. It is a noisy and boisterous performance, filled with humour and charming miniportraits, elegantly handled in the spirit of well-timed teamwork with no one member of the cast standing out before the others. However, I cannot help noting Anton Ljungqvist's scene-stealing unpolished Betto di Signa and Ole Aleksander Bang's classy Gheraldo carrying about his pet dog Desirée. Dominating the performance, when he finally arrives is Marcus Jupither in the title role. Equipped with a magnificent voice, crystal clear enunciation (the performance is sung in Swedish) and a jovial stage presence, he wrings very last drop of humour and quick-wittedness from the libretto. The two resting points during this boisterous, high-spirited performance are Lauretta's lovely aria and, just before the very end, Rinuccio and Lauretta's delightful love duet, which they sing from the top of the staircase. Of course, the finale is when Gianni Schicchi turns to the audience and tells them that he will be condemned to hell for his tricks and begs us to sooth his pain by giving him a round of applause. He had his request granted – though the applause of just a small number of enthusiasts, strong and long as it was, couldn't quite compensate for the lack of another 300+ similarly enthusiastic visitors.
The applause was also intended for the Wermland Opera Orchestra, the conductor Fredrik Burstedt (who also played solo violin in Beppe's serenade in Pagliacci), and the entire production team. Performances will run until 9 October, and I hope that it will be possible to play to a full house during the last few performances at least.
Göran Forsling